Tour the CLAAS North American Headquarters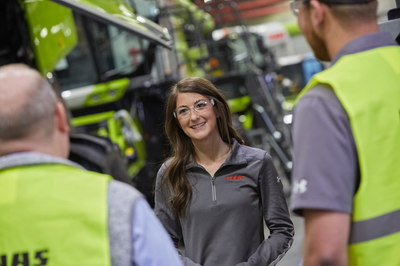 CLAAS will be hosting a FREE tour of its production facilities to give National Strip-Tillage Conference attendees a behind-the-scenes look at their North American headquarters in Omaha where hundreds of combines are assembled each year.
The tour will take place the morning of Aug. 6 and includes a continental breakfast (served at the CLAAS facility) and transportation to and from the hotel. The bus will depart from the hotel's event center near the registration desk at 7 a.m., and it's just a quick 5-minute ride over to CLAAS. The bus will return to the hotel by 8:45 a.m., ahead of the first conference session at 9:15 a.m. To help us anticipate transportation and meal needs, we're asking that you please sign up for the CLAAS tour by Wednesday, July 28.
Tour Guidelines:
Individuals must be at least 13 years old to tour the assembly facility (no exceptions).

Visitors will be required to show photo ID upon sign-in (exception: parents may sign in on behalf of children).

Low heel, close-toed shoes and long pants are required.

Visitors must wear a safety vest and safety glasses at all times during the tour (provided by CLAAS).

No photography or video recording during the tour.

No cell phone use during the tour.

Visitors must stay within the designated aisles and must stay with the tour guide at all times.




SUBMIT THE FORM BELOW TO SIGN UP