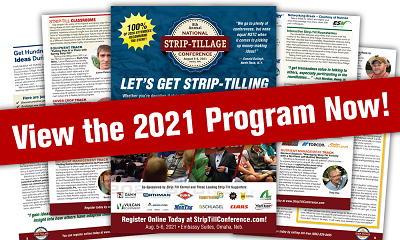 ✔ Discover practical, proven strategies from the industry's most successful strip-tillers to fit your needs.
✔ Exchange new ideas and get proven solutions from other strip-tillers, expert researchers, consultants and industry leaders.
✔ Experience unrivaled networking and knowledge sharing opportunities in a diverse learning environment.
✔ Gain specific equipment, fertility and soil health tips from your strip-till peers.

---
National Strip-Tillage Conference Daily Agenda
Below is the schedule for the 2021 conference. Download and print the full Daily Agenda here so you know where all the sessions are being held.
Thursday, Aug. 5
7:30 a.m. to 6:00 p.m. – National Strip-Tillage Conference Registration Time
8:50 to 9:00 a.m. – Official Start of the 2021 National Strip-Tillage Conference
9:00 to 9:45 a.m. – Starting Out in Strip-Till Track: General Session — From Field to Yield: Accepting the Challenge of Changing to Strip-Till — David Hula
9:50 to 10:50 a.m. – Soil Health Track: Premiere Lecture Series — Courtesy of TruAg — Getting to the Root of Soil Health: Why a Deeper Dig is Essential — Odette Ménard
11:00 a.m. to Noon – Choose from 5 Thought-Provoking Strip-Till Classrooms


Dig deeper into some of the topical and timely strip-till trends taking shape on farm operations with a variety of concurrent classroom presentations. These 60-minute sessions deliver detailed, experience-based insight from the field with practical "how to" knowledge to help define your future strip-till decisions. Bring your questions and send another member of your team to a different classroom to take full advantage of the learning opportunities during these highly-informative sessions

Strip-Till Classroom #1 — Getting Started in Strip-Till: Defining How, When and Why — Joey Hanson
Strip-Till Classroom #2 — Winning the Relay Cropping Race to Strengthen Strip-Till Biology — Clint Robinson
Strip-Till Classroom #3 — Putting Nutrient Management in its Place with Strip-Till — Scott Hoober
Strip-Till Classroom #4 — Starting Out in Strip-Till Track: Banking on Growing Season Potential After Your Berms are Built — Gary Gangwer
Strip-Till Classroom #5 — Banding vs. Broadcast: Digging Into the Benefits, Barriers & Breakthroughs — Scott Foxhoven

12:00 to 12:45 p.m. – Lunch Break — Courtesy of Ag Leader Technology
12:50 to 1:00 p.m. – 2021 National Strip-Tillage Conference Title Sponsor Recognition
12:55 to 1:45 p.m. – 2021 Strip-Till Innovators Program: Q&A with Ben Pederson — With Support from Montag Mfg.
2:00 to 3:00 p.m. – First Set of Interactive Strip-Till Roundtables


The interaction between strip-tillers that occurs over the course of the National Strip-Tillage Conference will be some of the most valuable learning available. Roundtable sessions bring strip-tillers together for a focused 60-minute discussion on a topic that participants find challenging in their strip-till operation. These sessions provide you with the opportunity to get your strategic questions asked and answered to help shape future planning and decision-making on your farm. Taking home just one new idea from these candid conversations is annually cited as one of the top takeaways by attendees.
1. Getting More from Micronutrients
2. What I Learned My First Year of Strip-Tilling
3. Dos & Don'ts of Spring Strip-Till
4. Making Better Data-Driven Decisions in Strip-Till
5. Conquering Strip-Tilled Corn-on-Corn
6. Breaking Down the Dollars & Sense of Custom Strip-Till
7. Planting Green: What the Secret to Success?
8. Fertilizer Strategies for Higher Strip-Till Yields
9. Understanding Soil Heath, Tissue, and Sap Analysis Tests
3:00 to 3:30 p.m. – Networking/Refreshment Break — Courtesy of Nutrien
3:30 to 4:15 p.m. General Session: Lessons Learned Farming a Strip-Till Laboratory — Eric and Megan Wallendal
4:30 to 5:30 p.m. – Second Set of Interactive Strip-Till Roundtables:
10. Cover Crop Cocktails: What's the Best Mix for My Operation?
11. Widening the Window for Fall Strip-Till
12. Strip-Refreshing: How, When & Why
13. My Biggest Ag Tech Payback During the Last 3 Years
14. Lessons Learned in 2020: What I Did Different & Why
15. Cutting Strip-Till Fertilizer Rates & Costs: How Is It Done?
16. My Biggest Strip-Till Mistake: What I Learned & Why
17. Using Compost Teas, Microbials, and Biologicals
18. Succeeding with Twin-Row Strip-Till
5:45 to 9:00 p.m. – National Strip-Tillage Conference Networking Reception — Sponsored by TruAg, Topcon and LandLuvr
Friday, Aug. 6
7:00 to 11:30 a.m. – National Strip-Tillage Conference Registration Time
7:00 to 8:45 a.m. – CLAAS Manufacturing Plant Tour — Get a behind-the-scenes look at their North American headquarters in Omaha where hundreds of combines are assembled each year. Learn more here.
9:15 to 10:00 a.m. – General Session — Managing Strip-Till Fertility with No-Plant Left Behind Mentality — Tony Vyn
10:15 to 11:15 a.m. – Choose from 5 Thought-Provoking Strip-Till Classrooms:
Strip-Till Classroom #6 — Embracing the Power of Nature's Tillage Tool — Odette Ménard
Strip-Till Classroom #7 — Crunching the Numbers on Custom Strip-Till — Jesse Stoller
Strip-Till Classroom #8 — Winning the Relay Cropping Race to Strengthen Strip-Till Biology — Clint Robinson
Strip-Till Classroom #9 — Getting Started in Strip-Till: Defining How, When & Why — Joey Hanson
Strip-Till Classroom #10 — Combining Cattle & Cover Crops to Build Biomass — Barry Little & Eli Little
11:30 a.m. to 12:15 p.m. – General Session — Let Your Crops Do Your Deep Tillage — Joe Breker
12:15 to 1:00 p.m. – General Session — Managing to Measure: Supporting Strip-Till Success with Analytical Evidence — Wayne Fredericks & Jerry Hatfield
1:00 to 1:10 p.m. – General Session — Get Ready to Put All that Strip-Till Knowledge to Work
---
Meet the 2021 National Strip-Tillage Conference Presenters
General Session Speakers:
---
Strip-Till Classroom Speakers:
---