National Strip-Tillage Conference Sponsors
Thank you to our Title Sponsors for their on-going commitment to conservation tillage through their support of the Virtual National Strip-Tillage Conference.
If you are a top strip-till solutions provider and would like to discuss sponsorship opportunities for the National Strip-Tillage Conference, contact Michael Ellis: mellis@lessitermedia.com.
THE 2021 EVENT IS CO-SPONSORED BY THESE LEADING STRIP-TILL SUPPLIERS:








2021 National Strip-Tillage Conference Title Sponsors:

Video: AgroLiquid at the 2019 national strip-tillage conference
AgroLiquid's crop nutrient products deliver industry-leading versatility in application and compatibility. The focus of our product development and research is to provide nutrient management solutions that maximize efficiency within the plant, enhance the expression of desirable traits for optimal crop quality, stimulate and support healthy soil biology, and economically produce a marketable yield. AgroLiquid has always believed in utilizing sustainable products and practices to produce more food and fiber for a growing population with less applied fertilizer. Decades of research and millions of acres of field-testing have gone into developing AgroLiquid's full line of fertilizers. Visit agroliquid.com for more information.

Copperhead Ag
CopperheadAg.com
Video: Copperhead Ag at the 2019 national strip-tillage conference
Copperhead Ag Products, a growing company based in Hartford, SD, strives to offer top quality products, great customer service and customer satisfaction. We are most widely known for our success in developing Furrow Cruiser(r) spiked closing wheels, a closing wheel for every condition and brand of planter. We are continually looking to offer products to farmers that are cost effective and aid in producing the best crops possible. With dealers nationwide, and expanding inventory of products that increase the bottom line of our customers, our network in the agriculture industry continues to grow.

Dawn Equipment Co.
DawnEquipment.com
Video: Dawn Equipment Co. at the 2019 national strip-tillage conference
Dawn Equipment Company is a family owned business located in Sycamore, Ill., founded more than 20 years ago to produce and market high-quality, American-made tillage equipment to meet the needs of today's farmers. Dawn products maximize efficiency for no-till or strip-till applications. At Dawn, we pride ourselves in the fact that equipment dealers and their customers can speak directly to knowledgeable salesmen and engineers with direct field experience.
---
Video: Montag Mfg. at the 2019 national strip-tillage conference
Located in Emmetsburg, Iowa, Montag Mfg. is a family owned business focused on delivery systems for dry fertilizer begun when Roger Montag received a patent for dry fertilizer meter in 1988. That followed with the development of the steerable cart in 1999, which led to the incorporation of Montag Mfg. in 2005. Montag manufactures and sells complete fertilizer systems, dry fertilizer metering systems, liquid fertilizer systems and auto-steer carts.
---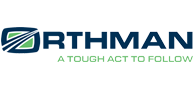 Video: Orthman at the 2019 national strip-tillage conference
Founded in 1965 by one man with a vision to make things better for farmers, Orthman is built on hard work, innovative design, meticulous attention to detail and a passion to lead the world in modern production agriculture. Orthman's pioneering work in row crop cultivators opened the way to the company's biggest triumph to date: the remarkable 1tRIPr strip-tillage system in 2001. A near instant success because it allowed producers to perform ideal seedbed preparation, precision nutrient placement and optimal root zone conditioning in a single pass. The Orthman 1tRIPr today is sold in 14 countries worldwide and is regarded as the world leader in precision strip-till agriculture machinery.
---

Vulcan Equipment
VulcanEquip.com
Video: Vulcan Equipment at the 2019 national strip-tillage conference
Vulcan Equipment is a family-owned business in Forrest Illinois led by brothers Don and Mark Slagel. The two grew up working on their family farm and have continued to farm themselves and serve other farmers as owners of both Vulcan Equipment and Slagel Manufacturing Inc.
Vulcan Equipment was founded in 2014 to develop and offer the highest quality agricultural equipment for farmers across the US and the farming world. They specialize in sales of the Schlueter Harrow and the Zonemaster Strip-Till Unit.

Video: Yetter at the 2019 national strip-tillage conference
With more than 83 years of solutions for agriculture, Yetter is recognized as the leader in designing planter attachments, precision fertilizer placement tools and bulk-seek handling products. The Maverick HR Plus Opener for strip-till operations contains spring-loaded disc sealers with infinite adjustments for width, pitch and distance from knife. Heavy-duty, parallel-linkage arms can be set to follow field contours.

CLAAS offers a wide variety of technologically innovative haytool, baler and self-propelled forage harvester products to provide farmers optimum performance in the field. These products are designed by a dedicated engineering staff at three different worldwide factories that are solely focused on the production and design of harvesting equipment. The design, performance, and reliability of this equipment have made CLAAS a market leader internationally. Reliability, perseverance, and innovativeness: It is these qualities that make CLAAS a strong partner to the world's agricultural industry. Visit claasofamerica.com for more information.
---

Agrisolutions
Agrisolutionscorp.com/en
Agrisolutions is the key global manufacturer for farm equipment manufacturers and after-market suppliers. Agrisolutions is the market leader in wearable parts, components, accessories and solutions for tillage, seeding, planting and fertilizing. Since 2012 Agrisolutions is a world-class global manufacturing platform with production plants in Hamilton (Canada), Milan (US), Indaial (Brazil), Legazpi and Zumarraga (Spain), Nahisk (India) and a logistic and commercial platform in Hovedgård (Denmark). Agrisolutions also has sales offices in China, Russia and Ukraine. Visit agrisolutionscorp.com for more information.
Click to learn more about Agrisolutions