National Strip-Tillage Conference Sponsors
Thank you to our Title Sponsors for their on-going commitment to conservation tillage through their support of the Virtual National Strip-Tillage Conference.
If you are a top strip-till solutions provider and would like to discuss sponsorship opportunities for the 2022 National Strip-Tillage Conference, contact Michael Ellis: mellis@lessitermedia.com.
THE 2021 EVENT WAS CO-SPONSORED BY THESE LEADING STRIP-TILL SUPPLIERS:










2021 National Strip-Tillage Conference Title Sponsors:

Video: AgroLiquid at the 2019 national strip-tillage conference
The sustainability of agriculture is of utmost importance to AgroLiquid. To that end, this family-owned company remains focused on providing environmental stewardship along with cost-effective crop nutrition. AgroLiquid manufactures and distributes high-efficiency liquid fertilizer, formulated to protect nutrients from loss to the environment. AgroLiquid's products work with, instead of against, the biology of the soil, which makes them more usable by the crop. Continuous research and product improvement, coupled with an ethical business model, keeps AgroLiquid focused on its mission: 'To Prosper the Farmer'.
---

Copperhead Ag
CopperheadAg.com
Video: Copperhead Ag at the 2019 national strip-tillage conference
Copperhead Ag Products, a growing company based in Hartford, SD, strives to offer top quality products, great customer service and customer satisfaction. We are most widely known for our success in developing Furrow Cruiser(r) spiked closing wheels, a closing wheel for every condition and brand of planter. We also offer the RK Products brand planter repair kits and the Copperhead Concave system! We are continually looking to offer products to farmers that are cost effective and aid in producing the best crops possible. With dealers nationwide, and expanding inventory of products that increase the bottom line of our customers, our network in the agriculture industry continues to grow.
---

Dawn Equipment Co.
DawnEquipment.com
Video: Dawn Equipment Co. at the 2019 national strip-tillage conference
Dawn Equipment Company is a family owned business located in Sycamore, Ill., founded more than 20 years ago to produce and market high-quality, American-made tillage equipment to meet the needs of today's farmers. Dawn products maximize efficiency for no-till or strip-till applications. At Dawn, we pride ourselves in the fact that equipment dealers and their customers can speak directly to knowledgeable salesmen and engineers with direct field experience.
---

Environmental Tillage Systems
SoilWarrior.com
Video: ETS at the 2019 national strip-tillage conference
Environmental Tillage Systems, Inc. has been dedicated to defending the land and leading the charge since beginning on a farm in Southeastern Minnesota in 2004. ETS is a leading manufacturer of conservation tillage and nutrient management equipment. Our equipment is designed to enhance soil productivity and farm profitability. Our products set the standard for in-field performance, machine durability, and ease of operation. We are proud to serve customers in: The United States of America, Canada, and internationally.
---

Kuhn Krause
KuhnNorthAmerica.com
Video: Kuhn Krause at the 2019 national strip-tillage conference
Kuhn Krause's focus, above all, is to continue to produce quality products to serve producers better; to strive to respond to their needs with new tools and new technology to meet their growing challenges. Agronomic practices are constantly changing, and at a faster pace now than ever. With this fact at the forefront, innovation and development are keys to continually providing our customers with the best equipment and service possible.
---
Video: Montag Mfg. at the 2019 national strip-tillage conference
Located in Emmetsburg, Iowa, Montag Mfg. is a family owned business focused on delivery systems for dry fertilizer begun when Roger Montag received a patent for dry fertilizer meter in 1988. That followed with the development of the steerable cart in 1999, which led to the incorporation of Montag Mfg. in 2005. Montag manufactures and sells complete fertilizer systems, dry fertilizer metering systems, liquid fertilizer systems and auto-steer carts.
---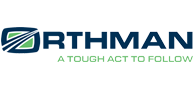 Video: Orthman at the 2019 national strip-tillage conference
Founded in 1965 by one man with a vision to make things better for farmers, Orthman is built on hard work, innovative design, meticulous attention to detail and a passion to lead the world in modern production agriculture. Orthman's pioneering work in row crop cultivators opened the way to the company's biggest triumph to date: the remarkable 1tRIPr strip-tillage system in 2001. A near instant success because it allowed producers to perform ideal seedbed preparation, precision nutrient placement and optimal root zone conditioning in a single pass. The Orthman 1tRIPr today is sold in 14 countries worldwide and is regarded as the world leader in precision strip-till agriculture machinery.
---
Schlagel Manufacturing
Schlagel.net
Video: Schlagel Mfg. at the 2019 national strip-tillage conference
We've made products "For Farmers, By Farmers" since the very beginning. Starting with our founder's creation of the "Till-N-Plant" to make planting easier in his own field, we've expanded our line to meet the needs of our fellow farmers, ranchers, and construction workers alike. Every product we create is simple, stalwart, and in it for the long haul—just like the farmers we make it for.
---

Vulcan Equipment
VulcanEquip.com
Video: Vulcan Equipment at the 2019 national strip-tillage conference
Vulcan Equipment is a family-owned business led by brothers Don and Mark Slagel. The two grew up working on their family farm and have continued to farm themselves and serve other farmers as owners of both Vulcan Equipment and Slagel Manufacturing Inc. Vulcan Equipment was founded in 2014 to develop and offer the highest quality agricultural equipment for farmers across the US and the farming world. They specialize in sales of the Schlueter Harrow and the Zonemaster Strip-Till Unit.
---

Video: Yetter at the 2019 national strip-tillage conference
Profitable Solutions for Production Agriculture: For over 90 years, Yetter Farm Equipment has designed and manufactured innovative and effective solutions for the agriculture industry. Today, we are proud to be recognized worldwide as an industry leader in row cleaners, strip-till equipment, planter attachments, fertilizer placement attachments, rotary hoes, toolbars, and harvest attachments. Our extensive experience—combined with our relationships with dealers, OEM partners, and innovative farmers—helps us engineer practical solutions for the many different farming operations and conditions in the agriculture industry. Our goal is that our products help our customers maximize yield potential every year. Visit www.yetterco.com to learn more about Yetter products or call 800-447-5777.
---

CLAAS is a leading manufacturer of agricultural equipment, employing more than 11,000 workers worldwide. A family-owned company, with corporate headquarters in Harsewinkel, Westphalia, Germany and North American headquarters in Omaha, NE; CLAAS is the European market leader in combine harvesters and world market leader in self-propelled forage harvesters. CLAAS is also a top performer in tractors, balers, harvesting equipment and precision farming.

We are the business-minded equipment manufacturer for the business-minded ag professional, and partner of choice for top-tier harvesting technology. We put our brightest thinking into products that help our customers save more time and make more money.
---

Agrisolutions
Agrisolutionscorp.com
Agrisolutions is a leading global manufacturer of wear parts, components, accessories and solutions for tillage, seeding, planting, harvesting and fertilizing for farm equipment OEMs and after-market suppliers. Comprised of brands that include, Bellota, Ingersoll, Trinity Logistics as well as German harvesting guard manufacturer, Carl Sülberg. In addition, Agrisolutions Wear Technologies possesses extended life solutions including CADEN Edge and the capabilities of Lund Industrial Group. As a global manufacturing platform, Agrisolutions has production plants located in Canada, North America, Brazil, Spain, India, Germany, and a logistic and commercial platform in Denmark. Sales offices are also located in China, Russia, Ukraine and 10 logistical centers are established in North America.