The Wait is finally over!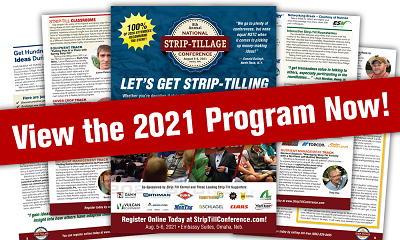 The 2021 NATIONAL STRIP-TILLAGE CONFERENCE SPEAKER PROGRAM IS RELEASED!
Here's just a little of what you'll find in Omaha, Aug. 5-6:
✔✔ Discover practical, proven strategies from the industry's most successful strip-tillers to fit your needs.
✔✔ Exchange new ideas and get proven solutions from other strip-tillers, expert researchers, consultants and industry leaders.
✔✔ Experience unrivaled networking and knowledge sharing opportunities in a diverse learning environment.
✔✔ Gain specific equipment, fertility and soil health tips from your strip-till peers.