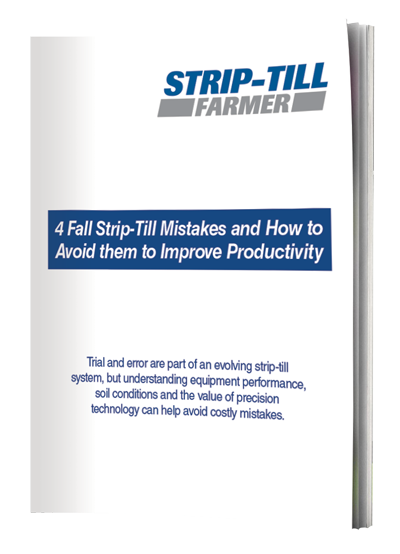 Now is the time to understand – and avoid– costly strip-till mistakes to improve YOUR cropping system.
Dear Strip-Tiller,
Strip-till remains an up-and-coming practice used by more growers each season. But because it's a new technique for many farmers — and one that requires a high degree of management — it's easy to make costly mistakes.
Trial and error are part of an evolving strip-till system, but under-estimating equipment needs, soil conditions and the value of precision technology can increase your input costs and reduce yields.
To help you avoid these costly strip-till mistakes, we've compiled a handy 'how-to' game plan into a special eGuide download – and we've made it absolutely FREE to get it into the hands of as many strip-tillers as possible to help each one establish a benchmark for success.
Tested and proven tips from experienced experts, compiled by the most trusted name in strip-till farming.  
This in-depth eGuide includes reliable advice on all aspects of a strip-till system including equipment setups, precision technology and soil condition considerations, all in one reader-friendly eGuide. It reveals common missteps farmers make and offers field-tested solutions. It's the kind of report you will turn to again and again as you take stock of where your strip-till operation stands today and where it needs to be in the future. Keep it handy as a primer for your planning and meeting operational goals!
Get this eGuide for Free with a Free Account!
New members, click "Sign Up" for free account. Or, regular members click "Go In".
4 Fall Strip-Till Mistakes and How to Avoid them to Improve Productivity is a focused, actionable reference to understanding and avoiding strip-till mistakes, and how to maximize productivity. In fact, this Special eGuide is designed to help you …
Determine strip-till goals when buying equipment and assess fertilization needs — liquid or dry?
Match tractor horsepower to suit the needs of your soil conditions (20-30 horsepower per shank at the proper depth is often required)
Adjust row units to compensate for residue flow, nutrient placement and seedbed preparation
Embrace GPS with field mapping capabilities (studies show placing fertilizer 8 inches off center can reduce corn yields by 30 bushels)
Understand compaction and the consequences of running strip-till machines too shallow or too deep 
Strip-till is a constantly evolving practice and farmers need to keep pace with changes and updates being made by their peers. Customizing a system that can capitalize on smart methods will boost productivity in your operation. 
An informed decision is a profitable one and rewarded by increased productivity and efficiency. Consider this:
Farmers who apply all their nitrogen with a fall strip-till operation increase the odds of leaching N out the bottom of the soil profile or beyond the reach of roots (Estimating $1,100 per ton of N, applying 200 pounds per acre at once is "courting disaster and monetary loss").
Trying to match a 12-row planter with a 12-row strip-till machine can result in a mismatch, if your tractor is not large enough to handle the strip-till machine and can result in not achieving the proper depth of tillage. 
We know time is money. But if you did nothing more than read the 8 tips for understanding equipment setups in this FREE eGuide, you'd already be significantly ahead.
Strip-Till Farmer is dedicated entirely to helping farmers understand the tools, trends and technology needed to build and maintain a profitable strip-till system. Our editors make it their job to know the score, and to help progressive farmers improve their operations. Did you know …
Manufacturers' Top 10 Equipment Tips
Would you be surprised to know that after just 2 YEARS of strip-tilling, farmers can see a dramatic decrease in the amount of tractor horsepower needed to pull a strip-till rig? Here's a taste of 10 equipment tips for fall strip-tillers: 
Seldom does one setting fit all conditions
Strip-till rigs often require 20-30 horsepower per shank
Decide what fertilizer you want to apply in strips — liquid or dry
Equip your row units with the right attachments for soil conditions
Properly match strip-till components for maximum performance
Avoid pulling a 'train' of equipment behind your tractor
Adjust your machine to suit field conditions
Maintain suggested speeds in the field for consistent depth
Take a systems approach to managing residue with more than the strip-till rig
Set realistic goals and plan on incremental accomplishments
To understand these tips and how to apply them on your operation, Read our FREE eGuide, 4 Fall Strip-Till Mistakes and How to Avoid them to Improve Productivity
Advice Straight from Strip-Till Authorities to You! 
This eGuide, with more than 20 tips, includes proven practices – delivered by strip-till authorities – to help keep your strip-till operation on the path to profitability. The suggestions also compare the benefits of strip-till with other cropping systems and validates the value of a comprehensive system. Keep it handy for your strategy discussions.
That's the kind of actionable information you get throughout this FREE eGuide – all of the advice presented in clear, straightforward language, with breakdowns of the most prominent pitfalls — and solutions — for your strip-till operation.
But you also get more than just tips and bullet points; you'll gain insight into fellow farmers' thought processes and how to leverage conversations with suppliers to build better working relationships and profitable partnerships. You'll get valuable insights on:
The importance of equipment matching and attachment selection
How soil conditions can affect tractor horsepower needed for strip-till
What consequences compaction can impact on seed germination
Key fertilizing strategies to maximize root uptake
Why precision technology is a must-have for every strip-till operation
For every question you and your farming team consider, you'll improve your vision process for strip-till, while preparing for the critical decisions to come. 
Read this free eGuide right now to learn how to make this important topic a #1 directive for your team this year. 
Takeaways to develop your strip-till system — and incorporate new ideas
In addition to a wealth of first-hand experience, this in-depth eGuide delivers, it also provides actionable takeaways that you can use today:
Consider strip-tilling 90-120 pounds of anhydrous with 6-9 gallons of 10-34-0. The duel application will create a smaller diffusion band of anhydrous
Sidedress additional anhydrous ammonia or 28-0-0-5, or foliar feed a slow-release nitrogen when Roundup is applied. By split-applying the N, considerable reductions in N can be taken.
Applying phosphorus and potassium and other nutrients in the fall and distributing fertilizer evenly throughout the zone allows the P and K to be more effectively processed by the microbial action in the soil.
These are just some of the takeaways you'll find by downloading this free eGuide and reviewing it in no more time than what it takes you to finish your lunch. 
Here's a few more...
Splitting applications, akin to spoon-feeding the crop, will provide the best bottom line. This allows you to see through some tissue, leaf or soil sampling that a lump sum of 250 pounds of N wasn't needed and saves money.
Applying smaller doses of N and feeding the crop in increments allows for more fertilizing flexibility — anhydrous vs. varying formulations of liquid, N with sulfur compounds, N with phosphates, stable low-salt N formulas and slow-release N compounds.
The general rule of thumb is the higher the ammonia rates, the higher the risks. To avoid losing stand, split-apply N.
Fall application of potassium and phosphorus can lead to as much as a 40% higher utilization of nutrients available for plants, leading to higher overall yields. 
And that's just the tip of the iceberg. Put some of the findings in this eGuide on your radar and you'll go into next fall energized by the possibilities. 
By now, you no doubt see the value of this carefully prepared Special eGuide and what this knowledge can do for your farming operation. Nobody who wants to be a strip-till trendsetter should overlook it! And because you've taken the time to read this, you're clearly a person who values how to bolster, broaden and benefit from strip-till farming. 
That means you're exactly the kind of person we hope to reach with 4 Fall Strip-Till Mistakes and How to Avoid them to Improve Productivity. The kind of "in-the-know" farmer who plans on enhancing and improving conservation efforts for years to come.
Regardless of whether you're brand new to strip-till or invested 20 years in the practice, what better way to continue evolving than with this comprehensive, authoritative – FREE – eGuide?
Do you want to be one step ahead of your strip-till peers?
Are you prepared to adapt to potential regulatory changes and climate variables? 
Have you developed a comprehensive strategy for the future of your strip-till operation and the next generation of farmer?
Then download this free eGuide right now, and get started. The minute you do, you start the momentum toward greater productivity.
Get this eGuide for Free with a Free Account!
New members, click "Sign Up" for free account. Or, regular members click "Go In".
Yours for better strip-tilling,
Michaela Paukner, Strip-Till Farmer
PS: What are the consequences of misplacing seed outside of the center of a strip-tilled row? Find out by downloading 4 Fall Strip-Till Mistakes and How to Avoid them to Improve Productivity right now.
PSS: Evolving your strip-till system will be an essential part of your continued success and profitability. Start on the path toward more productivity by reading this free eGuide now.
Discuss
What new insights did you gain? What jumped out at you? Share your observations below.