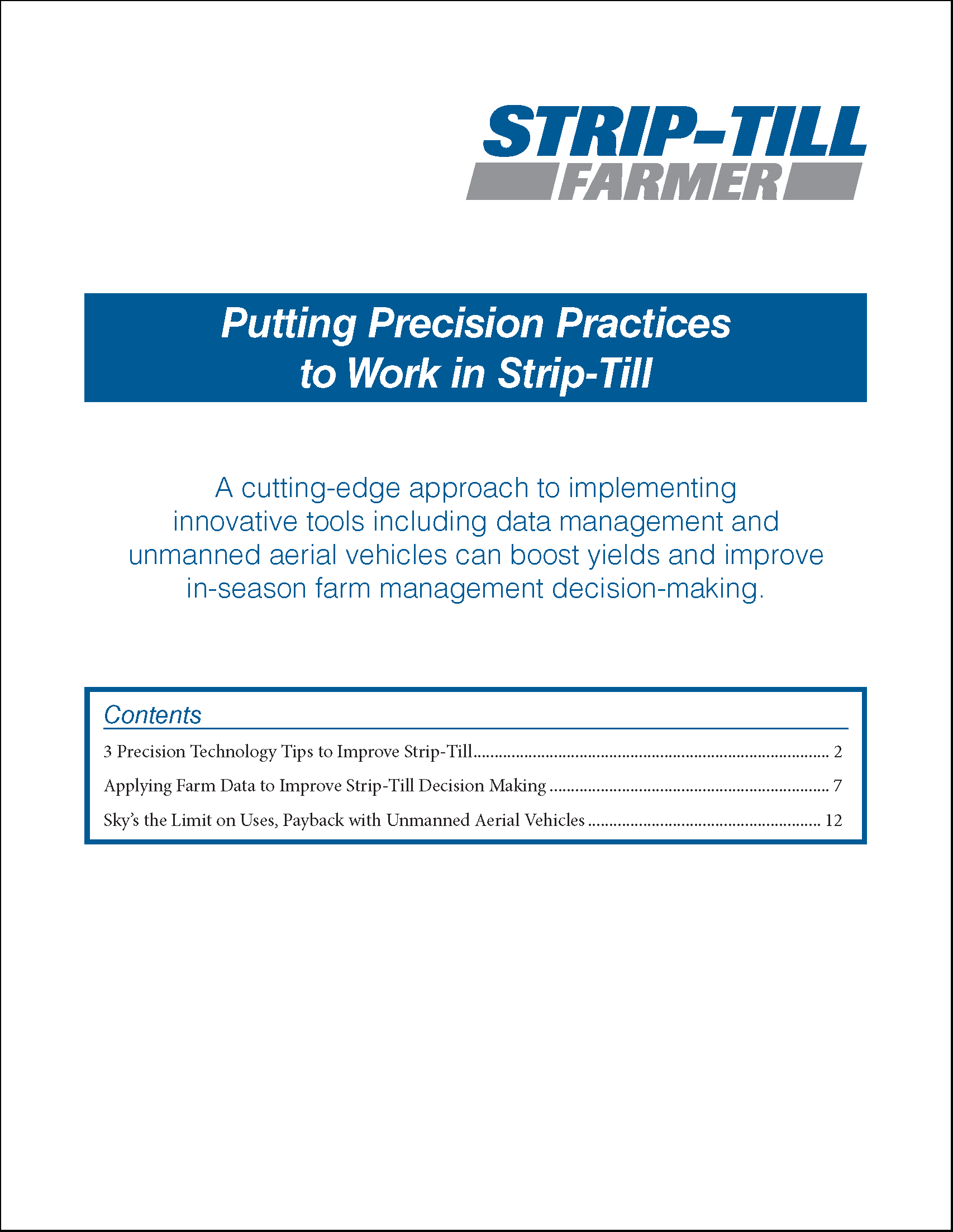 Dear Strip-till farmer,
The benefits of incorporating precision practices into everyday farming have yielded excellent results for strip-tillers worldwide.
Strip-Till Farmer has collaborated with strip-till experts to provide you with a FREE 17-page eGuide, "Putting Precision Practices to Work in Strip-Till." This special, in-depth eGuide is designed to arm you with dozens of tips and tricks on choosing and incorporating farming strategies that can enhance your strip-till results.
As technology continues to progress, strip-tillers have more and more of an opportunity to increase yields and profits by utilizing precision farming techniques.
Get this eGuide for Free with a Free Account!
New members, click "Sign Up" for free account. Or, regular members click "Go In".
Improve Your Strip-Till Farm With Precision Technology
Learn 3 ways to manage your strip-till farm using precision practices. Take full advantage of technology to maximize efficiency and profitability.
Download this eGuide to unlock the 3 precision strategies to warrant success as a strip-till farmer:
Utilizing A Reliable Auto-Steer Tractor System.
Choosing A Highly Functional Smart Display.
Making The Most Of Precision Data.
Apply Farm Data to Improve Strip-Till Decision Making
While many farmers collect field data, one of the ongoing challenges is knowing what to do with it.
Though precision-capable machinery can provide significant data, it becomes worthless if set up improperly. A major struggle of strip-till farmers today is staying up-to-date with system upgrades and routine calibrations.
Learn how to save as much as $5,500 in seed costs in ONE 50-acre field using planter row clutches. Farmer may not know the importance of making sure all machines are calibrated correctly and updated with the newest software.
One upgrade could mean the difference of a precision farmer losing or gaining thousands of dollars during any given season.
In this eGuide, discover many other ways that "Dirty Data" can make its way into the file folders of strip-till farmers using precision techniques:
Equipment Malfunction.
Incompatible Data: Upgrading From One System to Another.
Poorly Calibrated Equipment.
Running More Than One Machine Per Field.
Don't wait! Learn from the BEST of the BEST in precision farming by downloading this FREE eGuide.
Calculated Investments to Increase Your Rate of Return
Perennial payback with technology is very important to most strip-till farmers, but the methods used to receive that kind of payback varies from one farm to the next.
In this in-depth eGuide, discover many ways successful strip-till farmers have managed to increase their rate of return by incorporating precision equipment. Also learn how to keep up with software updates and make the most of the expertise made available through a precision farming specialist.
The Sky's the Limit on Unmanned Aerial Vehicles
The popularity of UAVs among the farming world has exploded in recent years, shedding a very strong light on the benefits of high-resolution imagery and data analysis. But as agricultural interest in UAVs, or drones, has increased dramatically in the last few years, so too have the number of questions about the practical payback these tools can provide to farmers.
Download this FREE eGuide today to learn about each of the following topics pertaining to UAV technology:
Selecting The Right UAV For You.
Applying NDVI Images to In-Season Nutrient Deficiencies And Water Application.
Using UAV Imagery to Quantify Return on Investment.
Utilizing UAV Imagery As A Crop "Health Check."
The benefits of incorporating precision practices into strip-till farming are endless. This download organizes these benefits in a FREE eGuide created specifically for strip-till farmers in a modern, technology-driven society.
Do you wish to incorporate precision practices into your strip-till farming?
Do you want to learn more about data collection and interpretation?
Are you looking to improve your farm's efficiency and increase profits?
Are you interested in UAV imaging?
Get this eGuide for Free with a Free Account!
New members, click "Sign Up" for free account. Or, regular members click "Go In".
Yours for better strip-tilling,
Michaela Paukner, Strip-Till Farmer
Discuss
What new insights did you gain? What jumped out at you? Share your observations.