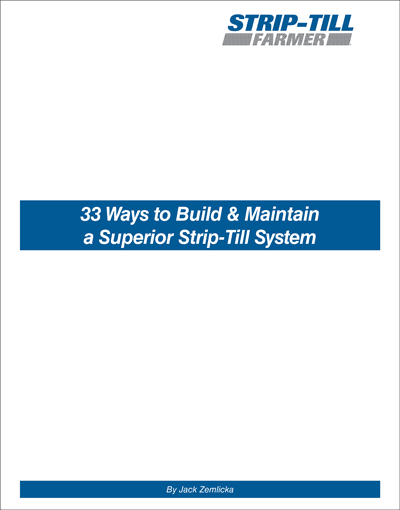 This FREE downloadable eGuide immediately offers you a collection of practical advice from eight experienced strip-tillers. Each shares their tips they feel every strip-tiller should know that could help you avoid some of the more common mistakes that occur when preparing your strip-till system. This 7-page eGuide is jam-packed with diverse tips on every facet of strip-till farming. Best of all, it's FREE!
Dear Strip-Till Farmer,
Download this FREE 7-page eGuide NOW to learn 33 of the best tips to help you build and maintain a superior strip-till system.
When you download this eGuide, you'll immediately gain practical advice, tips and strip-till techniques that you can put to use immediately, such as:
How to determine proper depth for fertilizer
Why choosing the right equipment is essential for an ideal strip-till fertility program
Why you shouldn't cut nitrogen application rates, especially when banding during the first few years of strip
The importance of soil testing and sampling to assess nutrient needs
The two things farmers can to do make their program "bulletproof" against volatilization
Get this eGuide for Free with a Free Account!
New members, click "Sign Up" for free account. Or, regular members click "Go In".
Advice Straight from Experienced, Successful Strip-Tillers
Get expert, experienced-based advice on how to customize your strip-till system to suit your operational objectives from these leading experts and strip-tillers:
Stockton, Iowa, strip-tiller Keith Schlapkohl
West Brooklyn, Ill., strip-tiller Dave Delhotal
Persia, Iowa, strip-tiller Bill Darrington
Agronomist Mike Petersen
Strip-till and planter consultant Kevin Kimberley
Deweese, Neb., strip-tiller Brian Herbek
Le Roy, N.Y., strip-tiller Donn Branton
Washington Court House, Ohio, strip-tiller Tony Anderson
If starting tomorrow you want to begin your path to higher yields, lower costs, increased profits and fewer headaches, don't miss out on this opportunity to learn from these eight strip-tillers who share 33 experience-based tips for building and maintaining a superior strip-till system. Download your FREE copy today!
Get this eGuide for Free with a Free Account!
New members, click "Sign Up" for free account. Or, regular members click "Go In".
Yours for better strip-tilling,
Michaela Paukner, Strip-Till Farmer
Discuss
What new insights did you gain? What jumped out at you? Share your observations.