ODEBOLT, Iowa — ProTrakker, an Iowa-based implement guidance system manufacturer, introduced the WS9000T Hydraulic Hitch, specific to John Deere 9000T and 9000RT tractor models.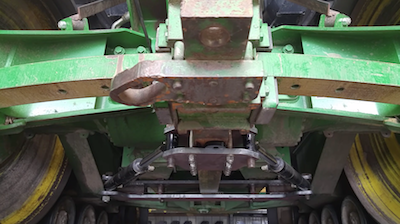 "These tractors have a wide swing mechanism and just like our other hydraulic hitch models, this hitch can be controlled in multiple ways to achieve the implement correction farmers are seeking," says company president Cory Miller. 
Similar to the other hydraulic hitch models in the ProTrakker product lineup, the WS9000T provides sub-inch accuracy when connected with GPS providers such as John Deere Active Implement Guidance or Trimble TrueTracker. Additionally, the new WS9000T can be controlled by SonicTrakk, an ISO VT compatible ultrasonic control option that can sense any consistent 2-inch deviation, or by ProTrakker's Side-Hill Sensor which detects the degree of slope and adjusts accordingly to keep implements on track.