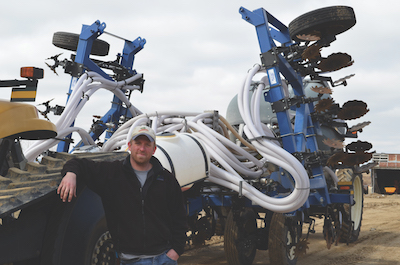 Joey Hanson
Strip-till may be considered a "pocket practice" in some parts of North America, but with more emphasis being placed on fertilizer application methods, water conservation and soil health, there is growing interest among conservation-minded farmers.
But when making the transition to strip-till, knowing where to start can be a barrier to success. Selecting the right equipment to match soil conditions, creating an efficient fertility program and properly managing residue are early challenges than can be overcome with education and experimentation.
Elk Point, S.D., strip-tiller Joey Hanson has seen the good, bad and the ugly sides of strip-till, both in his own farming operation and while custom strip-tilling more than 20,000 acres in Nebraska, Iowa and South Dakota during the last 5 years.
"I deal with a lot of variability, sometimes 20 to 25 different soil types, so I need to make sure I have a strip-till rig that is going to meet the challenges of each farmer's field," Hanson says. "I can't just pull into every field and expect the same setup to work all the time."
During a classroom session at the 2017 National Strip-Tillage Conference, Hanson will share his strip-till successes — and failures — along with advice on how to avoid common mistakes made when transitioning to strip-till.
Registration is open for the 2017 event, at $234 per person and $214 for additional farm or family members, at www.StripTillConference.com.
There are two hotel options – both connected directly to the conference center – providing special rates for conference attendees:
The host Embassy Suites Omaha-La Vista Hotel & Conference Center is holding a block of rooms for the conference at a special rate of $129 per night. You can make reservations by calling (402) 331-7400. When booking, mention code "NS8" to get the special rate.
Reservations can also be made at the Courtyard Omaha La Vista at a special rate of $109. You can make reservations by calling (402) 339-4900. Use the code "NSTC" to get the special rate.
Preliminary plans for the event include 7 general session speakers; 12 classrooms covering a range of strip-till topics, including cover cropping, precision farming practices and equipment modifications; and 26 roundtable discussions.
Stay tuned for more conference updates by visiting www.StripTillConference.com, and we'll see you in Omaha!