To help young people understand the roots of agriculture, Trevor Zantow hosted Leola ag students to his farm where he explained the importance of soil health in his operation. As the sophomores and juniors dug through dirt samples in his shop, Zantow explained why he plants cover crops and how that improves the soil and provides important feed for his cows. 
Zantow isn't on the faculty, but he's on the school board. He shared what he learned at the Soil Health School, sponsored by the South Dakota Soil Health Coalition, where he picked up the basics he puts into practice.
"My goal is to use cover crops to provide feed for our animals and not have to bother with planting and harvesting row crops," he says. "This is my second year planting covers, and we graze all of our tillage acres."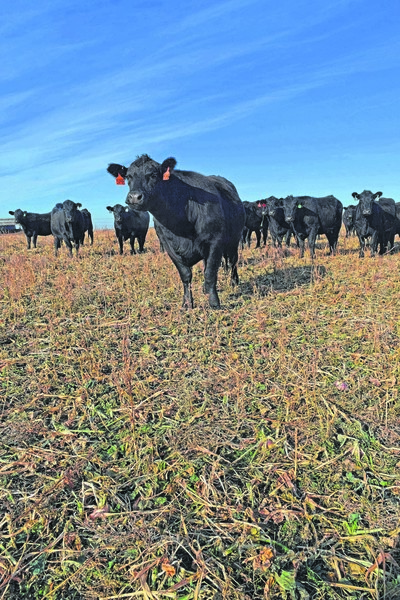 These cows will graze the cover crops in this pasture field until mid-December at the Trevor Zantow farm near Leola. Photo Credit: Connie Sieh Groop
The Zantows run 450 cows and have 550 acres of covers, which seems to be enough to provide for feed needs. Zantow and his wife, Kristy, have four kids, ages 16 to 6, who help with the operation.
"The covers provide quality nutrition, and I've adjusted the time frame for calving," Zantow says. "The animals graze on oats, which I follow with a diverse cover crop planted for winter grazing. Calves weaned on the cover crops maintain a high rate of gain per day. Using the covers costs pennies per day rather than dollars per day. Plants such as forage collards and lentils provide a high level of nutrition, even after a killing frost."
"Planting oats was a lifesaver this spring with the drought conditions," he explained. "All the native pastures were used up by the first of June. The cows grazed the oats most of June. That provided extra rest for native ground pastures and gave time for regrowth. Even through it was a poor crop of oats, it provided a lot of days of grazing. We planted a cover crop in August which provided feed for a long time."
In terms of economics, the cost is a fraction of providing other feed. What's grown in the field is left on the ground. The animals trample the fodder which adds organic matter. With the manure dropped on the ground, no extra fertilizer is needed. He puts up some hay as a hedge against extreme weather. The cattle will stay on covers during the winter. The calves head to market the first of December. This plan reduces the workload, as the animals are self-sufficient most of the winter.
Zantow learned about cover crops from his neighbor, Chris Sieh, who has tried a lot of different things, Zantow signed up to connect with a mentor through the conversation district. "I learn best from people with practical knowledge, preferably a farmer who has tried the systems."
"I'm real happy with what we are doing," he said. "This makes for a better quality of life for me and for the soil. I spend a lot less time out in the fields, which is better for me and my family. And I no longer miss many ballgames."
Sharing Knowledge
Doug Sieck of Selby, president of the South Dakota Soil Health Coalition, said those who have implemented beneficial soil practices share the challenges in management practices with those who want to start the process through the mentorship program.
The mentorships provide a connection and extend the learning process. Sometimes when people try something new, and it doesn't provide a magical solution, they get upset and decide that it doesn't work. Each situation is different.
"That's why mentorships are important," Sieck says. "The relationship allows the individuals to brainstorm about the outcome versus the expected outcome."
Sieck began a mentorship with Don Nickelson of Frederick this fall.
Sharing knowledge can occur through visits, through phone calls and through forwarding information in an email.
"Sometimes if an agency provides an idea, the producer may agree it is valuable but not take any action," Sieck said. "If a fellow farmer can share how the animals reacted or how the production changed in his operation, that same idea may carry more weight."
With low commodity prices, the margin for mistakes is smaller. That's why Sieck sees the value in helping guys learn from what works.
Starting Out
Don Nickelson planted cover crops this year after harvesting oats on his fields around Frederick. In some fields, he sowed seeds into unproductive spots. He's noticed the cows really tore into the forage and have done a good job of grazing it down.
Nickelson expects the cover crops will benefit both the soil and his cattle. Attending the Soil Health School earlier this fall, he learned the cover crops will boost the fertility in the soil with the extra roots in the ground opening the soil so more water can infiltrate. The combination should extend grazing and take pressure off pastures. The cover crops will build the soil and make the ground more productive for corn and soybeans. What it does underground will compliment what grows on top.
Some of the seeds in the mix Nickelson has tried this year are winter triticale, oats, barley, winter rye, radishes, turnips and kale. Nickelson said he'll experiment to see which work best. This should result in a big savings in feed and fertilizing. "The more they do with four legs, the less I have to do with four wheels," referring to the spreading of manure.
"I want to try bale grazing to repair some of the poor spots in the field," he says. "The hay will encourage the cattle to feed there and they will drop their manure which will fertilize the area. That will help to build the organic matter and make that land more productive. "
Adding the cover crops for grazing will be the next step in utilizing cropping acres at a time when the fields are unproductive.
The mentorship program interests Nickelson. "I signed up for the program this fall. For me, I learn by picking someone else's brain who has been there and done that. I don't need to reinvent the wheel when there are people who have a different way of looking at things."
"Addressing soil health boosts the money I spend," he said. "More than maintaining the soil, we need to build it. I think cover crops can do that."
Providing Information
The South Dakota Soil Health Coalition is working with the South Dakota Department of Agriculture and South Dakota State University to organize a way to connect those who grow cover crops with those who would like to graze cover crops. They plan to have a system in place in the next year.
"Soil health is important on a personal and on the work level," South Dakota Soil Health Coordinator Cindy Zenk saiys. "I provide interested producers with details about improving soil health. Some of that is through workshops and materials they can take back to their operation. Each operation is different, but there are ways to learn from the differences and similarities to make soil health efforts work."
Zenk said soil health covers many areas. "We are working to improve our website as a way to get information out to producers through newsletters and outreach activities."
Diversity in Teaching
Dan Forgey has worked with many producers in his area creating informal mentorships. He's especially excited when students who attend vo-tech schools come to him when they are home on break. He helps them understand how planting cover crops can work in their operation, and he suggests ways to get started.
As manager of the 8,500-acre Cronin Farms in Gettysburg, Forgey dedicates himself to soil health and has tried a lot of different ways to enhance the soil. The operation won the 2016 Leopold Conservation Award.
Willing to share his knowledge, Forgey said, "I tell those who are new to using cover crops to be part of the decision making process. When looking for rotations, know how many cattle will be on the cover crops."
Forgey conducts on-farm tours, holds field days and has spoken at regional conferences. He says they plant a lot of full season cover crops and graze cattle through most of the winter. Over the years, he has diversified the farm to include 12 crops — including grains, oilseed crops and forages for his 750-head cow-calf operation.
"Diversity is really a big deal as bugs and weeds figure it out," Forgey says. "It used to be, you'd be able to break up pest cycle every other year. Now some of the eggs delay hatching for two years. Nature adapted, and it will take some doing to straighten things out."
Forgey says, "Our soils are much more the way we want them. By paying as much attention to what goes on beneath the ground, the soils are paying us back. I'm always happy to visit about soil health."