---
Pictured Above: FORMIDABLE FORESIGHT. Less than 5 years into the strip-till transition, North Bend, Neb., farmer Chris Armstrong utilizes the Pioneer Encirca nutrient management program to help lower his ratio of applied N to less than 1 pound per bushel.
---
North Bend, Neb. strip-tiller Chris Armstrong was just over the age of 30 when he made the switch to strip-till in 2014. That first year, he also decided to enroll in the Pioneer Encirca nutrient management program, investing $10 per acre in creating a database with a goal of more accurately applying fertilizer based on field-specific prescriptions.
While he admits it was somewhat of a gamble, it's one that has warranted an annual investment of nearly $11,000 and contributed to an overall yield boost of 10 bushels per acre in corn.
Strip-tilling 1,200 acres of corn and 700 acres of soybeans, in a relatively short time, Armstrong has been able to push soybean seeding rates on higher producing acres and lower his ratio of applied nitrogen (N) to less than 1 pound per bushel.
A Tactical Transition
The driving factor behind Armstrong's initial transition to strip-till centered on improved nutrient placement, noting the practicality of being able to place fertilizer precisely where he was going to plant.
In addition to more targeted placement of fertilizer, Armstrong also noticed considerable improvements to field drainage in the seasons that followed, particularly in lower areas of his fields prone to being swamped out by heavy rain.
"A lot of our susceptible areas are draining better, and that's likely a combination of strip-till and the residue that we're leaving on the surface of the field," Armstrong says. "We avoid creating a discing-induced hard pan, allowing existing root channels to exist for more infiltration. So it's likely a combination of the two."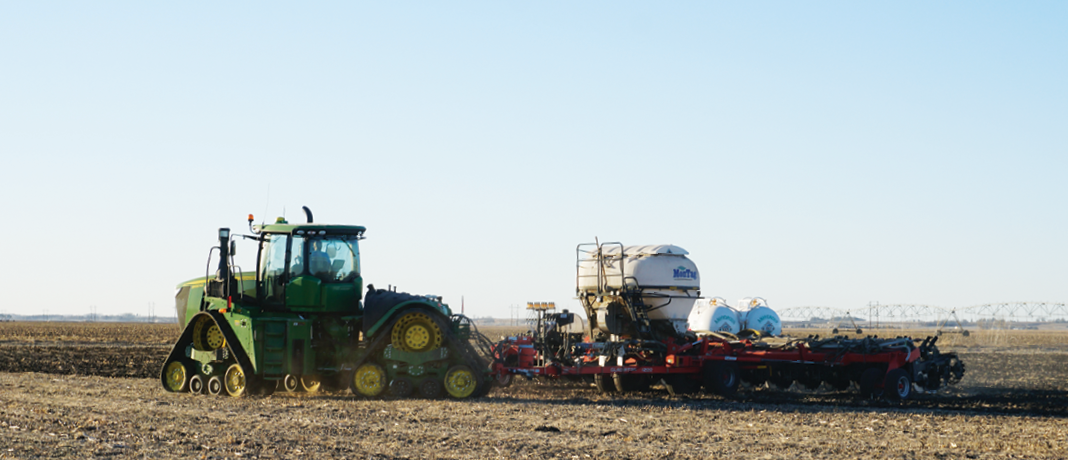 Pulling Its Weight. Armstrong's upgrade to a 9620 John Deere RX track tractor allows for quicker passes through the field with his 16 row Kuhn Krause Gladiator strip-till rig and 6 ton Montag dry fertilizer cart.
Armstrong's previous system of full-width tillage included discing right after harvest and field cultivating before planting. Fall strip-till eliminates a second tillage pass in the spring. Coinciding with the strip-till transition was the implementation of grid sampling across Armstrong's acres every 3-4 years, which he says is key for getting a gauge on nutrient requirements.
"We wanted to make sure we know what we've got in the ground with regards to what we're supposed to be applying for each crop," Armstrong says. "We're able to hone in on areas with high phosphorus (P), balanced pH, and so on. It gives us the opportunity to increase fertility in some areas, while also saving money on the areas already rich in fertility."
Twin-Row Experiment
Armstrong runs a 16 row Kuhn Krause Gladiator and a 6 ton mounted Montag dry cart. He recently upgraded to a 9620 John Deere RX tractor and prefers to go about 8 inches deep with fall strips.
"In the spring, there are some heavier soils where strip-till won't work because it's a bit cloddy with the dampness and we wouldn't have the preferred seedbed for planting on the heavier soil," Armstrong says. "So we try and strip-till in the fall to allow the soil to mellow out over the winter."
Unique to his soybean operation is the use of a twin-row system, which came as a result of renting a 40 foot Deere 1790 planter from another farmer and being pleased with the inherited setup.
A main benefit of the twin-row system is the 7-inch row spacing on 30-inch centers allows for quicker canopy development.
"It's nice to let the soybeans develop a canopy sooner than the 30-inch rows while still being able to hit the 30-inch strip," he says. "We've had just as good of luck with 30-inch rows too, but with the weeds we've been seeing, that quicker canopy time could be pivotal."
Data-Driven Fertility
For his heavier soils, Armstrong applies a flat rate of 130 pounds per acre of anhydrous ammonia during his fall strip-till pass, with a NutriSphere N stabilizer. He says the product isn't as harsh on his soil microbiology as other ammonia stabilizers.
Armstrong also makes a variable-rate application of a dry fertilizer blend called PhosPlus during the same run. The pellets contain N, P, sulfur and zinc, and are variable-rate injected depending on soil P levels.
Battling Soybean Disease with Variable-Rate Seeding
North Bend, Neb., strip-tiller Chris Armstrong's variable-rate practices extend to seeding as well, utilizing yield maps to locate and combat regions with high pH and risk of crop disease. Particularly prevalent in Armstrong's region is Iron Deficiency Chlorosis (IDC), a soil condition that kills off entire regions of soybean fields, leaving the crops with a trademark yellow tinge.
While eradicating IDC altogether is difficult, Armstrong found success combatting the condition with a targeted variable-rate seeding strategy, treating high-risk areas of the field with significantly greater population counts.
"High population is the key because when you put so many out there, some are still bound to survive," Armstrong says. "We'll increase our soybean seeding populations by over 200,000 plants per acre in the high pH and IDC areas, and in doing so, we can actually get a crop. Had we only planted at the standard 140,000-160,000 seed counts in some sections, we wouldn't have gotten anything."
For lighter soils, he follows the same routine in the spring prior to planting so there's less time for the nutrients to leach away. At planting, Armstrong simultaneously applies 4 gallons per acre of ammonium phosphate (10-34-0), a quart per acre of chelated zinc and 5 ounces per acre of Winfield's Ascend growth regulator in-furrow, applied with a Totally Tubular configuration right underneath the seed.
"We'll get to about V5 or V6 stage corn and apply variable-rate N with a tractor-mounted Y-Drop system, similar in fashion to a sidedress bar," Armstrong adds. "We'll have one or two more N applications depending on soil type using center pivot fertigation. With light-texture soils, it might be 2 more passes with the pivot around V10 stage, and then one more at brown silk stage."
The Encirca program determines variable-rate fertilizer amounts for approximately 1,000 of Armstrong's acres. Each fall, he works with a representative to take a 2-foot sample on his majority soil type, breaking down each field into environmental response units.
"The environmental response units compile yield data from previous years along with current results, and as I keep adding more information, the zone recommendations become continuously updated," Armstrong explains. "Based on weather modeling, we'll be able to determine how much N is needed for a particular soil type and climate. It's been a key component in our pursuit of input savings."
Variable-rate applications have continued to improve under the program, Armstrong says. While the first year produced an average of 0.94 pounds of N per bushel across all acres in the program, his 2017 average was slightly higher (1.0 pounds of N per bushel) in part due to a very wet spring and damaging winds during harvest. Armstrong says his goal is 0.8 pounds of N per bushel.
Complementing the N recommendations is Armstrong's broad network of irrigation pivots, allowing him to easily make adjustments in-season based off updated data.
"We can add N at any time, so it doesn't make sense to put a whole bunch out there right away," he says. "If we have some sort of event where we lose our crop or it isn't going to yield very well, we can avoid scenarios where we've already applied all of our nutrients and it goes to waste."
In the seasons since Armstrong joined the program, his fields have experienced a considerable number of heavy rains, leading to exceptionally wet springs. Without the data on-hand from Encirca, Armstrong speculates he would've had a difficult time estimating how much N was lost due to rainfall.
---
"We're able to hone in on areas with high phosphorus (P), balanced pH, and so on. We have the opportunity to increase fertility in some areas, while also saving money on the areas already rich in fertility that don't need additional applications…" –Chris Armstrong
---
Instead of waiting for soil sample test results, Armstrong can refer to historical data for an application estimate to compensate for in-season nutrient losses. He notes that it's similar to getting constant progress reports on his field, and then an annual "report card" at the end of the year.
More specific fertilizer recommendations have produced value not only for underperforming areas of Armstrong's field, but for the most productive regions as well.
"We came to realize we probably weren't applying enough N on our ground with the highest yield potential, and we were getting 180 bushels per acre of corn in spots that had the potential to get above 200 bushels," he says.
"So just telling us when to apply is a big part of the program, especially with timing the fertigation on sandier soils and applying where and when it's needed as opposed to applying everything up front."
Whole farm average yields for Armstrong in 2016 came out to 211 bushels per acre of corn and 63 bushels per acre for soybeans, followed by 208 bushels per acre for corn and 59 bushels per acre for soybeans in 2017.
Armstrong currently pays approximately $11,000 per year in total investment for Encirca Nitrogen, Fertility and Seeding. Between the opportunities provided through the information he receives, however, he says it doesn't take very much over-applied or under-applied N to make up the costs.
"It takes about 2.6 bushels per year to see a return on investment," Armstrong says. "Even with cheap corn, I would say I've made up far more than 2.6 bushels on average between the N and fertility savings."