---
Pictured Above: STRIP-TILL STABILITY. Discouraged by the lack of organic buildup with no-tilled dryland corn, father-and-son Doug (right) and Steve (left) Rotenberger switched to a strip-till setup 12 years ago, leading to healthier soil, reduced wheat residue and improved fertilizer placement accuracy into the berms.
---
Within the 10-mile radius where father-and-son Doug and Steve Rotenberger farm, field variation is vastly understated. Across their 3,500 acres are sandy, high drainage soils along the east to heavier, gumbo-type soils encompassing most of the west.
Factor in the region of Lisbon, N.D., where April snow is as common as a Carson Wentz jersey, and the Rotenbergers have their hands full with excess residue, delayed planting dates and more.
As explained through a series of adaptations, their key to survival and success comes through versatility, from multiple tillage practices to nutrient timing and cover crops.
Crop Consistency.
The Rotenbergers previously had a larger presence of spring and winter wheat in their crop rotation for several decades, but have narrowed their scope down to corn (both dryland and irrigated) and soybeans most seasons over the past few years.
---
"We'd give it three years of organic build up, then we'd have to go across to make the ground black. We were fighting ourselves…" – Steve Rotenberger
---
The dryland and irrigated corn are strip-tilled and conventionally tilled respectively, while the soybeans are no-tilled. Wheat has since been limited to every 6 years and accounts for roughly 15% of their total acreage when added.
In the seasons leading up to strip-till, they would routinely no-till all of their crops for 3 years with manageable results. About every fourth year, however, excessive buildup from crop residue would require them to chisel plow their dryland corn fields to allow for planting the following spring.
Steve recognized the detrimental effects on soil health development as the driving factor toward switching to strip-till 12 years ago. "We'd give it three years of organic build up, then we'd have to go across to make the ground black," he says. "We basically lost everything we were trying to gain. We were fighting ourselves."
Another benefit achieved through strip-till includes the elevation of the berm, which Doug notes is a key suppressor of wheat residue hairpinning. Poor seed-to-soil contact had been a persistent issue for their no-tilled dryland corn, and the buffer provided by the strip has made a significant improvement to seedbed quality.
The Rotenbergers do not construct the berms themselves but instead hire a co-op service in the fall. The service previously used a 24-row SoilWarrior manufactured by Environmental Tillage Systems on 30-inch rows, but this past fall transitioned to a 24-row Case IH strip-till rig with a rolling basket. Equipped with row cleaners to clear out residue, the strips fall between 6-8 inches deep and 8-10 inches wide.
"The berms this past fall are definitely less cloddy with the rolling basket," Doug says. "It could be in-part because the fall conditions were more favorable, but they certainly appeared more advantageous to plant into this spring."
---
"Our accuracy with fertilizer placement in the berms can trim our rates up to 30% on N, P and K…" – Doug Rotenberger
---
Forward Thinking.
Having their berms completed in the fall helps minimize any delays in planting from a wet spring. The same rationale plays into their nutrient program for dryland corn, based on recommendations from AGVISE Laboratories and annual soil samples in the fall.
Most years, they'll apply up to 140 pounds per acre of nitrogen (N) — either as anhydrous or ESN — 50 pounds of phosphorus (P) and 30 pounds of potassium (K) into the strips.
"Our accuracy with fertilizer placement in the berms can trim our rates up to 30% on N, P and K. The elevator puts it all on in the fall, so there's nothing to do in the spring but to get the planter ready and go over the top of that berm," Doug says. "We might have some low areas where you have to run out and use vertical tillage equipment to tend to here and there, but overall it's effective."
In the spring, the Rotenbergers apply their remaining nutrients, including 20 pounds of sulfur using a box spreader to complete the fertilization process on their strips, along with 3-4 gallons per acre of 10-34 (10% N, 34% phosphate) in furrow.
For planting, they utilize a 16-row John Deere 1770NT on corn. The setup includes Yetter Sharktooth row cleaners with CleanSweep control, drag chains and rubber closing wheels, as well as automatic down pressure through Precision Planting's Delta Force system.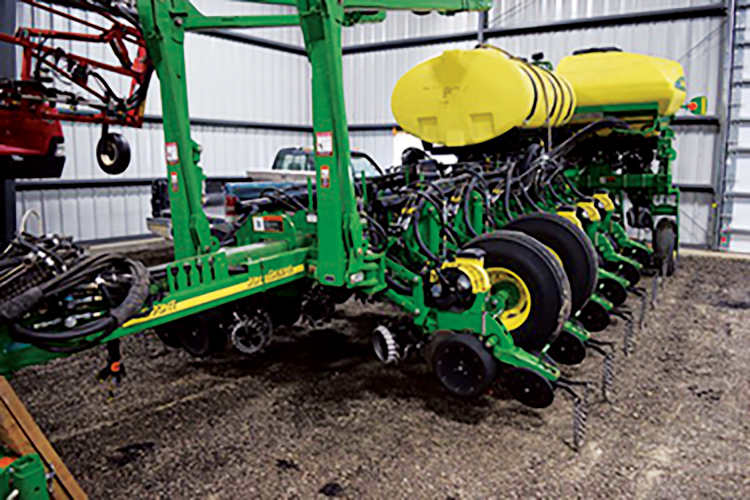 PROVEN PRECISION. The Rotenbergers equip their 16-row John Deere 1770NT planter with Yetter Sharktooth row cleaners and automatic down pressure through Precision Planting's Delta Force System, complementing precise fertilizer application with precise seed placement of corn.
In seasons when spring wheat is added to the rotation, they'll use a 40-foot-wide Amity 3800 planter equipped with a gauge wheel behind the opener to double as a packer wheel. Excessive moisture will occasionally require the planting of corn and wheat to overlap, although they prefer to have all of their corn down between the last week of April and the second week of May.
In those cases, wheat typically precedes the corn due to its propensity to lose yield potential more quickly, Steve adds. "If it starts getting to May, I don't like to see too much of it planted. It seems to slowly lose yield the longer we wait. And that's one of the crops where we can have frost six inches down, but with a nice seedbed, we could get by planting wheat on top of it."
Taking Cover From Spring Moisture.
The Rotenbergers have turned to cover crops as an additional tool to combat wet springs. The typical mix they'll use includes 20 pounds per acre of oats (increased to 30 pounds on grazing grounds for their Black Angus beef cows), 2 pounds per acre of radishes and 1 pound of turnips. Taking the same Amity drill used for soybeans and wheat, they'll blend a mix into their wheat fields near the beginning of August or after wheat harvest when included in the rotation.
Through their participation in a Conservation Stewardship Program, the Rotenbergers seed roughly 600 total acres of cover crops each year and reported improvements to soil aeration and planting quality on those fields. Considerations for the future include aerial applications for new types of covers.
"I'll likely start experimenting this summer with rye," Doug says. "We have a couple of fields I know of that will be going into corn, so we may try getting some rye flown in during August just to see if we can get a catch. It could help manage some of those moisture issues we run into in the spring."