Kansas Governor Laura Kelly gave a shoutout to strip-tillers Ron and Marsha Schilling for helping solve Sherman County's water supply issues in her 2023 State of the State address.
"In the early 2000s, water tables indicated that there were very few years left to continue irrigated agriculture in the Goodland area," Kelly said. "Ron and Marsha Schilling literally threw down their plows, implementing water conservation practices like strip-till. Now, 20 years later, it turns out their work has more than paid off. The Schillings are growing more bushels with less water, increasing the life of the Ogallala Aquifer in their region."
Ron Schilling says he was honored by the governor's words and excited to receive confirmation that his family's conservation practices are indeed making the impact he envisioned when he started strip-tilling over two decades ago.
---
"Switched to liquid fertilizer because I became concerned about soil organic matter…"
---
"We're trying to conserve water for future generations," Schilling says. "Water is critical. The only thing more important than water on our farm is our grandkids. Strip-till has helped conserve water so that hopefully we can continue this farm into the future for our grandkids and many more generations."
Strip-Till Origin Story
The Schillings grow corn, soybeans and milo on dryland and irrigated farmland in the northwest corner of Kansas near the Colorado border. They also run a livestock operation with around 500 cows normally, but only 380 in a drought year. Schilling jokes that they farm too many acres in the bad years and not enough acres in the good years.
Motivated to conserve water and improve soil health, Ron remembers keeping a close eye on his neighbor's strip-till system before deciding to make the switch himself.
"We like to watch other people to see how they're getting along before we try it ourselves," he says. "At first, I didn't think strip-till would work because we just never farmed that way. But as we watched other farmers have success with it, we gave it a try, and it caught on pretty fast."
Schilling remembers opening the pressure gauge and pouring on as much water as he could when he first started farming, resulting in a lot of wasted water.
"With strip-tilled corn, we're harvesting a lot more bushels while using a lot less irrigated water than before," Schilling says. "I'm glad I'm living long enough to see this."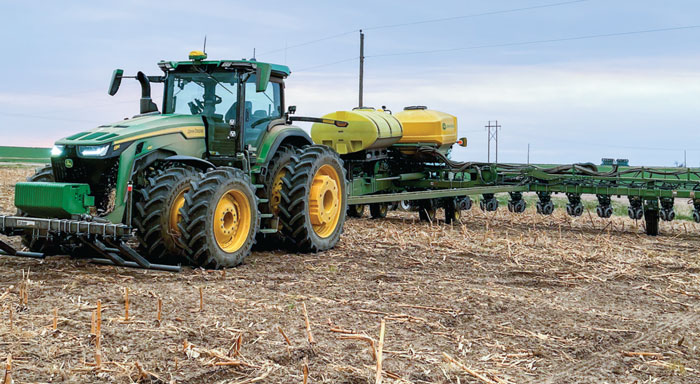 START IT UP. Ron Schilling has noticed significant improvements in plant health and root mass since implementing a starter fertilizer program with Nutrien's Black Label product. Schilling applies the product with the planter in early May at different rates annually based on soil testing results. The starter fertilizer makes up about 1/4 of his total nutrient management plan for corn. Photo: Adam Duell
Not only are the Schillings conserving water with strip-till, but they're also spending significantly less on fuel.
"It used to drive me crazy having to work a field 6-7 times before being able to plant corn," Schilling says. "With strip-till, we're cutting down on excessive trips around the field, getting better fertilizer placement and a better stand."
'Duell-Threat' Strip-Tillers
The Schillings wait until the end of March to build strips because they graze cows on cornstalks after harvest, which results in a cleaner field but a tighter planting window. With a small margin for error, the Schillings turn to the custom strip-tilling father-son duo of Steve and Adam Duell to get the job done.
"Strip-till equipment is expensive, and like most people, we just don't have enough help to get everything done," Schilling says. "Also, the technology part of strip-till is a big challenge, and I'm not a tech-savvy person. The Duells have helped us a lot in that department as well."
The Duells run an Orthman 12-row 1tRIPr shank machine with a SurePoint Ag PR30 Pump and LiquiShift Variable Rate Technology. They use a John Deere 6000 StarFire receiver with RTK signal for guidance.
"By running the cattle on cornstalks, their soil gets compacted over the winter and absorbs water very well over the summer," Adam Duell says. "The hardness of the ground is a big challenge in this region. It's very hard in the fall, so we like waiting until the spring for it to freeze and thaw before we build strips. The key to making it work is waiting until it's not too wet."
---
"The only thing more important than water on our farm is our grandkids…"
---
They apply UAN 32% and 10-34-0 at a depth of 8 inches in late March or early April. Schilling shoots for a total of 200 pounds of nitrogen (N) per acre, 40 pounds of phosphorous (P), 10-15 pounds of sulfur and 1 pound of zinc. When developing a nutrient management plan, soil health is always a priority.
"I switched to liquid fertilizer about 6 years ago because I became concerned about the soil organic matter," Schilling says. "I'm trying to improve our soil health, and I think anhydrous used to harm us in that regard. Back in the early days, we'd just throw on 200 pounds of anhydrous because we didn't know what we were doing. Now we're more educated and can rely on consultants to help come up with nutrient application strategies."
Something New Every Year
The Schillings plant corn in 30-inch rows around May 1, while applying Nutrien's Black Label starter fertilizer product with their John Deere 1720 12-row planter.
"The plants have looked healthier since we started using the Black Label starter fertilizer," Schilling says. "Nutrien performs soil tests for us, and the fertilizer rates vary annually based on the results. I've seen a more vigorous plant growth and better root mass since we started using starter fertilizer."
They harvest high moisture corn in early October and dry corn about a month later.
Schilling has had more success with corn planted after May 1, which goes against everything he was told when he started farming.
"Local universities used to tell us you'd lose a bushel of corn every day after May 1," he says. "That hasn't been the case for us. I'm learning something new every year."
Reflecting on his strip-till journey, Schilling thinks about all the people who helped along the way, including his son, neighbors, close friends and the Duells. Schilling recommends having a strong network to consult for advice before making an investment in strip-till.
"Have someone come in to help you out and work off their knowledge," he says. "For an old guy, I'm trying to stay up to speed as much as I can. I have to rely on other people, and that's OK. I'm not scared to ask questions and try something new."