Voting Now Underway for No-Till Product of the Year Program
We need farmers to select the top-performing products in 13 product categories.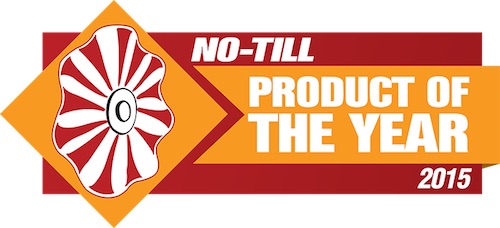 Brookfield, WI (Oct. 2, 2015) — Voting is now open for the opening round of the 11th annual No-Till Product of the Year program. No-tillers and strip-tillers can now select the top-performing products in 13 different categories through Sunday, Nov. 8.
The top vote recipients in each of the 13 categories will advance to the final round, where no-tillers will have the opportunity to choose the product they think is the best on the market today. Winners will be announced at the 24th annual National No-Tillage Conference Jan. 8, 2016, in Indianapolis, Ind., and in the Winter 2016 issue of No-Till Farmer's Conservation Tillage Guide.
Only farmers are eligible to participate in the voting. In this opening round of voting, farmers may select as many products in each of the 13 categories they deem worthy of being recognized as a top-performer in no-till and strip-till systems.
Click here to cast your votes. It takes just 5 minutes and 20 voters will have their name pulled to win a No-Till Farmer silver bullet thermos.
Here is a list of last year's award winners by individual category, along with honorable mentions:
Fertility/Soil Amendments: Agrotain, Koch Agronomic Services. Honorable Mention: MicroEssentials, Mosaic; Gypsoil FGD Gypsum, Beneficial Reuse Management.
Fungicides: Headline AMP, BASF. Honorable Mention: Quilt Xcel, Syngenta.
Insect Protection: Genuity SmartStax, Monsanto. Honorable Mention: Herculex XTRA, Dow AgroSciences and DuPont Pioneer.
No-Till Planters/Drills: John Deere 1770NT Planter. Honorable Mention: Kinze 4900 Series Planter, Kinze Mfg.
Planter/Drill Attachments: Keeton Seed Firmer, Precision Planting. Honorable Mention: SharkTooth Row Cleaner, Yetter Mfg. Co.
Precision Tools: 20/20 SeedSense, Precision Planting. Honorable Mention: YieldSense, Precision Planting.
Residue Management: 5000 Stalk Devastator, Yetter Mfg. Co. Honorable Mention: BT Chopper/Crusher Stalk Rolls, Calmer Corn Heads.
Seed Treatments: Poncho/Votivo, Bayer CropScience. Honorable Mention: CruiserMaxx Beans, Syngenta.
Spraying Equipment: 4940 Self-Propelled Sprayer, Deere & Co. Honorable Mention: Patriot 4430 Sprayer, Case IH.
Strip-Till Equipment: SoilWarrior, Environmental Tillage Systems. Honorable Mention: Pluribus Strip-Till Unit, Dawn Equipment Co.; Gladiator with ST-Pro, Kuhn Krause.
Weed Control: Sharpen herbicide, BASF. Honorable Mention: Liberty herbicide/LibertyLink, Bayer CropScience; Halex GT herbicide, Syngenta.
Fertilizer Application Equipment: Totally Tubular starter fertilizer tubes, Totally Tubular. Honorable Mention: Dry Fertilizer Cart, Montag Mfg.; 2968 Row-Unit, Mount-Between Fertilizer Opener, Yetter Mfg. Co.
Cover Crop Seed: Tillage Radish, Cover Crop Solutions. Honorable Mention: KB Royal/Supreme annual ryegrass, KB Seed Solutions.