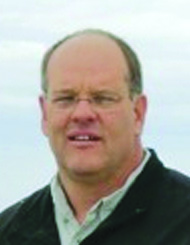 Steve Olson
Farming in arid conditions, Plainview, Texas, strip-tiller Steve Olson views water as a precious commodity on his 2,500-acre cotton, corn, sorghum and wheat operation.
With most of his strip-tilled corn and cotton under center pivot or drip irrigation, he uses moisture probe technology and intensive water management practices to maximize crop yields in a drought-stricken area.
"We were one of the very first farms to adopt strip-till in our area and there was a lot of skepticism as to whether it would work in our dry, hard clay soils," Olson says. "But we've seen our soils mellow and yields increase with the practice."
During a classroom session on Thursday, Aug. 4, at the 2016 National Strip-Tillage Conference, Olson will share his experience and advice for making every drop of moisture count in a strip-till system and how he's designed a sustainable fertility program to accommodate his dry conditions.
The host Marriott Hotel and Conference Center in Normal, Ill., will offer an ideal learning environment for attendees to absorb dozens upon dozens of actionable strip-till practices from fellow farmers, consultants, university specialists and other agricultural experts through general sessions, strip-till classrooms, roundtable discussions, hallway networking and a special members-only workshop.
Preliminary plans for the event include 7 general session speakers, 12 classrooms covering a range of strip-till topics, including cover cropping, precision farming practices and equipment modifications, and 20 roundtable discussions.
Stay tuned for more conference updates by visiting www.StripTillConference.com and we'll see you in central Illinois!