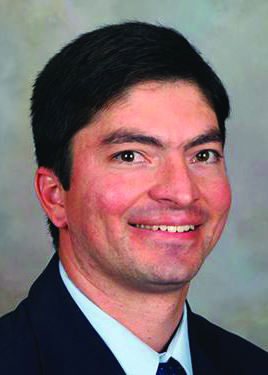 Dorivar Ruiz Diaz
Proper placement of fertilizer in strip-till is a key factor to optimize yields and minimize environmental impact. But in practice, the right placement is continually evolving and can be impacted by planting technology, tillage system and weather variability.
Recent research by Kansas State University soil fertility specialist Dorivar Ruiz Diaz compared placement of phosphorus in strip-till with other tillage systems to track uptake, carryover and loss.
During the dinner general session on Wednesday, Aug. 3, at the 2016 National Strip-Tillage Conference, Diaz will share the results of a recently concluded 10-year study on phosphorus application on corn after soybeans in different tillage systems and analyze key takeaways for strip-tillers from the study. The dinner event is sponsored by AgroLiquid.
In a separate classroom session, Diaz will share the results of a recent university study on how distance of fertilizer application from the seed can impact early emergence in strip-till systems.
The host Marriott Hotel and Conference Center in Normal, Ill., will offer an ideal learning environment for attendees to absorb dozens upon dozens of actionable strip-till practices from fellow farmers, consultants, university specialists and other agricultural experts through general sessions, strip-till classrooms, roundtable discussions, hallway networking and a special members-only workshop.
Preliminary plans for the event include 7 general session speakers, 12 classrooms covering a range of strip-till topics, including cover cropping, precision farming practices and equipment modifications, and 20 roundtable discussions.
Stay tuned for more conference updates by visiting www.StripTillConference.com and we'll see you in central Illinois!