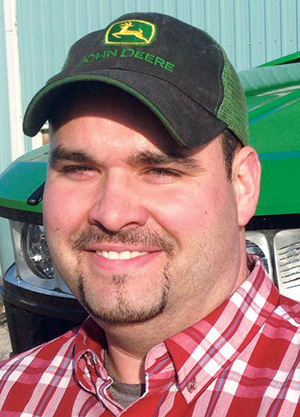 For the last 10 years, Woodville, Ont., strip-tiller Dustin Mulock has been building and refining a combination no-till/strip-till system. Integrating different pieces of equipment, fertility methods and cover crops put him on a productive path to bio strip-till.
This approach complements his twin-row, strip-till setup for corn and soybeans and has helped increase yields by 25%, while also naturally building nutrient levels in his mostly sandy loam soil.
"We never like disturbing the soil, but we were feeling like we weren't truly cycling the nutrients until we put together the pieces for a bio strip-till system," says Mulock. "Our approach to strip-till is surgery without the scar."
During a classroom session on Thursday, Aug. 4, at the 2016 National Strip-Tillage Conference, Mulock will detail the development and results of his bio strip-till system, to include fertilizer application equipment modifications and experimentation with more than a dozen different cover crop species.
The host Marriott Hotel and Conference Center in Normal, Ill., will offer an ideal learning environment for attendees to absorb dozens upon dozens of actionable strip-till practices from fellow farmers, consultants, university specialists and other agricultural experts through general sessions, strip-till classrooms, roundtable discussions, hallway networking and a special members-only workshop.
Preliminary plans for the event include 7 general session speakers, 12 classrooms covering a range of strip-till topics, including cover cropping, precision farming practices and equipment modifications, and 20 roundtable discussions.
Stay tuned for more conference updates by visiting www.StripTillConference.com and we'll see you in central Illinois!