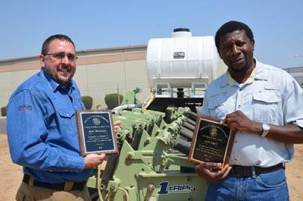 The CASI (Conservation Agriculture Systems Innovation) Center announced the first of its 2016 innovator awards in a recognition ceremony in Madera on the 16th of August.  Ladi Asgill, Senior Project Manager of the San Francisco-based environmental group, Sustainable Conservation, and Mike Winemiller, the Customer Account Manager for California Ag Solutions (CAS), a full-service decision-support company that provides leadership to help farmers achieve efficient, sustainable and profitable production systems, were recognized for the partnership they forged and for the support they've provided to farmers to accelerate the adoption of improved forage production systems in California.
According to CASI, Asgill and Winemiller were highly instrumental and successful in helping over two dozen farmers successfully convert to strip-till corn production during the past three years. By combining strip-till and advanced planting equipment with targeted plant nutrition, the tremendously successful relationship that they forged has been instrumental in moving strip-tillage forward in California's dairy silage production sector. 
CASI reported that Winemiller is a very knowledgeable and outstanding teacher when it comes to equipment and in particular, strip-tillage. His conservation agriculture equipment and farm management experience combined with his High Plains strip-till background, have greatly helped enable the successful adoption of strip-tillage with all of the California farmers he's worked with.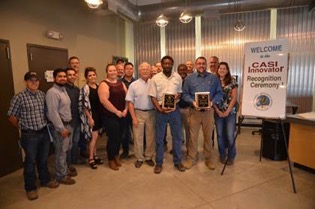 CASI also noted that in Asgill's work with Sustainable Conservation, he has brought great value and recognition to this award-winning environmental organization in recent years.  He has bulldogged a number of projects in their diverse portfolio that have been quite useful in terms of both farmer sustainability and environmental benefits.  He worked on some of the early research and development related to conservation tillage options for Valley dairy farmers, the incentive-based "BMP Challenge" NRCS Conservation Innovation Grant project here in California with a group from the Midwest, the development of CASI's strategic plan, and the ongoing biennial conservation tillage acreage survey. 
More information regarding Asgill and Winemiller, CASI's 2016 Farmer Support Innovator Awardees, is available at the CASI website http://casi.ucanr.edu/ .  Two additional innovator award ceremonies will take place later this year in Orland and in Tulare.