Lessiter Media recently established the Strip-Till Hall of Fame to celebrate the rich history of strip-till and honor those who helped move the practice forward.  
"As the strip-till acreage continues to grow, we felt it was time to honor some of the innovators who played a key role in promoting the benefits of this reduced tillage system," says Frank Lessiter, Lessiter Media founder and Strip-Till Farmer editor.  
The inaugural Strip-Till Hall of Fame class includes Richard Follmer, Jim Kinsella and Tony Vyn. They were introduced during a special induction ceremony in Bloomington, Ill., at the 2023 National Strip-Tillage Conference in August.
Future inductees will be honored at the National Strip-Tillage Conference each year. If you would like to nominate someone for this award, please outline their accomplishments in a letter and email it to Nnewman@lesspub.com.
Grandfather of Strip-Till
Hudson, Ill., farmer and former shortline manufacturer Richard Follmer, often referred to as the "Grandfather of Strip-Till," designed one of the first commercially successful strip-till rigs for Midwestern growers dealing with cold soils. 
"We built a homemade 12-row bar with some crude row units at first to clear a path in the field," Follmer says. "We went into production in 1992. We had to figure out what to call it, and the only thing we could think of was strip-till."
---
"I spent the next 3.5 hours in the hotel hallway fielding questions about strip-till…"
---
Follmer, the retired president and founder of Progressive Farm Products, introduced many no-tillers to the concept of strip-till during a presentation at the National No-Tillage Conference in 1995. 
"After wrapping up my talk, I spent the next 3.5 hours in the hotel hallway fielding questions about strip-till from attendees," Follmer recalls. "The response was unbelievable — I'd never seen so much interest in strip-till. I knew we had hit a home run with strip-till when no-till purist Jim Kinsella adopted it."
Best of Both Worlds
Jim Kinsella, who farms in Lexington, Ill., helped pioneer no-till farming systems in the U.S. He enjoyed great success with no-till soybeans but found that corn was always slow to start. One year, he noticed the corn in the tracks of anhydrous tanks grew higher than the rest of the field. From that observation, his strip-till system was born. He's been strip-tilling corn ever since.  
"My concept of strip-till is making strips in the fall with a knife and coming back in the spring to plant over the top of that strip," Kinsella says. "We get all the benefits of no-till by getting and keeping a lot more moisture in the ground, but we also warm the seedbed. We've got the residue in the middle. We can keep the earthworms and all the microbes. Strip-till really is the best of both worlds." 
Kinsella worked with companies like DMI and Progressive to help create some of the earliest commercial strip-till rigs. He also built an on-farm meeting center to host hundreds of growers at winter meetings and summer field days. An estimated 90,000 farmers have attended strip-till workshops on his farms over the years.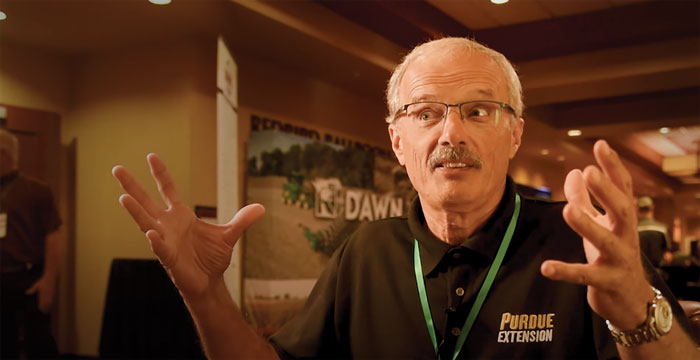 Is Strip-Till Still the Near-Ideal Tillage System?
Click here to watch a 1-on-1 conversation with Strip-Till Hall of Famer Tony Vyn following his presentation at the 2023 National Strip-Tillage Conference. Vyn makes the case for strip-till as a near-ideal tillage system and explains what needs to happen to make it a more widely adopted practice in the U.S. and beyond.
"Our whole strip-till system came together when we started including strip-till in our no-till meetings," Kinsella says. "I'm so proud to receive this award, but I think I want to share it with my fellow no-till innovators, who were all involved in the process." 
Almost Perfect System
Tony Vyn has studied strip-till since its earliest days, and he is considered one of the practice's foremost authorities and experts. Coming from Ontario, he joined the department of agronomy at Purdue University in 1998 and was appointed to the Henry A. Wallace chair in crop sciences in 2018. 
Vyn has worked in several research areas throughout his career, including improving nitrogen and water-use efficiencies in cropping systems, creating corn-plant phenotyping approaches to evaluate genotypic differences in internal nitrogen efficiency, and improving soil and air quality via adoption of strip-till. He was also instrumental in the creation of the Strip-Till Field Days hosted by the University of Minnesota, Wisconsin and Purdue extensions, which introduced many farmers to strip-till demos for the first time. 
Vyn spoke at the inaugural National Strip-Tillage Conference in 2014, calling strip-till the "almost perfect" system. He kicked off the 2023 conference with a 10th anniversary lecture on the state of strip-till.   
"It's a distinct honor to be given this fantastic award, but Hall of Fame sounds a little bit too lofty for me because I've always regarded myself as a student of crop production and of soil conservation in the context of growing crops more sustainably," Vyn said during the Strip-Till Hall of Fame induction ceremony. "I'm about to retire, but I'd like to think, going forward, that there will be more opportunities for farmers not just to learn from each other, but also to support multi-state research programs in the context of strip-till and other soil conserving practices that help make America's future crop production even more sustainable."