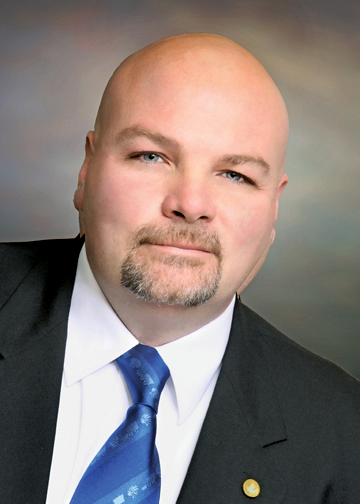 Mark Richards
Precision farming practices are an essential part of many strip-till operations to improve accuracy and efficiency. But as ag technology continues to rapidly evolve, which products or platforms are most suitable for a strip-till system to provide the highest return on investment?
For more than a decade, Dresden, Ontario, farmer Mark Richards has adopted and adapted precision farming strategies, including implement guidance, interseeding technology and data analysis on his 3,000-acre corn, soybeans, sugarbeet and wheat operation.
"I moved to strip-till because I was looking at my fuel bills and they were getting out of control," Richards says. "I saw an advantage with tilling only in the row — using auto-steer and RTK — which led to better stands."
The combination of fewer and more efficient passes through the field, the adoption of precision technology and reduced tillage has contributed to a 15% reduction in fuel costs and healthier crops, he says.
During a general session at the 2017 National Strip-Tillage Conference, Richards will evaluate progressive precision technologies and on-farm trials he's conducted to measure the benefits and challenges.
In a separate classroom session, Richards will share his approach and results for strip-tilling high-value crops, including sugarbeets and tomatoes, through use of aerial imagery analysis, supported by ground-proofing results.
Registration is open for the 2017 event, at $234 per person and $214 for additional farm or family members, at www.StripTillConference.com.
There are two hotel options – both connected directly to the conference center – providing special rates for conference attendees:
The host Embassy Suites Omaha-La Vista Hotel & Conference Center is holding a block of rooms for the conference at a special rate of $129 per night. You can make reservations by calling (402) 331-7400. When booking, mention code "NS8" to get the special rate.
Reservations can also be made at the Courtyard Omaha La Vista at a special rate of $109. You can make reservations by calling (402) 339-4900. Use the code "NSTC" to get the special rate.
Preliminary plans for the event include 7 general session speakers; 12 classrooms covering a range of strip-till topics, including cover cropping, precision farming practices and equipment modifications; and 26 roundtable discussions.
Stay tuned for more conference updates by visiting www.StripTillConference.com, and we'll see you in Omaha!