---
Pictured Above: RELIABLE LINEUP. Purchased in 2013, the Laforge steerable hitch provides consistent alignment on shifting terrain for Enderlin, Neb. strip-tiller Paul Billing's 16-row rig and 24-row planter.
---
After years of strict conventional tillage at Billing Farms, the family-run corn, soybean and wheat operation out of Enderlin, N.D., couldn't help but wonder if a better option existed to maximize fertilizer investment for corn in the early 2000s.
"Living in this part of the country, we have a wide variance of heavier soils," says Paul Billing. "They're all clay-based underneath, but the heavier soils can make it difficult in the spring trying to plant corn."
After coming across an 8–row Redball strip-till rig on display at a local dealership ahead of the 2005 cropping season, the Billings decided to test the waters, strip-tilling 600 acres in year one. After two successful seasons being impressed with the ease of banded nutrient placement, they amped up their investment with a 16-row Case IH 5310 rig ahead of the 2007 season.
"At the time, we didn't raise as much corn, but we still needed a better method for our cornmeal to complement the small grains and soybeans. Having that black berm to plant into every spring was the biggest thing."
The operation has kept with that same Case IH rig ever since, noting its simple, yet consistent performance as they increased their total strip-till acreage to over 1,600 going into the 2018 season. The rest of their setup is a different story, however, with several different sprayers, planters and guidance systems coming into the fold.
The Billings aren't beholden to any particular brand, utilizing a Challenger tractor and 24-row John Deere 1770 planter, although they've taken a particular liking to Deere guidance as the mainstay across all machinery.
After Deere's recent acquisition of Hagie Mfg., the Billings purchased their first Hagie sprayer to get full RTK implementation and have been impressed with a single-season sample. "It's quiet, light and the booms are balanced. We get a 50/50 weight balance on our tires, whereas other sprayers were always riding their rear end to the ground," Billing says.
The Billings' soils tend to dry out quickly in the spring, so they prefer to build fall strips. During berm construction, they apply variable-rate phosphorus (P) 11-52-0, potassium (K) 0-0-60 and ammonium sulfate 8 inches below the strip.
While also applying N in the fall during the early years of strip-tilling, Billing switched to spring application in 2009 with the purchase of a 16-row Deere CCS planter. Leaching and excessive rain potential come into consideration for Billing's decision to apply spring N, as well as an opportunity to implement the "two-by-two" method, with a wrinkle.
As described by Billing, "two-by-two" places UAN 28% 2 inches away from the seed to the side of the furrow, and 2 inches deep using coulters installed on each row of the planter.
While encouraged but not entirely satisfied with their planting and fertilizer setup, Billing made an additional upgrade in 2013 to the 24-row 1770, along with the purchase of a Laforge steerable hitch. The hitch provides consistent alignment for the 16-row strip-till rig and 24-row planter, regardless of the shifting terrain on their operation.
---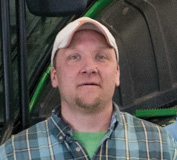 "With our 2-by-2-by-2-inch fertilizer placement, we're able to put the whole gamut of nutrients around the corn seed, both around and under the strip…"— Paul BIlling
---
"Most of the time when we get planter draft on a steep hillside, we have to grab the wheel to compensate," Billing says. "But with the steerable hitch, we take all of the draft out of the planter and it brings it back up to the hillside. I don't ever have to touch the steering wheel."
Improved confidence in planting accuracy with the steerable hitch and RTK has enabled the Billings to expand their fertilizer application further with the "two-by-two-by-two" method, which applies additional UAN 28% to the side of the seed. The enhancement also includes a separate micronutrient starter fertilizer, 6-24-6 elemental zinc, placed in-furrow at 3 gallons per acre.
The result is an additional assurance for corn seed growth without the risks of damaging the seed with overly potent fertilizer in the early stages, Billing says.
"We're able to put the whole gamut of fertilizer around the corn seed, both around and under the strip. It's all encompassed, so we shouldn't have to worry about our placement. It should be wherever that corn needs to go."
An additional investment paying dividends for the Billings is the DeltaForce hydraulic down force system from Precision Planting, which complements the multi-faceted fertilizer application by ensuring that varying parts of the field are receiving optimal levels of pressure.
Variable-Rate Advantage
Variable-rate application is a focal point for the Billings when it comes to corn, utilizing the practice both for nutrient application accuracy and savings since 2005.
Since they regularly rotate corn and soybeans every other year across most of their fields, they'll zone sample the fields for incoming cereal crops (corn and wheat) with agronomy expertise from Precision Grains and Agronomy, a local co-op service, and Precision Partners Inc., a customized field mapping service for nutrient and seeding strategies also stationed in the area.
UNCOMMON CONSTANT. A mainstay in a constantly evolving equipment rotation, Billing Farms has successfully relied on their 16-row Case IH 5310 strip-till rig since 2007 to build fall berms.
The maps constructed for the Billings provide recommendations on P, N and seeding totals for each field in question. By detecting variances in vegetation and average yields, the maps specify parts of the field needing particular nutrient applications to reach sufficient levels, while also indicating regions where savings can be maximized.
For several 100-acre fields, it's not uncommon for the Billings to see savings north of $5,000 per field using the recommended variable-rates of N compared to standard applications.
"With our N program, we're down to about 0.7 pounds per bushel, and that's been very consistent for the past 4 years. Prior to using the maps, we were adding around 1.1 pounds per bushel," Billing says. "Part of the reason we're applying less N can be attributed to higher levels of organic matter across our soils as a whole, but the savings are still notable."
Current yield benchmarks for each crop at the Billing operation are 215 bushels per acre for corn, over 60 bushels per acre for soybeans and anywhere between 70-90 bushels per acre for wheat. At the moment, the Billings only variable-rate seed their corn, but they've been able to hit their 215 bushel goal consistently the past.
Key to their consistency with corn are variable-rate seeding maps, which specify regions with the highest yield potential in each recorded field.
As the seeding maps accumulate more data over time, the estimations become increasingly accurate and help dictate seeding strategy across different regions in the Billing operation. Starting next season, Billing plans to expand the variable-rate practice to soybeans as well.
"In our higher producing corn areas, we plant a higher population and for lower producing areas, we scale back the population," Billing says. "With the soybeans, we're going to flip-flop that, but keep an average of 140,000 seeds per acre based on the same zone grid maps we've been using."