Next Instruments has released a new version of the CropScan 3000H On Combine Analyzer, specifically for measuring corn or maize.
The CropScan 3000H is a dedicated NIR analyzer that is mounted to a combine harvester in order to measure protein, oil and moisture in grains and oil seeds. Although suitable for dry corn or maize, higher moisture corn presents a challenge in getting the kernels to flow consistently. The new version of the CropScan 3000H uses a modified flow cell that makes it easier for the corn kernels to flow down through the Sample Head.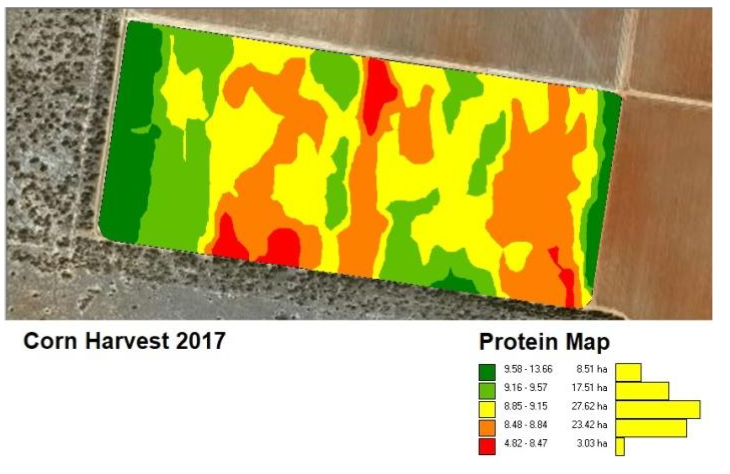 On combine measurements of protein, oil, moisture and starch are now possible for corn up to 25% moisture. The benefit to corn producers lies in the ability to measure the Nitrogen that is taken for the soil in the form of protein in the corn kernels. Proteins contain approximately 17% Nitrogen by weight.
As such for every bushel or ton of corn harvested, there is approximately .7lb or 12.8kg (based on a protein level of 8%). By measuring the protein content and the yield, then a Nitrogen Removal Map can be generated. This map can then be used to develop Variable Rate Nitrogen Fertilization prescriptions. The net results can be an optimization of the yield across the field and a reduction in fertilizer usage.
The CropScan 3000H has been used around the world for measuring wheat, barley, canola, sorghum, oats, lentils, peas, soy beans and lupins. The new version Sample Head handles these seeds as good as the original Sample Head, if not better. The extension of the CropScan 3000H to accommodate corn means that this technology can now be used to benefit a larger base of farmers across North and South America, Europe, Asia and Africa.