Clayton Coulter is a young man of purpose and it doesn't take a long visit with him to realize the self-directed momentum that led him to launch his own farm at 24 years old as a strip-tiller for corn production — on land that had been 100% conventionally farmed for years.
Coulter is now 29 and his 1,800-acre farm in east central Illinois, near Longview in Champaign County, has attracted the attention of a number of other farmers who contract with him for custom work with his 12-row DMI strip-till machine.
He farms a 50/50 rotation of corn and soybeans with a 5-year average of 210 bushel-corn and 60-bushel soybeans. Coulter says he's at nearly 100% of his acreage in cover crops ahead of planting either commodity.
Still, dependable generous yields, reductions in soil erosion and improved soil conditions aren't the main reason Coulter is a strip-tiller and cover cropper.
"I got into it because of the money," he explains. "I'd worked with a pair of farmers for a number of years and when they wanted to sell out, I realized I couldn't afford the equipment to continue farming the way they did.
"I'd watched my father-in-law's experience with strip-tilling and the economic difference it made for him. Also, I didn't want the extra tractor, chisel plow and field cultivator that I was going to have to buy to keep farming conventionally."
Equipment Simplicity
Today, when asked about the differences in his farm and those around him, Coulter is quick to note his yields are comparable to those in his area and because of reduced inputs he's seeing increased returns across the farm.
"I'm cutting back on fertilizer and I've got a lot less machinery in the shed than many of my neighbors," he says.
---
"I've planted in standing covers up to my tractor weights, and never had to stop because of tall residue. And that includes some 4-5 feet tall…"
---
His equipment roster is simple: a T8.420 New Holland tractor, a 40-foot Hiniker air-seeder set on 15-inch rows, the strip-till rig, a 40-foot Kinze 3600 16/32 planter and a 90-foot, 3-point-mounted sprayer. Coulter's farming system is based on GPS mapping, and relies on both John Deere and New Holland displays and RTK guidance.
There's also a Deere 8220 he'd planned to use when he jumped into strip-till 5 years ago.
"That tractor was one of the 'learning experiences' I got when I started farming on my own," Coulter explains. "I figured out quickly pulling the 12-row strip-till bar at 3 mph, I needed more horsepower." The custom work he's done locally has helped pay for the bigger tractor.
Coulter's strip-till rig runs standard Case IH row units with a mole knife behind row cleaners. On that is a pressure-regulated anhydrous injector knife, followed by rolling baskets.
His planter features Precision Planting's vSet Select electric drive metering, Martin row cleaners with CleanSweep pressure technology, along with DeltaForce down pressure row-unit control. Coulter was enrolled in USDA's Conservation Stewardship Program (CSP) as a beginning farmer and used appropriate NRCS funds from several programs to help him buy the needed equipment to launch his own operation.
"I strip-tilled the corn fields the fall before I took over, and the former owners were very hesitant about the practice," Coulter explains. "By spring, however, both were very impressed with how things were going and agreed we should have gone all the way on the whole farm."
Coulter prepares his strips in the fall and runs about 8 mph with the 420-hp. New Holland, tilling about 8 inches deep, leaving an 8-inch-wide berm.
"2019 would have been the year to refresh those berms, with all the water," he says. "But even though it wasn't perfect planting conditions, the corn jumped right out of the ground, and I couldn't tell much difference. It did convince me not to spend the time and inputs to refresh the strips in the future."
Results Driven
Although 5 years is a relatively short period of time, Coulter's strip-till and cover crop management is showing measurable results.
"I notice fewer places holding water now than when I started," he says. "There were several places I used to have to farm around because of standing water, but now we are getting crops off those places. Also, we'd never had night crawlers in the fields, and now we do."
Because of his every-fourth-year soil sampling routine, accurate measures on soil organic matter levels and related residual soil nitrogen (N) across the farm are not yet available. Still, Coulter is planning to make a 25% cut in his phosphorus (P) and potassium (K) application in the 2020 growing season, and is installing a Montag bin on his strip-till bar to apply his own dry fertilizer, pre-plant.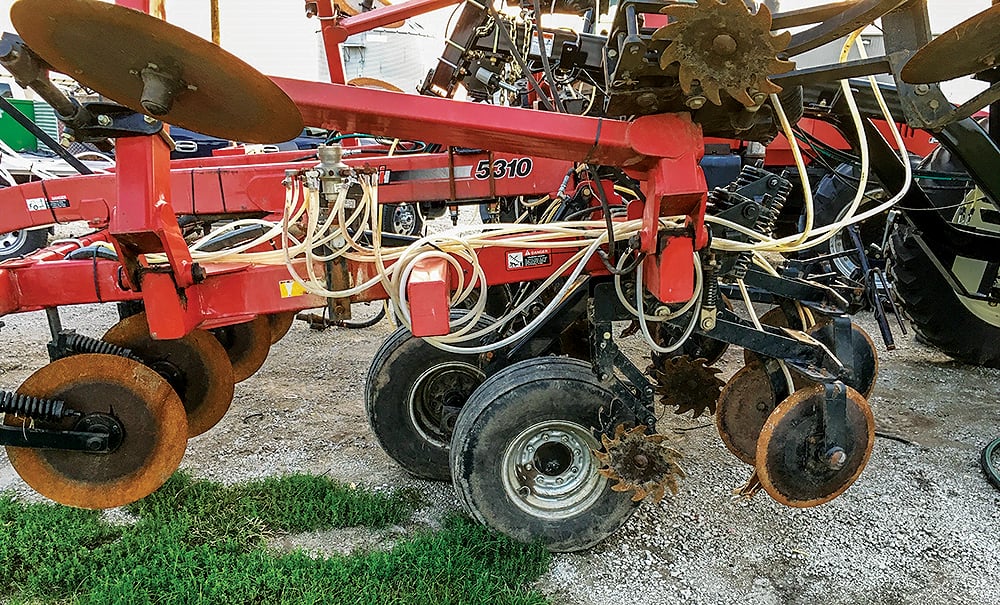 RIGHT SIZED. Clint Coulter says his 12-row DMI strip-till rig and his 420 horsepower tractor are well suited for his 1,800-acre operation, plus additional custom work throughout the season. The combination is good for 8 mph field speeds while strip-tilling in the fall.
"In the past, I've used anhydrous ammonia, applying 100% of expected nitrogen needs in the fall. Two years ago I applied half in the fall through anhydrous, and then half at side-dress with 28% liquid," he explains. "In 2020, I plan to do the same on half my acres, and on the other half apply 100% of my prescribed nitrogen needs at sidedress. I'm trying to move away from anhydrous."
Wet spring planting conditions seem to be less of a problem for strip-tilling in Coulter's area because of better water infiltration, ground cover between strips and natural drainage from berms.
"2019 was a really wet spring for planting, and I was able to get in my fields in a timely manner," he says. "The tractor tracks were tacky, but the seedbed was perfect and I was not 'mudding in' my corn. "The strip-till berms were higher than the surrounding ground and allowed that soil to dry out quicker."
Extended Coverage
Coulter says cover crops play a part in ensuring his more-timely planting in wet springs, as well as fostering his hope to cut fertilizer rates in coming years.
"I got into using covers by watching similar operations of my neighbors. I liked the soil benefits they were getting, so the first year I planted oats and it was a warm winter — they overwintered and were still growing in the spring," he recalls. "I planted green into the oats not knowing what to expect, but the weed control in those fields was incredible.
"Because of what I learned, I'll have a cover crop ahead of every acre of soybeans and quite a bit of the corn I plant in 2020."
---
"2019 would have been the year to refresh strips, with all the water. Even though it wasn't perfect planting conditions, the corn jumped right out of the ground, and I couldn't tell much difference…"
---
Coulter says covers are helping him eliminate the addition of a residual herbicide pass during spring burndown, and estimates his cereal rye and radish mixtures cost about $18 per acre, the same as the herbicide cost.
"This practice has worked well for me in the past, but this year we experienced some weed problems. I'm still trying to find the right balance. The covers pay for themselves with the chemical reduction when it works, because they offer other benefits besides weed control," he explains.
Coulter says a 2,4-D and glyphosate tank mix has dependably done the termination chores for him, but he's experimenting with a new I&J Mfg. roller crimper ahead of non-GMO soybeans.
"It works well, and I want to experiment more with it," he says. "I like the mat of residue it puts on the ground. It's been dry as I used the crimper in 2019, and that mat has helped maintain soil moisture throughout the growing season."
Coulter's original plan was to use the crimper to save the money he'd spend making an herbicide application. "Ideally, we could plant green in the cover crop, and then roll or spray afterward. I've planted in standing covers up to my tractor weights, and never had to stop because of tall residue. And that includes some 4-5 feet tall."
Just Do It, Be Patient
Just as the former owners of Coulter's farm saw the light as they watched the results of the first year of his strip-tilling, others in the area are seeing similar results.
"One of my experiments included rolling a cereal rye cover on land adjacent to the main highway in our area," Coulter explains. "Of course several folks warned me it was a terrible idea because such mat would never dry out enough to plant. As it worked out this year, my soybeans were up in that field, as those same folks were still planting."
Coulter says the biggest hindrance to adopting strip-till or no-till or cover crop management is the need for a change in mindset. "I know farmers who will no-till a soybean crop and say they are no-tillers, but they're right back to conventional farming with other crops or with beans the following year.
These practices have to be a long-term to be successful. You have to just do it and not just look at the first year results. Be patient.
My personal commitment is evident in the chisel plow I have in my front yard for sale. Folks have told me it's crazy to sell it because I'll have to work the end rows. I don't believe it, because I've checked and the ground is not packed in those end rows. The plow is still for sale."