Saying that summers in Alabama are hot is an understatement. A better description is 'sweltering', 'scorching' and 'blistering.' So, finding a way to keep soils cool and retain moisture is critical to the success of any crop grown in the Heart of Dixie.
Auburn, Ala., farmer Mitch Lazenby, has found a solution — heavy cover from cover crops. In the 23 years Lazenby has been using cover crops on his 2,000-acre operation, he has found that crop diversity and minimal soil disturbance from strip-tillage are the keys to thriving crops.
Lazenby and his wife, Dawn, began farming in 1990, becoming the fourth generation to farm. Lazenby Farms grows cotton, corn, peanuts, sorghum, wheat, soybeans and hay.
He typically uses a two-thirds cotton and one-third peanuts with one-third cotton and two-thirds peanuts as a crop rotation. Peanuts are strip-tilled, while cotton is no-tilled, and covers are planted on 1,000 acres. The farm has a herd of 200 registered Angus cattle and a pumpkin patch agri-tourism business as an additional income stream.
The operation has 2 full-time employees, while Dawn manages the agri-tourism portion of the farm business, which also includes event hosting. Lazenby Farms has rebounded from catastrophic losses in 2009 and 2010, when their peanut and cotton crops were ruined due to too much rain in the fall of 2009 and no rain during the summer of 2010.
Organic Piggy Bank
The Lazenbys conduct soil testing in the spring, so they know where their sandy, loamy soils stand from a nutrient management perspective. Southeastern soils have difficulty holding nutrients, according to Lazenby, so cover crops really pay back when it comes to retaining nutrients and maximizing biomass.
"Managing cover crops is like working with an organic piggy bank," says Lazenby. "Cover crops have moved the needle to get between 10-20% more yield in those areas."
---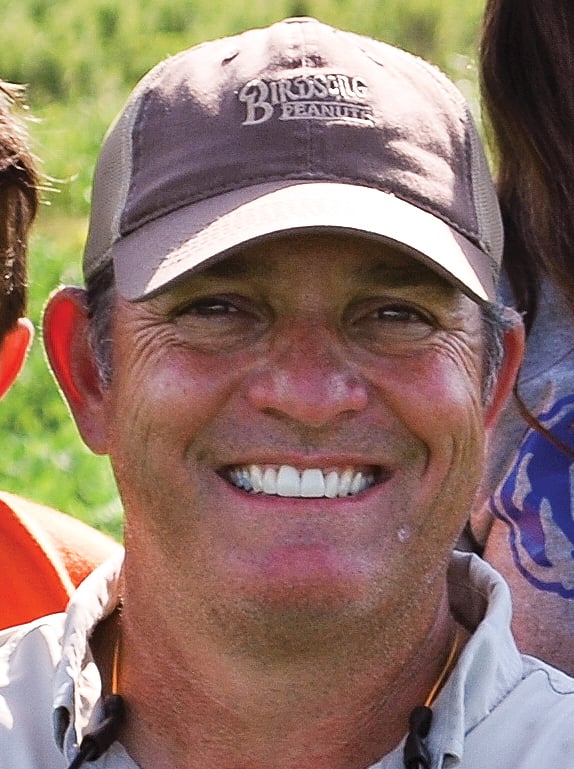 "Managing cover crops is like working with an organic piggy bank..." — Mitch Lazenby, Auburn, Ala.
---
Lazenby uses soil analysis and the soil profile of each field to determine which fields are planted with covers. The soil in their area tends to be very sandy and heavy in some places, with wet and dry spots. Crop rotation is also a factor in deciding if a field is planted with covers.
"For the longest time, we put cover crops in our best soil, and we found that when we did that, it was helping yields, but we couldn't see it at harvest," he says. "When we put the covers in more marginal ground, we've seen a pretty drastic improvement at all growth stages.
"Instead of seeing really good years or bad years, from a yield perspective, the swing is not quite as severe. With cotton, it used to be that we'd pick 500 pounds per acre to make one bale in a bad year, two bales in a good year. Now, we more often see 1.5-1.75 or 2 bales yield, even with worse weather conditions."
Building More Biomass
Lazenby's father experimented with reduced tillage as early as the 1970s, so he was no stranger to the benefits the system.
"In 1996, my father got aggressive with reduced tillage," Lazenby says. "We went through a lot of dry years, so we were trying to get something on the ground to shade the soil and help us with moisture. We were talking about organic matter then, but in the last 5 years, we've really changed our focus to be more on soil health."
That emphasis on soil health meant switching from monoculture covers to multi-species cover crops. Seed is acquired in July or August and planted in mid-September.
Even the pumpkin patch is planted with covers. Lazenby plants two different types of multi-species cover crop mix. One mix includes triticale, black oats and radish, while the other mix has triticale, radish and Austrian winter peas.
Early covers are interseeded with a Herd spreader pulled by a 2002 John Deere 7410 tractor.  Lazenby retrofits their equipment to deal with planting into heavier covers. He has been working to design a machine that is higher to be able to interseed without damaging crops.
MORE BIOMASS WANTED. Alabama strip-tiller Mitch Lazenby interseeds early triticale, oats, Austrian winter peas, radish or clover into either cotton or peanuts using a Herd spreader pulled by a 2002 John Deere 7410 tractor.
"We're trying to build something that will seed covers into cotton," Lazenby says. "We also prefer to aerial seed covers, but it's not always cost effective. We have a machine that lays out the rows into a 10-inch bed that we plant into.
"When we start overseeding cotton in mid to late September, we cover the ground with a three-way cover crop mix of…. and then come back in and spread the crop out. By the time we're ready to pick the cotton, the cover crop is established."
"Depending on what we plan to plant the following year, if we need extra nitrogen, we might plant a cover crop of Austrian winter peas, oats, triticale, radish or clover," Lazenby says. "We're planting covers trying to grow more biomass."
Covers are terminated by spraying with glyphosate and then rolling them down the following day with a 35-foot Case IH roller crumbler.
"We're not crimping it, because we want to either no-till or strip-till plant into the rolled down cover," Lazenby explains. "Rolling our cover crops allows them to last longer and helped us to maintain moisture longer in cooler soils.
"It gives us an opportunity to grow crops in a time of the year when a lot of things aren't growing, so we can be in the fields earlier in the spring. If we can drive through it, we can plant the cash crop seed. The rolled-down cover creates a nice little mat for the cash crop seed, like a mulch for the plant, to help the cash crop germinate."
Cashing In
Lazenby then no-tills peanuts or cotton into the rolled covers with a Deere 455 grain drill pulled by a Case IH Magnum 285 tractor or strip-tills peanuts or cotton into the rolled covers with an 8-row Unverferth Ripper-Stripper.
"The heavier the cover, the better sub-inch accuracy is in placing the seed exactly where we've created an opening in that cover. By having the heavy cover, that extra moisture and cooler soils, we have a thicker mat of matter to try to plant into."
Around April 1, Lazenby uses a KMC sub-soil leveler to fracture the soil without terminating covers. The narrow teeth and rippers on the sub-soil leveler rolls down the newly sprouted spring cover so he can come back through and no-till plant cash crops into the cover.
"The covers are so small, it doesn't hurt them at all, and we're not disturbing a lot of ground," he says.
---
"We use cover crops on our worst ground, and they've moved the needle to get between 10-20% more yield in those areas…" — Mitch Lazenby, Auburn, Ala.
---
He says their biggest challenges with cash crops are planting early enough, getting consistent seed-to-soil-contact and managing the costs of covers per acre, which Lazenby estimates to be between $25-$50 per acre, depending on the cover crop mix and whether or not trucked in chicken litter is used as manure.
"We usually put 2 tons of chicken litter per acre on soils that need help," Lazenby says. "At $30-$35 per acre, it can get expensive."
"We produce so much data, we have to start small, or else we won't be able to quantify it," Lazenby says. "We have to quantify the value of cover crops. We need to maximize how much material we can get on the ground and manage."
Lazenby says that he quantifies the value of using covers by how much he can reduce the use of inputs in the spring and summer compared to yields.
Seeing the Difference in the Soil
Minimizing soil disturbance has helped to build soil quality and keep the it cool. Lazenby says in fields with heavy cover, the top 1-2 inches of soil can be 10-15 degrees different in temperature.
"We see the soil health in the fields where we've used cover crops," Lazenby says. "The soil has a different texture and we can see worms. It's alive. Our soil structure has greatly improved since we started using cover crops. It also has a different consistency when you pull the strip-till rig through it."
Lazenby says he can also see changes in soil color and less compaction. Soil analysis also points to improvements in soil health such as organic matter percentages, pH, and less movement in amounts of available nutrients. Lazenby adds that his goal is to get soil organic matter in the 2-5% range. Most of his fields currently have a soil organic matter of 1-2%, so there is room for improvement.
Lessons Learned
When they first began planting covers, Lazenby says he worried if they had planted the cover crop too heavily or if it would result in too much biomass, because he wasn't confident in how to manage it.
"Now, I know that I can't have too much biomass," he says. "We're trying to get as much biomass as possible."
Over the years, Lazenby has also learned to become a risk taker. "Most people are afraid of messing up. You have to write your own prescription for cover crops and start somewhere. Keep with it and keep adding nuances," he says.
Another lesson has been with timing of cover crop planting. Lazenby says that years ago, he planted covers from Oct. to Jan. 1, but now he believes that is too late in the season for planting covers.
"The further we get past early fall, it almost becomes not worth doing to plant a multi-species cover crop," he says. "The multi-species blends have to be planted earlier."