---
Pictured Above: GROWTH POTENTIAL. Experimenting with different fertilizer application methods, including variable-rate, moving away from anhydrous application and incorporating manure on a 4-year rotation has helped Montezuma, Kan., farmer Josh Koehn achieve 300-bushel corn yields.
---
Montezuma, Kan., farmer Josh Koehn says attention to detail is really what's made the difference on his 10,000 acre farm. Feeling the need to manage residue better and build healthier soils, he switched from full tillage to strip-till back in 2008 on most of his 30% irrigated and 70% dryland operation. 
However, drilling down to the details, specifically with inputs, is what's made the difference. Over the course of the last few years, he's brought corn yields on irrigated acres up to as high as 300 bushels per acre — putting him consistently among top farmers in his county. 
More importantly, his soils have begun to respond. Since switching to strip-till and moving away from anhydrous applications in favor of spreading cow manure on a 4-year rotation, Koehn has seen organic matter in several fields nearly double. 
"By adding in 20 tons of manure per acre and strip-tilling, we're building our soil," says Koehn. "Obviously we won't have organic matter levels like they do in Iowa or Illinois, but we've gone from organic levels at 1-1.5% up into the 3% ranges. With the ability to better maintain residue with strip-till, those totals are growing every year." 
With an often unforgivable, extreme climate, Koehn's focus in recent years has been building a more resilient farm.
"We have a really dry climate, so we try to conserve as much residue on top of the ground cause it holds the moisture for us, that was one of the main reasons we switched to strip-till," he says. "The system enables this while limiting soil disturbance. The ability to band our fertilizer in the strip was another selling point for us because we wanted tighter control of our fertility program if we were going to make the switch away from anhydrous." 
Savvy Switch
Koehn says he applied anhydrous farm-wide mostly because it was inexpensive. But with his switch to strip-till, he decided to substitute the product with manure and urea. 
"We wanted to switch to a dry product to build a better soil profile and structure," he says. "Personally, I feel like anhydrous can do some damage to soils. The dry phosphate we're using now is considerably cheaper, but the urea is more expensive." 
---
"We've gone from organic levels at 1-1.5% up into the 3% ranges..." — Josh Koehn
---
While Koehn doesn't correlate a yield increase with the change, he feels like it's treating his soils better — seeing a lot more earthworm and night crawler activity, better infiltration and soil moisture rates.
In a typical season, Koehn builds his strips as early as the soil will tolerate in the spring. 
"I don't like to run strips too close to planting time — I like to let the soil mellow," he says. "Ideally we're out building strips somewhere between late January and March." 
On his irrigated acres, Koehn variable-rate bands urea, approximately 200-275 pounds per acre — with his 12-row Orthman 1tRIPr strip-till rig with a Montag fertilizer cart. For the balance of the nutrients, he leans heavily on his 20-ton per-acre cow manure application ever 3-4 years. 
"We are working it in, so every manure application, we're coming through with some deep subsoil ripping — about 12 to 14 inches — to make sure we're incorporating it," says Koehn. 
If he sees he's coming up short with certain nutrients via fall soil tests in subsequent years, he'll make piecemeal applications to boost fertility. 
"In our off years, we'll strictly apply our nitrogen (N) and micros if we're going to be running something like sulfur or zinc, but with that much manure, we don't typically need much extra," says Koehn. "We're occasionally putting down some 46-0-0 or monoammonium phosphate (MAP) too with the strip-tiller if needed." 
Koehn's expectations for his dryland acres are more tempered. "Those acres are so variable because of the rain, so typically we're just applying around 100 pounds of N with a liquid fertilizer in a coulter rig and just hope for the best," he says. "We try to stay close to 100% no-till on those acres just to conserve whatever moisture we can. We end up seeing anywhere from 75-150 bushels per acre of corn on those acres." 
Planning for Planting
During planting, Koehn runs an in-furrow starter fertilizer through his 24-row John Deere 1775NT planter. 
"That's where I'm getting my maintenance phosphorus (P) and my micro packs. It varies depending on what I need, but normally we put on around 20 pound per acre of Nachurs 100% orthophosphate," he says. "Then zinc and micronutrients are added as needed."
Koehn's planter is fitted with Sunco Saber Tooth row cleaners, Precision Planting eSet seed meters and he's currently demoing the 3RIVE 3D application system for insecticide. 
Apply for Need 
Most of the late season fertilizer applications are done through fertigation, says Koehn. "We'll run about 30 pounds per acre of 32% N through the irrigators in the early part of the growing season, usually mixed with some sulfur," he says. "Then post-tassel we'll come in with another 30 pounds depending on the field."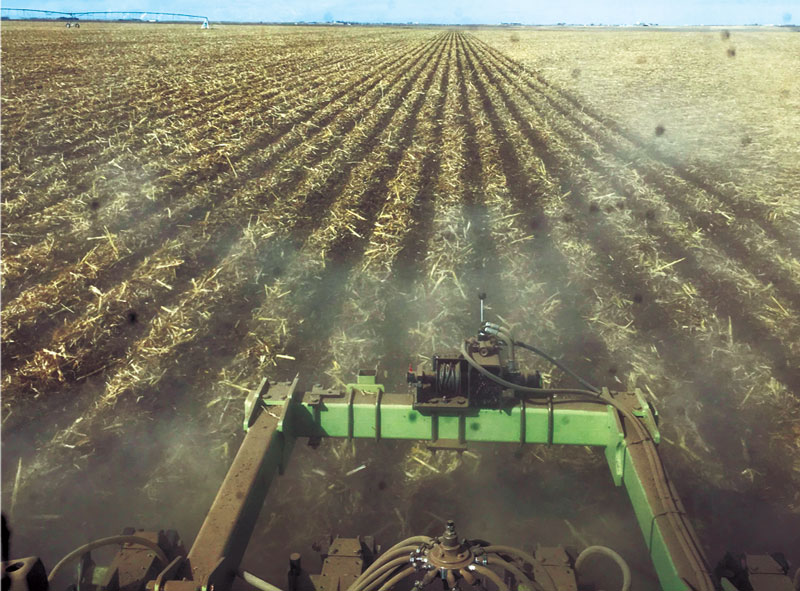 WORKED IN. On his irrigated acres, Josh Koehn variable-rate bands urea, approximately 200-275 pounds per acre with his 12-row Orthman 1tRIPr strip-till rig with a Montag fertilizer cart.
During the growing season is also when Koehn hits his fields with fungicide and herbicide. Over the last few years, he's begun using about 10 ounces per acre of Affiance fungicide for season-long control. 
"We're applying that around V5 to V6 with our post emerge herbicide," he says. "We're usually done with it unless there are any late season issues that come up. It's unusual, but it can happen that we get a southern rust that moves in late." 
Koehn believes in constantly running trials to ensure he's using the most effective mix of inputs. To this end, he's in the early stages of experimenting with Bayer's new Delaro fungicide. However, he's been partial to the long-term disease suppression he's seen with Affiance. 
"We've seen a small yield bump with it, but what I like is the reduced farm-wide disease pressure throughout the growing season," he says. 
With herbicides, Koehn has taken the time to mix generic products to mimic branded ones to save on costs. 
"Years ago we used Lexar herbicide," he says. "But now, we've moved over to generics. So it's a metolachlor or acetochlor with atrazine and we mix in a mesotrione, which is like a Callisto. We're basically building our own product." 
He'll typically apply a full rate of around 3 quarts per acre of the Lexar-type mix and 6 ounces per acre of the mesotrione. Because he's saving a lot by mixing his own, Koehn can usually run it at a higher rate than he would otherwise and still save some money.
Systematic Soil Testing
Since most fertilizer on Koehn's farm are variable-rate applied, he puts extra effort in gaining a comprehensive understanding of what nutrients are available to his crop during the growing season.
He works in 25-acre quadrants when soil sampling, pulling 1 core per 2 acres "We also have to take into account how many bushels we harvested the previous year and what fertility program we've used on which field as we're going over the results," he says. "When making my decisions, I lay everything out in front of me and make my determinations. 
"I look at what I applied, what I harvested and what I'm planning to plant. Some hybrids like early-season N, while others like it later. Honestly, I think we're better off establishing a good routine and understanding what our fields need." 
That said, Koehn says he plans to expand testing in the future — specifically by pulling spring soil samples and doing tissue testing in the growing season.
"This will be especially true as the soil changes and gets healthier," he says. "Also, every time I take on new acres that I'm unfamiliar with, each field will require a much deeper analysis so I can determine what works well there." 
---
Learn More
21 Strip-Till Fertility Tips for Feeding Plants the Right Diet
Split nitrogen applications, determining the proper placement depth and doing below-ground root assessments are all part of a well-rounded fertility program.