---
Pictured Above: STRIPPING IN COVER. This 16-row Kuhn-Krause 1200 Gladiator is an important part of Branton Farms' strip-till operation. The machine and its Great Plains Nutri-Pro stablemate see roughly 4,000 acres of work on the western New York farm's rotation and local custom work.
---
Forty years ago, Donn Branton was raising 100-bushel corn, broadcast applying 120-130 pounds per-acre of nitrogen (N) in the process and plowing his fields every year. Today, there's not a plow to be found on the 1,700-acre LeRoy, N.Y., operation he farms with his son, Chad, and they average 189 bushels of corn on about 0.75 pounds of applied N per dry bushel.
Branton credits a life-long interest in soil science and a willingness to be open to new ideas and evolution of Branton Farms, located 30-miles south of Lake Ontario. There, the father and son team raise a rotation of corn, soybeans, processing beans and peas, sweet corn, cereal rye for cover crops and cover crop seed, along with limited acres of oats for local horse operations and cover crops. They also help neighbors when possible with planting and harvesting and do custom work.
"Today, our primary focus is on soil health and working with natural soil biology as it applies to plant growth," Branton says. "We're adopting 'planting green' on the farm, and make use of soil tests that include biological activity predictions and help us monitor soil organic matter."
Branton's evolution as a farmer mirrors the changes in agricultural technology from conventional farming to no-till, to improved fertilizer application and placement, to strip-till and deep banding of nutrients as well as auto-guidance and intensive soil sampling and field mapping, variable-rate seeding and fertilizer application. 
Recently, cover crops have become a mainstay across all of the farm, as the Brantons try to keep something growing at all times in the rotation.
"My first attempt at no-till came in 1987 when I planted corn on an obscure 3-acre field on the back of my property with a 6-row John Deere 7000 planter," he explains. "We took care of the field the best we knew how at the time and were surprised with the results. The yields weren't as good as what we were accustomed to, but when I looked at the savings in time and labor it was eye opening."
For the next 9 years, Branton expanded the no-till acres each year while continually upgrading his planter with aftermarket parts. In 1996 he attended a local dealer's planter clinic where Michigan grower Ray Rawson was speaking about zone-till and the benefits of running a 3-coulter setup on the front of the planter to do minimum tillage ahead of the seed drop and allowing an up-front stabilized fertilizer application in the same pass.
"That year I traded my Deere 7000 and a 12-row Deere 7200 planter we were using for sweet corn and snap peas for a 12-row Kinze planter set on 30-inch spacings, equipped with Rawson's zone-till system," he explains, recalling a major step toward his eventual move to strip-till and a significant change in fertilizer application and placement.
In-Strip Nutrients
For several years, Branton tried strip-till, but without any fertilizer application.  Still, he saw promise in the concept and in 2004 bought a 12-row Unverferth "Zone Builder" strip-till bar with shanks which we equipped with a fertilizer system. 
He ran the unit 8-10 inches deep and applied fertilizer in the bottom of the shank slot. Until 2004, Branton's 9-year average corn yield had been 124 bushels per acre.
"The first year with strip-till our average was 140 dry bushels with 0.46 pounds of applied nitrogen," Branton recalls. "The following year, the yields were the same, and in 2006 they jumped to 149, so we saw a significant jump in productivity behind strip-till with nutrient placement.
"In conventional farming we were using 1.2-1.3 pounds of total applied nitrogen with a broadcast spreader, so the economics of strip-till were impressive to me," he explains. "Also, we were using less fertilizer, which is a plus in our area where there is much environmental concern over nutrients in runoff."
Today, the Brantons variable-rate apply a combination of 28-0-0-3 plus 10-34-0 based on soil analysis, usually about a week before planting. Strips are built 8 inches wide and 8 inches deep with either a 16-row Kuhn-Krause 1200 Gladiator or its stable mate, a 16-row Great Plains Nutri-Pro. 
"The Krause is a shank machine and the Nutri-Pro uses coulters, and so far, we've seen little difference in crop performance behind them," Branton explains. "I like the soil surface behind the coulters a little better than the shanks, however, because they leave the root structure more intact which makes planting a bit easier."
While his early experience with strip-till and planter fertilizer applications allowed him to bypass a sidedress pass, Branton readopted sidedressing to supplement his upfront N applications based on tissue samples, yield goals, seasonal weather conditions, markets and a number of other variables. 
"All our practices combined with strip-till, have allowed us to cut our fertilizer application in half over the years at the same time we're producing better yields," he explains. 
By installing a Capstan Seed-Squirter system on his Kinze 3600 16/32 planter, modified to plant twin rows 8 inches apart, Branton cut his pop-up fertilizer rate by 75%. 
"This is our third year with the system which uses a check-ball injection tip on an applicator tube to apply a mixture of 6-24-6 and 10-34-0 plus biological components just below the spot where the seed will drop," he explains. "The timing of the system is based on sensors in the seed tube."
Variable-rate technology has allowed Branton to cut pop-up fertilizer rates from 10-12 gallons per acre to 2.6 gallons on their twin-row corn with little, if any, effect
on yields 
"When we make a change on twin-row planting, we deal with twice as many seeds within the row spacing, so we figure the $30,000 we spent to install the Seed-Squirter will have amortized at the end of three seasons."
The Kinze applies the remainder of the at-plant fertilizer mixture of 28-0-0-3 and 10-34-0 at 12 gallons per acre through a Precision Planting FurrowJet system which straddles the seed row. The Kinze is also equipped with pneumatic depth control and row cleaners, along with Precision Planting's 20/20 system for variable-rate seeding.
The Brantons use a second Kinze 3600 16/32 modified for twin-row soybean planting with variable-rate seeding and liquid fertilizer system for experimentation with sulfur application.
On-Farm Testing
Branton has a long history of experimenting with nutrient management practices and is currently active with the 4R Nutrient Stewardship Program, emphasizing the right source of nutrients at the right rate and at the right time in the right place.
"The key is fertilizer placement, and lack of soil disturbance," Branton explains. "By deep banding fertilizer early with the strip-till machine, we don't have to use a nitrogen stabilizer because soil temperatures are cooler at 6-8 inches deep, and biological activity is much slower in the cooler conditions."
His deep banding practice is rooted in a 3-year on-farm study he conducted early in his strip-till career from 2004-2006 (see p.18). At the time, common wisdom held fertilizer should be applied in a shallow manner to prevent leaching. Branton thought otherwise, so he compared strip-till with deep-placed N at 8 inches, strip-till with shallow placed N at 2 inches, and zone tillage with shallow-placed N.
The study's 3-year average showed strip-till with deep-placed N produced 7.4 tons per acre of sweet corn, compared with 6.72 tons per acre with strip-till shallow placement, and 5.67 tons with zone-till shallow placement.
SWEET RETURN. A 3-year study conducted on Donn Branton's farm showed strip-till with deep-placed N produced 7.4 tons per acre of sweet corn, compared with 6.72 tons per acre with strip-till shallow placement, and 5.67 tons with zone-till shallow placement.
To monitor field-applied nutrients, Branton soil samples his fields every 2 years, and develops VR seeding and fertilizer prescriptions based on 1-acre grids. For guidance he uses an Intuicom RTK-Bridge system and a cellular connection, and in the cab a Trimble FMX1000 controls either of the strip-till machines and a FMX2050 cues the corn planter.     
"We'd worked with zones and grid sampling 15-20 years ago and through extensive soil testing we decided 1-acre grids would be most effective," Branton explains. "At that time, however, we realized the equipment to apply fertilizer wasn't capable of working at that resolution. We had to wait for application technology to catch up."
Branton's 2-year soil sampling rotation is designed to identify and treat areas of deficiency, thereby raising the productivity of lower-producing parts of a field. 
"So far, we've seen significant changes in those deficiency levels," he says. "We've also found drainage is an important factor in jump-starting soil productivity and biological activity." 
The Critter Factor
The same curiosity and observation of crop performance that led Branton to reduced-tillage and precision nutrient application spawned his interest in soil biology and his eventual move into cover crop management and a planting green philosophy.
"My eyes opened to the biological side of farming through inoculants," Branton explains. "Soybeans needed inoculants and we used it without thinking."
At the time, he was running a Flexicoil air seeder with a seed treatment unit on it that he could turn on and off in the cab. Branton used a liquid product the canners required on a 28-acre field of processing peas, and ran some strips with and without the product. 
"The peas did well through the season but about a week before harvest I noticed color variation," he says. "I worked with the local Extension staff and we hand-sampled the field. The areas that were still green and active had been inoculated and yielded a third of a ton more than those without inoculant. 
"When we calculated the yield increase with tenderometer readings it accounted for a $93 per acre return. That convinced me of the importance of soil biology."
Branton's on-farm tests of liquid and dry inoculation also revealed a 20-bushel increase in soybean production on beans inoculated with a dry product he tested. 
Currently Branton Farms is involved in the second year of a planting green experiment with American Farmland Trust, examining organic matter and cover crops and their part in N contribution to crop production, but Branton says they have compiled no hard data.
However, his experience planting corn directly into red clover allowed him to produce a crop for only 0.5 pounds of purchased N per bushel. Also, in 2020, a field of his corn planted green into a waist-high multi-species mixture yielded 209 bushels with only 0.76 pounds of purchased N per bushel.
"I know from experience, there's a symbiotic relationship between plant roots and the needs of the plant and the micro-biological players in the soil," Branton explains. "Plants take sunlight, CO2 and water to make sugar, then send some of that sugar to the roots which exudes to feed bacteria, fungi, earthworms and arthropods. I call them the 'herd,' and they in turn produce what the plant needs through some form of communication."
---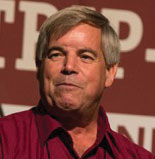 "Variable-rate has allowed us to cut pop-up fertilizer rates from 10-12 gallons per acre to 2.6 gallons per acre on our twin-row corn with little, if any, effect on yields…" – Donn Branton
---
The Branton's use varying combinations of multi-species cover crops depending upon the season, including Austrian winter peas, buckwheat, cereal rye, clover, hairy vetch, oats, radishes, rapeseed, lentils and turnips. The mixes are drilled with a 40-foot Great Plains 4010 HD set on 7-inch rows and running independent no-till coulters up front.
"The drill boxes and a connected Valmar spreader are configured to separate overwintering cover crop species between next year's corn rows and in-row non-overwintering species to make spring planting easier," Branton explains.
"Chad is very interested in the cover-crop relationship to crop production and the more seminars and field days we attend, the more I realize the economical and environmental importance of the biological side of farming."
 Banking Benefits
When they began reducing tillage in their move to no-till, and subsequently strip-till, one of the first things the Brantons became aware of was increased earthworm activity. 
"Suddenly there were a lot of worms," Branton says. "Also, we noticed better water infiltration and fewer puddles after big rains. On one field prior to us renting it 27 years ago, there was a low place that would fill up every spring and hold water. The snow geese roosted there every year. Since we've strip-tilling, that ponding has dwindled, and the geese have been there only one year."
In addition to the economic savings of less field time and diesel fuel burned from planting to harvest, Branton says the winter snow banks around his fields remain white, while those near adjacent farms and county roads are brown.
He's also noticed runoff from his field tile arrays is crystal clear, much cleaner than random samples he pulls from nearby Black Creek.
"Our soil structure has steadily improved over the years as we quit beating up the soil," he explains. "Now, with cover crops we're seeing even more improvements to water infiltration, and we are sure to improve our organic matter content by keeping living roots growing year 'round.
"These are benefits that will become much more important as fewer people farm and more people view farmers in a critical light. We have to be more responsible with water and wind erosion and we have to continue to improve nutrient placement to prevent runoff. Strip-till, and now cover crops, can help us on both fronts."