Make sure to check the parallel arm linkage on your planter. The parallel arm linkage makes sure that your row-unit is riding smoothly. If you have slop in your parallel arm linkage, that's going to cause a chattering effect of your row unit as you go through the field. That chattering will impact your seed drop. It will likely cause your seed to ricochet back and forth down the seed tube as you're planting. The risk here is uneven spacing or poor spacing. 
To check this, you'll need to lift your row-unit and try to rock it back and forth from the back of the row-unit. What you're looking for is any slop or play in the row-unit as you do this. If you notice slop or play you will want to take the parallel arm linkage off and we would expect to see something like this parallel arm photo where you see a lot of space between the bushing and the arm. You'll notice the bushing, nut, and parallel arm are all worn. Have you ever seen a parallel arm that looks like that? At this point, you're going to replace the parallel arm and replace the bushing and the nut that holds that all in place. We want those parts all wearing evenly together as new parts.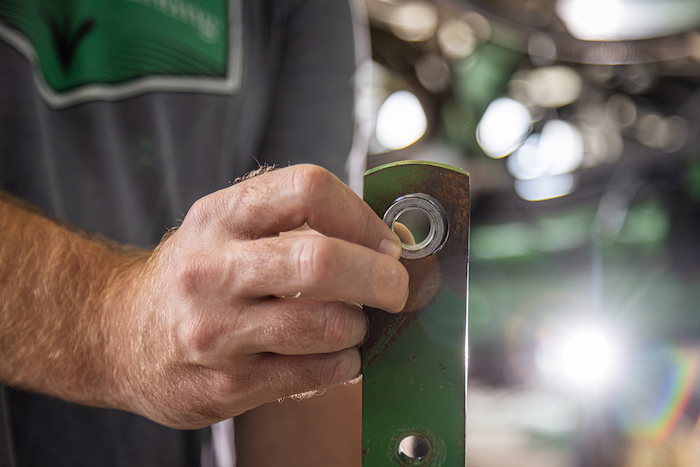 In this photo, you can see a large gap between the bushing and the parallel linkage, indicative of severe wear to the parallel arm.
When you're replacing components, we recommend DuraWear™ parallel arms, from Precision Planting, which come with a two-part bushing. The inner bushing is softer, and the outer bushing is harder to increase the life of the parallel arm itself. Replace your bolts and bushings as needed to keep your row unit running smoothly while your parallel arms see long life. You can improve your planter performance by installing DuraWear parallel arms. DuraWear parallel arms will be your new parallel arms for years to come.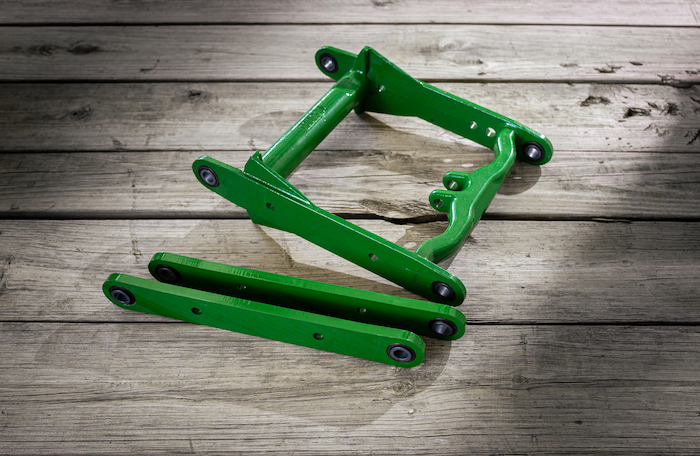 DuraWear parallel arms feature a two-part bushing to prevent unnecessary wear to the parallel arms.
A Premier Precision Planting Dealer is your partner to help you achieve even emergence this spring and steer clear of the regret that comes from avoidable yield loss caused by lack of maintenance. Find your local Precision Planting Premier Dealer at planterexpert.com.
To watch videos of all recommended annual maintenance checks, visit PrecisionPlanting.com/Maintenance.
Watch a brand new video of Parallel Arm Bushing.
Watch a brand new video of Precision Planting's DuraWear parallel arms.
Download the free Planter Maintenance Guide. Included in this guide are a 1-sheet checklist, links directing you to the corresponding videos, and an overview of 15 key maintenance areas on your planter.
The Planter Maintenance series is brought to you by Precision Planting.
For farmers who believe in better. Believing in better is a mindset to pursue excellence in everything you do. It's welcoming opportunities to improve your farm and knowing that your best season is simply a starting point for this season. Precision Planting is for farmers like you who Believe in Better.