For Iowa strip-tiller Peter Bardole, strip-till is how his family operation is ensuring that their farm is around for future generations.
The fifth-generation Rippey, Iowa, farmer raises corn and soybeans on about 2,200 acres with his father, brother and nephew. The Bardole family also runs a hog grower-finisher operation of 4,800 head with an additional 4,800 head of hogs in a grower-nursery.
"Going back to my great-great-grandfather, our family has always looked for better ways to do things," Bardole says. "That is what got us here. The way we farm now is better for the soil and the water."
When the Bardole family began farming in central Iowa more than a century ago, they only farmed the hilltops because the lower ground was too wet for sustainable row crop production. Sometimes, they used the lower ground for hay, but it wasn't until drainage tile came along that they could consistently raise row crops on it. Once that happened, the ground was plowed for several years. 
"In high school, I loved plowing," Bardole says. "But I started looking at strip-till and no-till as a way to treat the soil better."
Better Soils & Yields
Since switching to strip-till and no-till, the soil has started treating the Bardoles better, too. He says their corn yields increased from 150 bushels per acre to 200 bushels per acre, thanks to no-till, strip-till, cover crops and improved crop genetics. He says the practices help his operation better manage moisture and nutrients.
Weather permitting, Bardole prefers to strip-till in the fall. He strip-tills 1,200 acres of corn and has tried strip-tilling ahead of soybeans, but he says there has been no financial benefit in doing so. 
---
"We raise better than 250-bushel corn, and there's hardly any residue left on the surface…"
---
"We strip-till in the fall because of our soils," Bardole says. "In central Iowa, we have heavy black clay loam soils. Fall strip-tillage allows us to pull the planter out right away in the spring and go plant."
The Bardoles also have a custom strip-till business, and many of their customers prefer to have their fields strip-tilled in the spring. Strip-tilling their own ground in the fall helps make them more available to those clients. Currently, the Bardoles are one of only a few farmers in central Iowa who are strip-tilling, but Bardole knows the interest in strip-till is there because of the work his custom business gets. 
"Farmers have to work through the mentality of 'we have always tilled it this way,'" he says. "Strip-tillage looks different. The management is different. If you strip-till in the fall and fertilize at the same time, you must have the right timing and soil conditions because you only have one shot to get it right. It requires a lot more scouting to make sure the fields are ready to go."
Strip-Till Specs
Bardole uses a 12-row Zimmerman 1230 strip-till bar pulled by a 400-horsepower tractor for strip-tilling. He likes that the toolbar is built heavy and its row units contour and move individually. This row unit setup allows the bar to make a good strip around contours, rather than drag sideways as a standard bar does. The Zimmerman bar has a Raven Rate Control Module, and Bardole uses an Outback Guidance system for RTK guidance on his tractor, as well as his sprayers for variable rate application. 
The strip-till bar has coulters in the front followed by residue managers to cut and move the residue. He says it seems to flow through better this way. It's also equipped with knives that Bardole runs 7-8 inches deep. The anhydrous ammonia goes in the bottom, followed by dry at about 4 inches. A good set of closing discs close the trench and hold the nutrients in place, and the rolling baskets level out the clods of soil.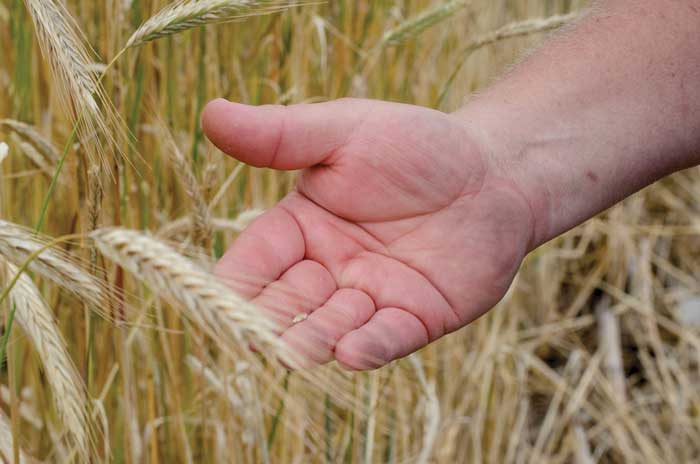 LET IT GROW. Due to a wet spring, Bardole couldn't relay crop soybeans into this cereal rye, so he let it grow. He plans to harvest the seeds for next year's cover crop.
Bardole applies 130 pounds of anhydrous ammonia and around 60 pounds per acre each of phosphorus (P) and potassium (K). He also uses approximately 0.7 pounds of nitrogen (N) per bushel of corn. Hog manure is applied to fields on a rotation ahead of corn planting. Bardole uses a low-disturbance applicator to apply the manure before making the strips.
"The micronutrients in the hog manure have been so good for our crop yields and soils," he says. "It's been good for corn yields and great for our soybean yields."
Come springtime, Bardole plants corn and some of his soybean acres using a Case IH 1250 24-row planter equipped with residue managers.  The rest of the soybean acres are planted with a John Deere 750 drill. They use Champion seeds for both corn and soybeans.
---
"A good, healthy soil is going to fall apart in your hands…"
---
Corn is seeded at a rate of 34,000-36,000 seeds per acre, depending on the field's fertility and yield history. Fields with better fertility and higher yield potential get the higher rate. Bardole will sidedress corn with his Hagie sprayer with additional N at a variable rate once the corn has canopied and before tasseling.
Bardole's soybean seeding rate is 140,000. Prior to planting, he'll have the local co-op apply P and K at a variable rate based on their soil tests. The rate is close to the 60-60 rate they use for corn, according to Bardole.
Striving for Healthy Soils
Cover crops provide Bardole with an additional source of nutrients for his crops and a noticeable yield bump. He says his yields increased by 5-10 bushel on cover-cropped acres compared to those without. 
 "We run cover crops on everything now," Bardole says. "It builds the soil, and it helps hold our nutrients. It's another part of healthy soil. We raise better than 250-bushel corn on some fields, and there's hardly any residue left on the surface by fall. It's amazing."
How to Shop for a Strip-Till Bar
Pete Bardole has run several different strip-till rigs since 1999, and he shares some insight into what he looked for when making his latest toolbar purchase, which was a Zimmerman 1230 strip-till bar. 
Choose a toolbar that is built well with heavy, quality materials. "We have rocks in this area that are the size of bathtubs. You hit one of those, and you can tear stuff up. If it wasn't built heavy, it's not going to take it."
Consider the maintenance that comes with maintaining your bar. Bardole advises thinking about the time and energy it will take to grease and maintain the bar's joints, particularly if you're applying fertilizer with the strip-till machine. 
"Fertilizer creates a lot of dust that gets everywhere," he says. "Corrosion is definitely a factor on the longevity of your bar. We had our last bar for 12 years. We maintained it, or it would not have lasted that long."
Cereal rye and turnips are planted ahead of soybeans at a rate of 1 bushel or less per acre for rye and 2 pounds per acre of turnips. Prior to planting corn, Bardole mostly uses a mixture of oats, applied at 1 bushel per acre for oats and 2 pounds of turnips. 
"Rye ahead of corn is a little harder," Bardole says. "You have to be really careful on your timing with getting it burned down in the spring. We use oats ahead of corn because we don't have to worry about terminating it, and we'll throw in some turnips or something else that may overwinter just so there's something else growing out there in the spring."
They may also use a small amount of vetch, brassicas or other cover crops with the potential to provide additional N to the cash crop. 
The cover crops go on with a Hagie sprayer with 90-foot booms outfitted with a cover crop box. Using the sprayer for seeding allows Bardole to maintain the same wheel track in the fields as their spray applications and reduces soil compaction across the field.
Bardole intended to experiment with relay cropping rye this year. He planned to drill or plant soybeans into the growing rye, harvest the rye off the top and have the beans come up from under the stubble. But the ground was too wet in the spring when he needed to plant the soybeans, so he's going to harvest the rye and plant a cover crop under it. 
While the trial may be on hold for this year, it's yet another example of the Bardoles finding ways to improve their soil and make their family farm stronger and more sustainable for future generations.
"You can tell a healthy soil by how it smells and feels," he says. "Is it hard and crunchy, or does it fall apart in your hands? A good, healthy soil is going to fall apart in your hands, and that is what we strive for."