Holiday music is supposed to bring a sense of anticipation and excitement. But not when you hear it on the radio in mid-April as part of a promotion playing off the recent blanket of snow and unseasonably cool temperatures in parts of the U.S.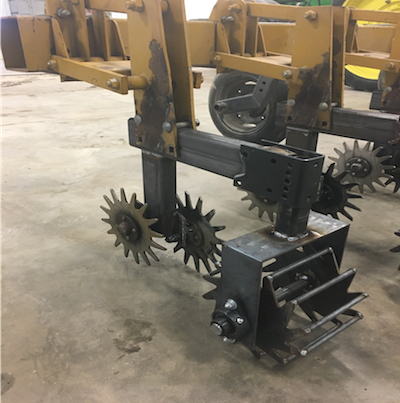 Right now, there is a different type anticipation as farmers are anxiously waiting to take advantage of their window of opportunity to get back into the field. But there is always tinkering and testing to be done in the shop, right up until the planter puts those first seeds in the ground.
So while we wait for the snow to melt, here's an interesting — and economical — equipment modification Buffalo Lake, Minn., strip-tiller Brian Ryberg made to create a homemade strip-freshener.
Results from our 2017 strip-till operational benchmark study showed that more than one-third of farmers who built fall strips always or sometimes refreshed them in spring. Preliminary data from this year's study shows a similar trend (You can participate in this year's survey by clicking here).
Ryberg sought a cost-effective way to create more consistency with planting strip-tilled sugarbeets on his 3,000-acre operation, which also includes corn and soybeans. Only planting sugarbeets about 1-1¼ inches deep, Ryberg says if they planted off the strip, they saw consequences in stand quality.
"All of a sudden we'd have beets laying dry, laying on top of the soil, so we decided we were going to build a freshener," he says. "We wanted to go low-budget and had an old Alloway cultivator in the shed, so we decided to put it to use."
Ryberg and his team found a set of trash wheels on Craigslist, which they purchased, cut apart and made in-line, offset from each other instead of at an angle on the row unit.
They also took a set of trash wheels of Ryberg's old 24-row planter and used those as the foundation for creating rolling baskets. Through a little engineering, they welded rods horizontally across the spikes and then made new brackets with bearings to attach to the row units (see photo).
Ryberg test-ran the rig last March on corn ground going to sugarbeets, running 8-9 mph with promising results. "It made the strips a lot more uniform to plant into and we saw nice, even emergence in our sugarbeets in the spring," Ryberg says.
Hear about Ryberg's strip-till operation in our latest Strip-Till Farmer podcast, where he discusses developing a 22-inch strip-till system and cover crop integration.