Seven years after switching from conventional tillage to strip-till, Nebraska farmer Mark Kimmel says he's sold on the practice because it saves time, fuel and soil.
Before he started strip-tilling, Kimmel made multiple tillage passes on his farm near Alliance, Neb., where he grows sugarbeets, dry edible beans, corn, wheat and sunflowers.
"We disced, then subsoiled and field cultivated. Then we spread dry fertilizer, applied anhydrous and/or put on all the nitrogen on through the center pivot, depending on the crops," Kimmel says.
"Since going strip-till, we've cut our fuel use by 60% vs. our old conventional-tillage program. We've cut at least three tillage passes, and the time savings is huge. The Roundup Ready sugarbeet system also reduces trips for weed control."
Erosion is another concern that was addressed by moving to strip-till on his farm in western Nebraska.
"Out here, the wind is blasting our sandy loam soils all the time," Kimmel says. "Strip-tilling leaves more residue to protect the soil, especially in our corn-on-corn fields.
"With conventional tillage, we could lose 5% to 10% of the sugarbeet stand from the wind twisting the seedlings and breaking them off at ground level. This is a problem we call 'whirlybird.' With strip-till, the stand of sugarbeets is a lot more uniform."
Nebraska strip-tiller Mark Kimmel says switching to strip-till has saved time, fuel and money. (Photo courtesy of Belle Acres Farms)
Timing Is Key
Kimmel spring strip-tills sugarbeets, sunflowers and some of his corn. Kimmel strip-tills the sugarbeets in mid-March and prefers to finish strip-tilling by April 1 and have the sugarbeets planted by April 15, if the weather cooperates.
When Kimmel started strip-tilling years ago, he pulled the 16-row Strip-Cat with a 200 horsepower tractor.
But after adding more aggressive, 18-inch-long DMI knives for strip-tilling sugarbeets, Kimmel switched to a Deere 9420T tractor with 425 horsepower.
When Kimmel strip-tills corn in the spring, the timing depends on when he finishes strip-tilling and planting sugarbeets, which are on 30-inch centers.
When strip-tilling before planting corn, he applies 50% of the nitrogen and 100% of the phosphate and potash using a 16-row Twin Diamond Strip-Cat with 30-inch spacings. He applies 60 pounds per acre of phosphate, 60 pounds of nitrogen and 4 pounds of sulfur per acre when strip-tilling.
After using dry fertilizer for several years, Kimmel returned to applying liquid fertilizer this year when strip-tilling fields before planting corn.
"Dry fertilizer is really hard to work with because it plugs up with the humidity," he says. "We also saw some nitrogen burn on the corn roots. This year, we used two 1,000-gallon saddle tanks on the tractor for the nitrogen, phosphorus and potassium."
When strip-tilling, Kimmel places 40% of the liquid fertilizer about 3 inches deep and 60% at the bottom, about 10 inches deep. Generally, there isn't a difference in residue management between continuous corn and wheat, he says. But he sometimes lowers the trash whippers on the Strip-Cat to move more wheat residue away from the row.
Berms for strip-tilled corn and strip-tilled sugarbeets are both built 2 inches high. By the time the corn and the sugarbeets are planted, the berms have flattened out, he says.
Kimmel plants the strip-tillled corn with a 16 row, 30-inch spacings Deere 1720 planter with Martin trash wheels. The plant population ranges from 33,000 to 36,000, based on hybrids.
Kimmel says he believes that strip-tilled corn yields more than corn grown with conventional tillage, but says that better hybrids also account for yield increases, too. The yield advantage definitely shows up in sugarbeets.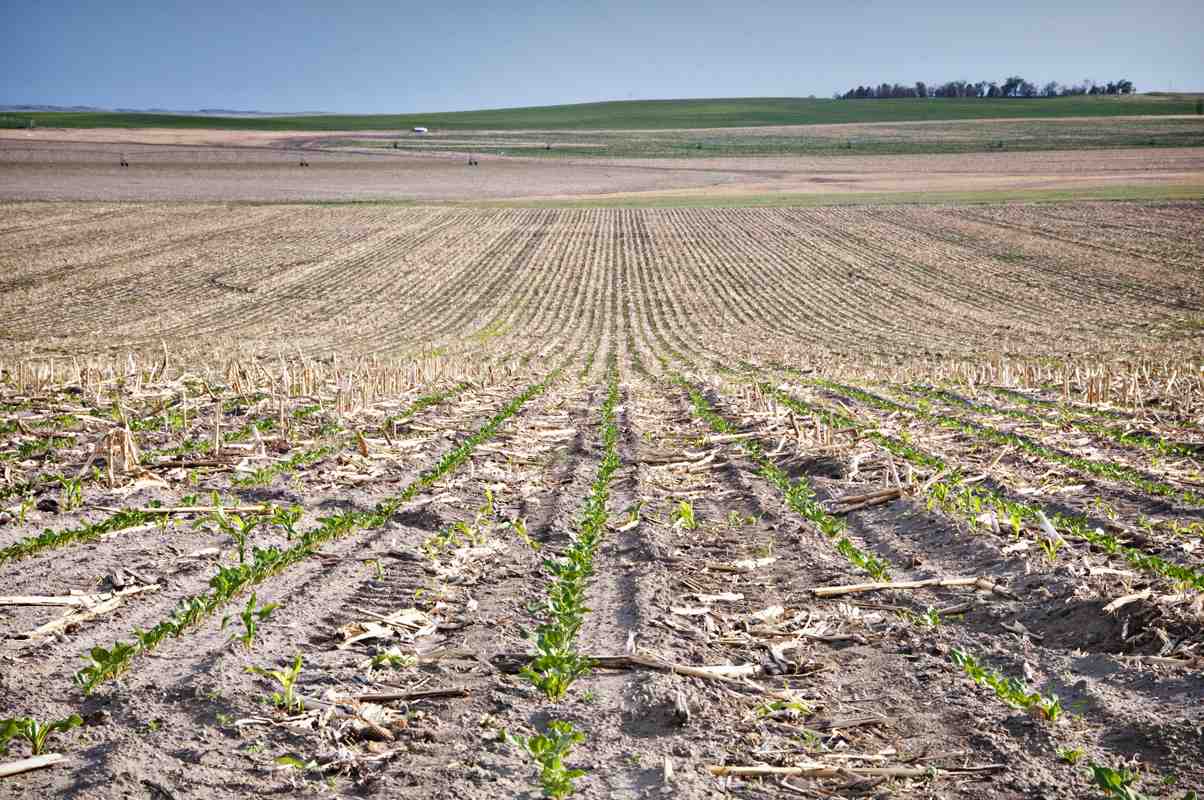 Kimmel strip-tills his continuous corn, along with sugar beets.
(Photo courtesy Belle Acres Farms)
"You get nice long tails (roots) on the beets, which seem to respond well to strip-tilling," Kimmel says. "Strip-tilled Roundup Ready sugarbeets will yield about 1 ton per acre more than non-Roundup-Ready sugarbeets in conventional tillage.
"This year's price for sugarbeets is $75 per ton, so that's the economic advantage with strip-till."
Twin-Row Experiment
This year, Kimmel is comparing twin-row corn vs. corn planted on 30-inch spacings to see if there's a yield advantage with twin rows.
He's using a Great Plains planter with 30-inch centers that places corn 4 inches on either side of the center. The twin-row corn was planted with a population of 39,000 per acre.
For the strip-tilled, twin-row corn, Kimmel is applying 7 gallons of 10-34-0 per acre in the furrow and dribbling on 10 gallons per acre of 32% liquid nitrogen, along with 10 pounds of sulfur per acre.
Kimmel is eager to see how this year's twin-row, strip-tilled corn will yield vs. the 30-inch corn.
"We've got a lot side-by-sides out to compare the two practices," he says.
The irrigated corn will be fertigated 2-3 times, applying 50 pounds of nitrogen and 5-10 pounds of sulfur per acre through the center pivot.