BROOKFIELD, Wis. — Building on the success of the inaugural event in 2014, the 2nd annual National Strip-Tillage Conference will feature more than 20 presentations during the course of two education-packed days in early August.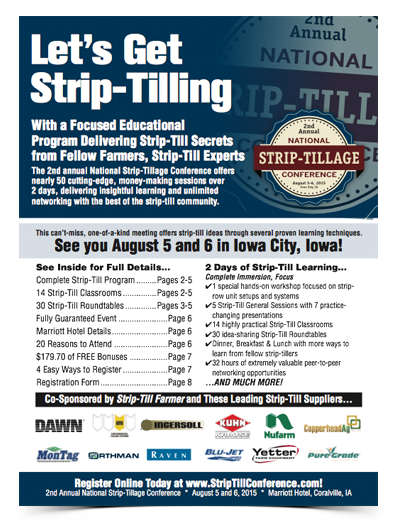 The unique event in Iowa City, Iowa, on Aug. 5 and 6 will bring together a diverse group of top strip-tillers, consultants and researchers who will share experience-based tips and techniques that both veteran and recent adopters of strip-till can put to work immediately in their operations.
The just-completed 2015 conference program contains 7 general-session speakers, 14 classrooms and 30 roundtables over a fast-paced 32 hours of in-depth strip-till sessions. In addition, registered attendees can sign up for an additional special 3-hour, interactive strip-till equipment workshop prior to the official start of the event with highly regarded ag consultant Kevin Kimberley.
Following is a sample of topics and speakers that will provide growers with a top-notch strip-till education at the Coralville Marriott Hotel:
• The special workshopby Kevin Kimberley, owner of Kimberley Ag Consulting in Maxwell, Iowa, will allow strip-tillers to get a hands-on overview of different strip-till row unit options and what to expect from each to help understand the practical benefits and drawbacks of different setups.
• During a breakfast general session on Thursday, Aug. 6, University of Minnesota nutrient management specialist Fabian Fernandez will compare nutrient management practices for strip-till and no-till and how to properly take soil samples to accurately represent the fertility of a field when banding fertilizer in the strip vs. a broadcast application.
• Veteran agronomist and strip-till expert Mike Petersen will present compelling reasons why more precisely placing nutrients with strip-till increases availability of nutrients and actual uptake by corn roots. His classroom session will explore the positive effects of strip-till on progressive corn rooting in a classroom session.
• Western Illinois University soil scientistJoel Gruver will focus on the integration of cover crops within strip-tillage systems. He will explore key opportunities and challenges based on recent research results and the experiences of innovative farmers using both strip-till and cover crops.
• Grand Marsh, Wis., strip-tillers Eric and Megan Wallendal will share how they've incorporated precision farming practices, including variable-rate irrigation and soil moisture probes, to record organic matter, pH levels and water-holding capacity in their sandy topsoils. They will examine the future use of drones, NDVI imagery data and variable-rate spreading/fertigation to boost strip-till productivity.
• Persia, Iowa, strip-tiller Bill Darrington considers his management approach as "biologically aware" and proactively looks for the most productive, farm-friendly fertilizers to keep his soils healthy and organically active. During a general session, he will share the evolution of his strip-till system to include fertility management practices that have helped him improve yields and boost soil health.
• Frankton, Ind., farmer Mike Shuter has made a conscious effort to more efficiently apply fertilizer and improve soil biology. He will discuss the tangible gains of using crop sensing technology to assess foliar application needs, residue management practices for strip-tilled corn-on-corn and cover crop application using his own design for a 120-foot seeder.
 "We had 416 farmers and industry leaders attend our launch event last July and the feedback was extremely positive about the networking opportunities for strip-tillers," says Jack Zemlicka, managing editor of Strip-Till Strategies e-newsletter and StripTillFarmer.com. "This event provides strip-tillers a place to gather and discuss challenges in their farming operations with farmers who can deliver tips, ideas and solutions."
The final 8-page program can be viewed and downloaded here. Registration is just $224 per person, with a special $204 rate for additional farm or family members.
The event is co-sponsored by Strip-Till Farmer and 12 industry-leading Title Sponsors, including Copperhead Ag, Dawn Equipment Co., Environmental Tillage Systems, Ingersoll, Kuhn Krause, Montag Mfg., Nufarm, Nutra-Flo, Orthman Mfg., Raven Industries, Thurston Mfg. (Blu-Jet) and Yetter Mfg. Co.