Creating an environment where microbial organisms can flourish is a key element of a successful strip-till system.
Rod Sommerfield has been banding fertilizer since 1972 and has long studied the benefits of precisely placing nutrients below the soil surface, rather than a broadcast application. Farming in Mazeppa, Minn., Sommerfield uses strip-till as a natural farm management tool to reduce input costs, save fuel and improve soil health.
During a classroom session on August 5, he will share his experience-based benefits of banded nutrient applications in strip-tilled corn, and also discuss the concept of "regenerative agriculture" and how this process can help reduce greenhouse gases and make healthy soils less susceptible to weather extremes.
An early adopter of strip-till in his area nearly 20 years ago, Windom, Minn., farmer Tom Muller understands that creating an ideal seedbed and limiting compaction in his silty clay loam soil is only a partial benefit of the practice. Farming 2,600 acres of corn and soybeans, he's been able to virtually "drought proof" his fields through increased water-holding capacity and infiltration.
Rod Sommerfield
Tom Muller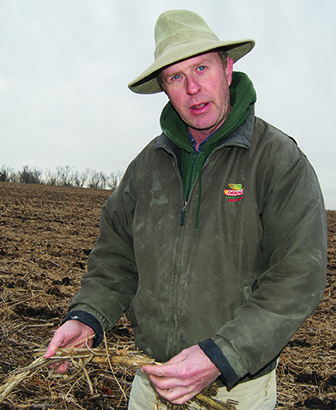 Any given clump of Muller's soil is bound to contain evidence of healthy earthworm activity, which is something he says is paying dividends to include consistent strip-tilled corn yields and a reduced threat of insect infestations.
During his August 6 classroom presentation, Muller will reflect on his long-term philosophy to improve soil structure and health through strip-till and offer tips for improving earthworm populations in your fields.
 For more information and a complete agenda of this year's event, visit www.striptillconference.com.