---
EFFICIENCY BUMP. Dairy farmers like Stephan Brown have a chance through California Ag Solutions' new program, Faster Forage, to see strip-till in action on their own farms. After only 2 years, the time, fuel and labor efficiencies Brown saw encouraged him to buy his own planter and 10-row Orthman rig to strip-till 100% of his silage corn.
Riverdale, Calif., dairy farmer, Stephan Brown was a bit hesitant to try strip-till at first. He'd initially come across the practice at a University of California extension field day he attended over a decade ago and wasn't impressed.
Brown also remembered when Monsanto supplied local farmers with no-till equipment in hopes that they'd adopt that practice — they'd seen miserable results and there was some reluctance to change afterward. However, when a nearby innovative dairyman started seeing solid results with strip-till on his silage corn several years ago, Brown decided it was worth another look.
So he rented equipment and received consultation through a program called Faster Forage, provided by California Ag Solutions (CAS), based in Madera, Calif.
"We started by strip-tilling 80 acres of silage corn 3 years ago through the program, then in the second year we bumped that up to 95 acres," says Brown. "We noticed right away that the yield was just as good as the conventionally tilled ground and my takeaway was — well, the results are no worse, but the process is a lot easier. This year, I bought my own equipment and I'm doing all 336 acres."
Building Knowledge
California Ag Solutions founding partner, Monte Bottens, has been hard at work over the past few years helping to bring strip-tillage to California dairy farmers, like Brown, one at a time through the partnership program, Faster Forage. Having spent some time working for a farm equipment dealership in California, Bottens understood the disconnect between local farmers and experienced sources for strip-till.
"Most farm equipment dealers in California are focusing on tractors," says Bottens. "When it comes to implements such as strip-till rigs, which are basically non-existent in the area, they are out of their element. They really lack the technical resources to coach farmers on how to properly set up the field for strip-tilling and all the special considerations that go with it."
According to Bottens, California Ag Solutions is on a mission to promote less aggressive tillage, conserve water and improve soil health across the state, and strip-tillage is one avenue to this goal. The company formed a partnership withSustainable Conservation (SUSCON) and started Faster Forage, which is designed as a program to help local farmers look into adopting conservation tillage, strip-till and no-till into their complex soil, water and cropping systems.
The partnership started by obtaining two, 8-row Orthman 1tRIPr strip-till rigs and a customized planter to rent out. Silage corn, a common crop among California's dairy farmers, quickly emerged as the best candidate for strip-tillage, so CAS chose to put its focus with farmers there. The program provides both an equipment rental service and advisory expertise.
"We help farmers with every step, from setting up the field correctly to operating the strip-tiller, which includes setting up the GPS and other equipment," says Bottens. "Also, when it's time to make the planting pass, we have all the precision planting components along with the ability to put nutrition on the seed and in a 2-by-2-inch application, so we're there to make sure that all goes smoothly as well."
Now in its third year, the Faster Forage program starts by taking interested farmers on a summer field day that showcases strip-till results at a local farm that adopted the practice in a previous year. This includes seeing a comparison between conventional tillage and strip-tillage and a root pit.
Proving Value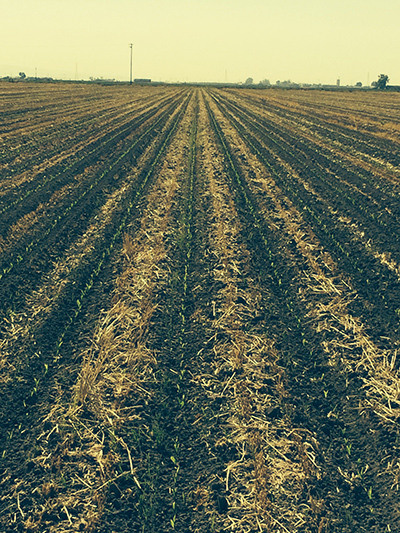 STRIP SIMPLICITY. To prepare for planting, Brown used to have to deep rip 28 inches, do multiple discing passes, ridge up beds and work them several times, before and after pre-irrigation, which often resulted in up to three tractors in the field at once. With strip-till, he only has to do a pass at 9 inches initially and then a shallow refreshing pass after pre-irrigation, simplifying the process down to a one-man job.
Before beginning to work with CAS, Brown conventionally tilled his silage corn. Since he's double-crops silage corn with silage wheat in the winter, his previous practice included a 28-inch deep ripping pass, two discing passes and ridging up beds before pre-irrigation and then working the seed beds again afterward.
Because the time between chopping the silage wheat and getting the corn planted is so short, the process was laborious and hectic.
"It was always a mad dash especially after pre-irrigation, because we'd have a three tractor rodeo going trying to work up ground to preserve the moisture for planting," says Brown. "With strip-till, we're able to be just a one man, one tractor job and it goes faster. We were able to park 2 tractors."
Brown was able to see a two-thirds savings in fuel, time and labor with strip-till while maintaining current yields, not to mention the saved wear and tear on the absent tractors. Now, he can follow up the wheat harvest with a strip-till pass at 9-inches deep, pre-irrigate, follow with one more shallow strip-till pass to prepare the seedbed and then plant.
Choosing not to apply any nutrients with the initial strip-till pass because of the risk of leaching during pre-irrigation, Brown applies 39 pounds per acre of UAN32 in a 2-by-2-inch application and 5½ gallons per acre of IGNITION (liquid starter) ACCELERATE (micronutrient package) REV UP (a microbial catalyst).He then sidedresses up to another 110 pounds per acre of UAN32 depending on availability of dairy lagoon water.
After 2 years of seeing the substantial boost in efficiency at the crucial wheat to corn time window, Brown was encouraged to eliminate his old tillage methods entirely and strip-till 100% of his silage corn. He purchased a new planter and an 10-row Orthman 1tRIPr rig of his own and had CAS set-up both.
Brown is the ideal example of what CAS hopes Faster Forage will do for expansion of strip-till adoption in California. They have deliberately set up the program to give each farmer 2 years to experiment with strip-tillage without too much risk, and decide afterward if they want to continue on their own.
"It's like a test drive and a lot of farmers won't look at changing their practices until they see the results on their own farm," says Bottens. "We offer a minimum of 40 acres and a maximum of 320 per farmer and we'll only work with them for 2 years.
"When we started, we were doing about 600 acres between 6 farmers and just last year we were up to 1,100 acres among 11 farmers. So far, every participant we've had has switched to strip-till. Our goal is to see three-quarters of the valley move over to strip-till and I think there is a chance we could get there in another 5 years. But keep in mind that there are only about 580,000 acres of silage corn in California."