Kicking the tires on a new tractor or scheduling seasonal maintenance for a combine or planter are common necessities that keep farmers coming through the doors of their local farm equipment dealership.
But when it comes to strip-till equipment, farmers are often looking for a more unique level of expertise and support. As a niche farming practice, strip-till requires an intimate understanding of how different parts of the system correlate to an overall objective, whether it's increasing yields, improving soil health, targeting fertilizer application — or all three.
Striking the right balance between equipment and inputs, to maximize the benefits of strip-till, is a constant work in progress. With so many moving parts (literally and figuratively), having a local resource who is knowledgeable on setting up and maintaining a strip-till system can be a luxury for farmers, while at the same time, an opportunity for dealers.
As part of this special report looking at what dealers need to know to succeed in strip-till, we asked several experienced strip-till farmers to share their experience, expectations and advice for how equipment retailers can develop this part of their business.
Set Up for Success
Unlike other implements, strip-till rigs often require a more detailed understanding of a farmer's operation and goals to ensure proper performance and results.
"This is not like buying your average corn planter. It's something totally different," says North Vernon, Ind., farmer Bob Kent, who started strip-tilling corn 6 years ago on his 1,500-acre operation.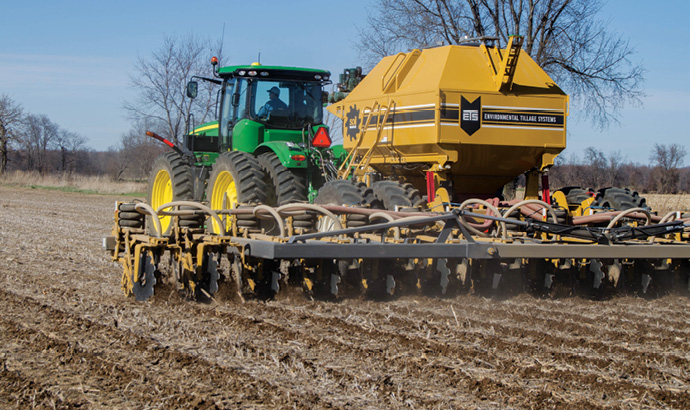 Farm equipment dealers don't always have to be strip-till experts to successfully sell and service machinery used by farmers. However, they should have at least a baseline understanding of how to properly setup and maintain a strip-till rig.
After researching different strip-till rigs at a field day in Illinois, Kent purchased a 16-row Kuhn Krause Gladiator unit, the first one sold by his local equipment dealership. While he relies heavily on his manufacturer representative for support, Kent has worked with his equipment dealer on some maintenance and modifications.
When he purchased the unit, one of Kent's first objectives was to add a liquid fertilizer box. He bought a 1,000-gallon liquid tank that the dealership mounted on the unit to apply phosphorus and potassium with ground-driven pumps. Kent also pulls an anhydrous tank behind the strip-till unit and worked with his dealer to connect and route the hoses to the row units.
"My expectation of my equipment dealer is that they support anything they sell and know their product," he says. "But I also think with strip-till, it's important that they have a good relationship with their supplier. When we bought our unit, a company representative, my salesperson from the dealership and a service technician all came out to set up the machine, which showed me collaboration and commitment."
---
If a dealer is just selling the equipment because it's a piece of steel, I don't think they need to be wasting their time with it...
---
Even if dealers aren't strip-till equipment experts, they should at least understand the basics, says Plainview, Texas, strip-tiller Steve Olson. This includes sizing a strip-till rig to match a farmer's operation, making sure row units are level and set to the desired depth and being able to sell and service GPS systems (especially RTK-level correction), which many strip-tillers view as a necessity.
With a masters degree in engineering, Olson does most of his own equipment modifications on his 12-row Orthman 1tRIPr unit, and suggests that farmers can be less reliant on dealers for strip-till equipment expertise than with other pieces of machinery.
"If my dealer delivers a new combine to my farm and I can't figure out how to run it and call the manufacturer, that dealer would be in big trouble," Olson says. "But if I don't know how to run my strip-till rig, there's not always the same pressure on the dealer because chances are, I'll figure it out."
Embracing the Concept
While equipment knowledge is one part of strip-till, it's not the only one. Farmers are also looking for support and understanding of strip-till as a system.
Dealers who simply sell a strip-till rig and then ask the manufacturer to tell them what settings they should run, how deep it should go and where to place what pin are likely going to have farm customers experience middling results, says Andy Thompson, Niota, Ill., strip-tiller and territory manager for Yetter Mfg.
"When a farmer goes into an equipment dealer and asks about strip-till equipment, nutrient placement equipment, reduced tillage equipment, etc., they are now needing someone to help teach them how to connect with the farmer on these subjects," Thompson says. "Therein lies the problem. Too many dealers are trying to sell a strip-till tool. But the successful dealers selling strip-till equipment are the ones who are selling the concept and helping educate the farmer, not only on the equipment, but also on the practice."
One of the dangers in not having a base knowledge of an entire strip-till system, is that dealers may dismiss the benefits if their customers don't see immediate results, adds Thompson.
"We've seen it before and we may be on the brink of seeing it again," he says. "When it's easy, everyone wants to sell it. But when something goes wrong or when strip-till doesn't perform on the first try, then dealers may want to run away from it."
Olson says dealers who are serious about selling strip-till equipment should expect to make at least a 3-year commitment with the customer before seeing measurable benefits such as improved soil health and higher yields.
He purchased his first strip-till rig in 2006 from an equipment dealer in the Oklahoma Panhandle after finding little support or knowledge from local retailers on how to add the system to his 2,500 acre corn and cotton operation.
"I was basically told point blank that strip-till wasn't going to work in our area because of the dry, hard clay soils we have in northern Texas," he says. "But gradually, the practice started getting more attention because it helps retain moisture, which is a precious commodity in our area, while also increasing yields."
In 2009, he purchased his current strip-till rig from his local farm equipment dealership, Ray Lee Equipment, in Plainview, Texas. At the time, it was one of the first strip-till units the dealership had sold, but Olson says the retailer has been an ally in developing his system.
As part of the purchase, the dealership helped coordinate a brief meeting with agronomist and plant root expert Mike Petersen, who Olson credits with connecting the dots between fertility, soil health and equipment setup in his strip-till system.
"The biggest issue for a lot of dealers, as well as farmers, is that they don't understand that soil structure and soil health are absolutely everything when it comes to having a successful crop," Olson say. "That's a key part of being profitable with strip-till, and the producer who can produce the most with the lowest cost per bushel is going to succeed."
Reinforcing the benefits of strip-till can be a natural sales tool for dealers, says Kent, who has increased corn yields by 10% per acre and trimmed his fertilizer application by 40% per acre since adopting the practice.
"It doesn't take long for the equipment to pay for itself when you get that kind of return," he says. "If a dealer in the strip-till business hasn't sold a unit, I advise them to partner with a representative farmer who can show the value."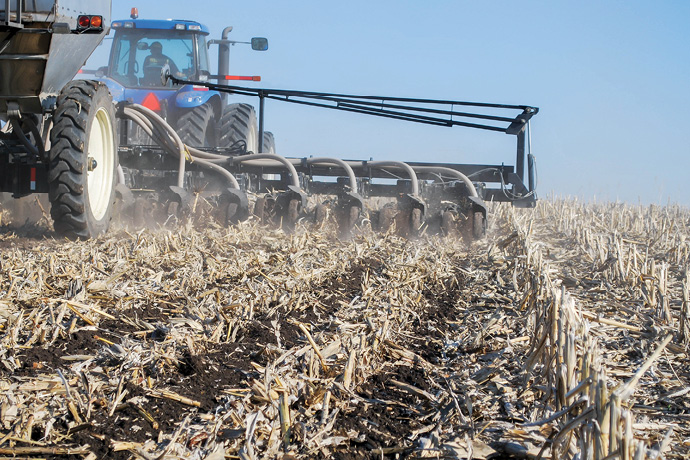 Dealers that are serious about developing their strip-till business should plan to make at least a 3-year commitment with customers before expecting to see measurable returns on a farm, such as improved soil health and higher yields.
Filling a Void
Each of the farmers interviewed for this feature say they've seen strip-till growth in their respective areas since they started, but that hasn't translated to an increase in dealer activity.
However, a slower ag market could be an opportune time for dealers to consider carving out a strip-till niche, especially as momentum builds for adoption of more sustainable farming practices.
"We're really just starting to see the whole soil health concept explode and move from being a buzzword to more mainstream, and strip-till is a big part of that," says Shell Rock, Iowa, farmer Jeff Reints. "It's a great time for a dealership to get on board and offer something to the market in the form of a complete unit, because I think that's one of the voids that is holding adoption back in some areas."
Reints started strip-tilling 20 years ago and says having a dealer be a "one-stop shop" for strip-till would be a convenient resource. He assembled his current strip-till setup by working directly with three different manufacturers including Harvest International for a toolbar, Dawn Equipment for 24 Pluribus row units and Montag for a fertilizer cart.
While he's gotten good support from each company, Reints sees an unfulfilled niche for a dealership to sell and support a comprehensive strip-till equipment system.
"We've seen some growth in adoption, but I think it could be accelerated if farmers didn't have to put their system together one piece at a time," Reints says. "They want a complete unit. An equipment dealer that could fill that need and be a resource for the farmer to purchase other machinery or parts from as well."
Since starting out as one of the first strip-tillers in his area, Olson has seen the practice spread locally with several neighboring farmers adopting strip-till. He sees potential for dealers to capitalize on and increase growth, but only if they approach it in the right way.
"There is tremendous opportunity, but it's only going to be realized if a dealership's customers can see the benefit and are successful with strip-till," he says. "If a dealer is just selling the equipment because it's a piece of steel, I don't think they need to be wasting their time with it."