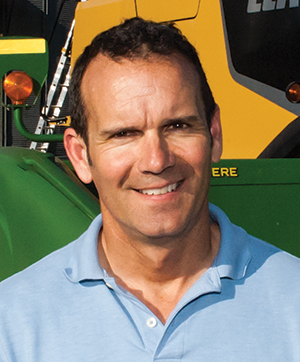 Brian Watkins
Developing a strip-till system isn't an easy process. Just ask Brian Watkins, who took nearly 15 years to confidently transition from no-tilled corn to strip-till on his 7,000-acre operation near Kenton, Ohio.
Throughout the transition, experimentation has been a mainstay of his strip-till system to include incorporation of crop sensing technology, equipment setup modifications and intensive fertilizer management practices.
"One of our strip-till goals is flexibility," Watkins says. "And we try and account for every dollar that we're investing in our system."
During a general session on Thursday, Aug. 4, at the 2016 National Strip-Tillage Conference, Watkins will share his experience and payback utilizing remote sensing tools to improve fertilizer application methods, along with the addition of an air seeder cart for dry fertilizer application in strip-till.
The host Marriott Hotel and Conference Center in Normal, Ill., will offer an ideal learning environment for attendees to absorb dozens upon dozens of actionable strip-till practices from fellow farmers, consultants, university specialists and other agricultural experts through general sessions, strip-till classrooms, roundtable discussions, hallway networking and a special members-only workshop.
Preliminary plans for the event include 7 general session speakers, 12 classrooms covering a range of strip-till topics, including cover cropping, precision farming practices and equipment modifications, and 20 roundtable discussions.
Stay tuned for more conference updates by visiting www.StripTillConference.com and we'll see you in central Illinois!