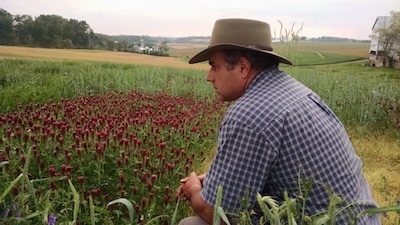 Steve Groff
Soil is meant to be covered. This is a foundational philosophy for Steve Groff during more than 20 years of research, experimentation and full-scale farming with cover crops. The founder of Cover Crop Coaching says consistent ground cover and living roots in the soil are essential to maximizing ecological benefits.
But first, strip-tillers need to have a strategic plan and understanding for how cover crops can be an organic asset to their operation. "My primary message to farmers is this — treat your cover crops like your cash crops," Groff says. 
During this special 3-hour workshop on Aug. 2 preceding the 4th annual National Strip-Tillage Conference in Omaha, Neb., Groff will share proven secrets to building a foundation of success by knowing the cover cropping basics, uncovering the four key mindsets for effective cover cropping and fine-tuning methods for integrating covers crops in a strip-till system.
Come with your questions and share your observations during this interactive session, featuring Q&A opportunities throughout. This workshop is limited to 75 attendees and costs just $75 to attend.
It is available only to paid registered attendees of the 2017 National Strip-Tillage Conference.  
Registration is open for the 2017 event, at $234 per person and $214 for additional farm or family members, at www.StripTillConference.com.
There are two hotel options providing special rates for conference attendees:
The host Embassy Suites Omaha-La Vista Hotel & Conference Center is holding a block of rooms for the conference at a special rate of $129 per night. You can make reservations by calling (402) 331-7400. When booking, mention code "NS8" to get the special rate. Reservations can also be made at the Courtyard Omaha La Vista at a special rate of $109. You can make reservations by calling (402) 339-4900. Use the code "NSTC" to get the special rate.
Preliminary plans for the event include 7 general session speakers, 12 classrooms covering a range of strip-till topics, including cover cropping, precision farming practices and equipment modifications, and 26 roundtable discussions.
Stay tuned for more conference updates by visiting www.StripTillConference.com, and we'll see you in Omaha!