While strip-till tends to be practiced in pockets of North America, there is a sense that interest and adoption is on the rise. Talking with strip-till researchers and academics during the last year, the consensus is that strip-till is on the upswing.
Pinpointing the exact total of strip-tilled acres in the U.S. is difficult, but a historical snapshot and recent forecast reveals strip-till momentum. In 2007, our sister publication, No-Till Farmer, reported about 3.6 million acres of corn were actively strip-tilled that year, or roughly 19% of the nation's no-till corn acreage at the time.
Based on industry discussions during the last year, the best estimate, is 8 million acres strip-tilled in 2017 and a projection of 11.7 million by 2030. (see Beyond the Berm Click Here).
Looking at data from the 2018 benchmark study, respondents reported strip-tilling 381,950 acres last year, which translates to a per-farm average of 1,286 acres. The average represents an increase of 174 acres per farm over 2016 (1,112) and the highest in the history of the study.
Dig Deeper into Strip-Till Data
Compare and contrast past analysis and insight from 5 years of Strip-Till Farmer's Operational Practices Benchmark Study at www.StripTillFarmer.com.
Also view a webinar replay of managing editor Jack Zemlicka going inside the numbers of the 2018 benchmark study to review emerging trends and evolving strip-till practices.
This includes growth in both the average corn and soybean acres being strip-tilled by farmers. Average soybean acres being strip-tilled jumped 122 acres — the largest increase in the history of the study — to a high of 552 per farm. This comes after more than a 60-acre drop from 2014-15, followed by modest growth in 2016.
Corn acres continued to steadily trend upward, with averages increasing by more than 200 acres per farm since 2013. In 2017, study respondents reported strip-tilling an average of 921 acres, up from 876 in 2016 and 860 in 2015.
On average, farmers reported strip-tilling about 70% of their total acreage in 2017 — down 5 points from 2016 — but well ahead the prior two years, which averaged about 63%.
By comparison, the results of the 10th Annual No-Till Operational Benchmark Study published by No-Till Farmer earlier this year revealed that 16.6% of respondents strip-till, up slightly from the prior year's total (15.5%).
It will be interesting to see if the growth in strip-till acreage continues in the coming years, based on the short and long-term forecasts. It's going to be gradual process, but with increasing public emphasis on nutrient management and fertilizer runoff, researchers are taking notice. Some suggest this will translate to an investment in solutions related to strip-till.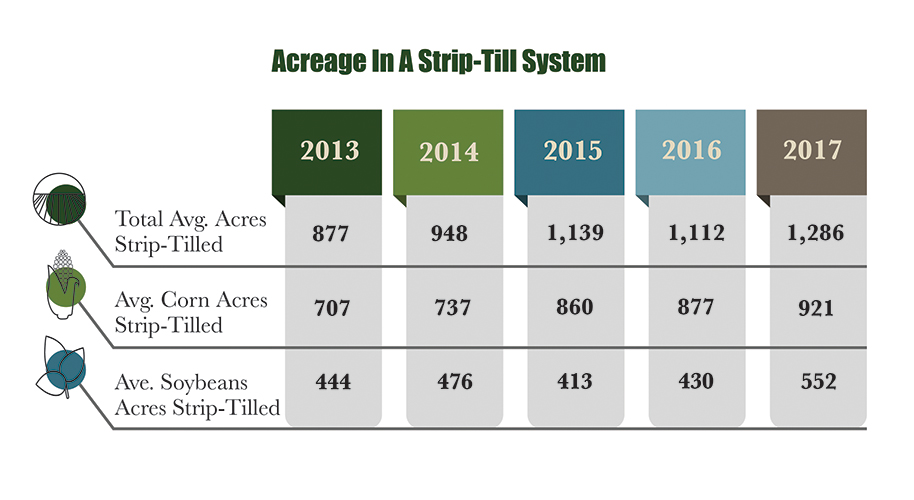 GROWTH POTENTIAL. On average, farmers reported strip-tilling about 70% of their total acreage, with continued increases in the average acres of corn and soybeans strip-tilled per farm.
Another reason for optimism is that there are areas where strip-till is still in its infancy. Talking with one expert, he cites west of the Missouri River and north to the Canadian border as regions ripe for a 3-5% annual increase in strip-till adoption in the coming years.
Breaking 200 Bushels
Corn remained king with more than 96% of respondents strip-tilling this crop in 2017, consistent with the past 4 years, which averaged 97%.
While many farmers reported bumper crops in 2017, given the growing conditions, strip-tillers enjoyed a particularly productive year. Per-bushel corn averages increased by 10 bushels, the largest year-over-year jump in the history of the study, to a high of 209 in 2017.
This also marks a 25-bushel increase in average corn yields since 2013. After back-to-back years of 191 bushel per acre averages, 2016 saw respondents average 199 bushels per acre of strip-tilled corn.
Drilling down by primary strip-tilling regions, farmers in the Western Corn Belt averaged 224 bushels of corn (up 12 bushels over 2016 totals), those in the Eastern Corn Belt averaged 189 (a 14-bushel dip over 2016), strip-tillers in the Great Lakes averaged 207 (a 9-bushel bump over 2016) and those in the Northern Plains averaged 182 (up 2 bushels from 2016).
Consistent with prior years, strip-tilled corn out-yielded other tillage systems, as reported by No-Till Farmer's recent benchmark study. In 2017, farmers using minimum-tillage practices averaged 189 bushels per acre, those utilizing vertical tillage averaged 187 bushels per acre and no-tillers harvested 181 bushels per acre.
The percentage of farmers strip-tilling soybeans dropped slightly, but at 53%, the total is well ahead of 44.1% in 2015. After a steady 3-year increase, strip-tilled soybean yields dropped by 2-bushels per year, from a 2016 average of 62 bushels per acre to 60 in 2017.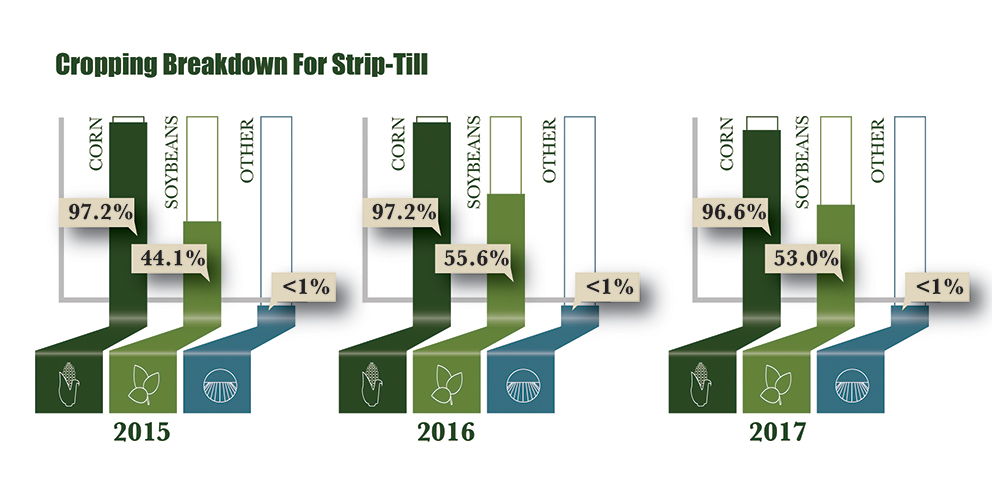 CROP DOMINANCE. Corn remained the crop of choice for strip-tillers in 2017, although the percentage dipped slightly for the first time, albeit by less than 1 point. More than half of respondents said they strip-tilled soybeans last year.
However, strip-tilled soybeans out-yielded no-till soybeans by 5-bushels per acre (see yield comparison chart below) based on data from No-Till Farmer's 10th annual benchmark study.
This marks the fifth year in a row strip-tillers have seen higher soybean yields compared to no-till, vertical-tillage (57 bushels per acre) and minimum till (54).
The Top 10%
The upper echelon of strip-tillers also enjoyed measurable yield gains for both strip-tilled corn and soybeans. The average corn yield was 261 bushels per acre, an 11-bushel bump over 2016. The record-high average also represented an 18-bushel bump over 2015 and 25-bushel increase over 2014.
Looking at the top 10% of soybean strip-tillers, they enjoyed another yield bump as well, averaging 76 bushels per acre in 2017, a 4-bushel increase over 2016 and a 12-bushel increase since 2014.
The average acreage the top 10% of strip-tillers farmed in 2017 was higher than the rest of the pack, at 1,430 per farm. Some 74% of the top strip-tillers' total acreage was strip-tilled last year, with farmers averaging 984 acres per-farm of strip-tilled corn (+63 compared to overall average) and 518 acres per-farm of strip-tilled soybeans (-34 compared to overall average).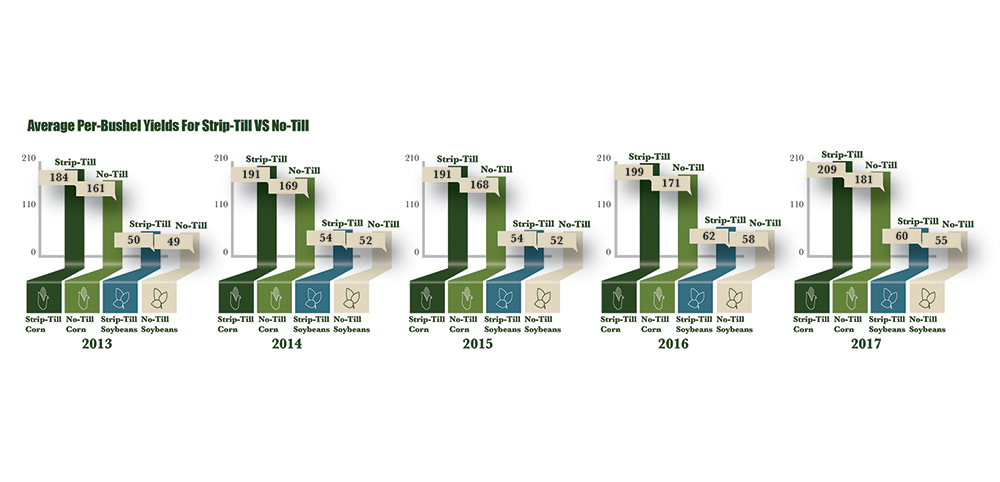 YIELD GAIN. Strip-tilled corn yields jump an average of 10 bushels per acre in 2017, while soybean averages dipped by 2 bushels per acre. Both strip-till averages remained ahead of no-till yields reported by No-Till Farmer's latest benchmark study.
Read: Experience, Age & Location of Strip-Tillers Evolving
Read: Shifts in Row Unit Size, Setup & Timing of Strip-Building