Flexibility is a luxury strip-tillers often speak of with their system. The ability to adapt row-unit setups to suit field conditions, and even shift the timing of strip-building to accommodate for Mother Nature's unpredictability, can pay big dividends for strip-tillers.
The 2018 Strip-Till Operational Practices Benchmark study highlights the annual variances in weather patterns and individual preferences which can influence how and when strip-tillers build berms.
While the average width (8½ inches) and depth of tillage (7 inches) has been consistent thought the history of the study, there are other noteworthy differences.
Perhaps the most noteworthy year-over-year change came in the percentage of spring strip-tillers, dropping from 31.4% in 2016 to a low of 24.9% last year. This decline followed 2 years of growth in spring strip-till, perhaps aided by more conducive conditions in North America during those years.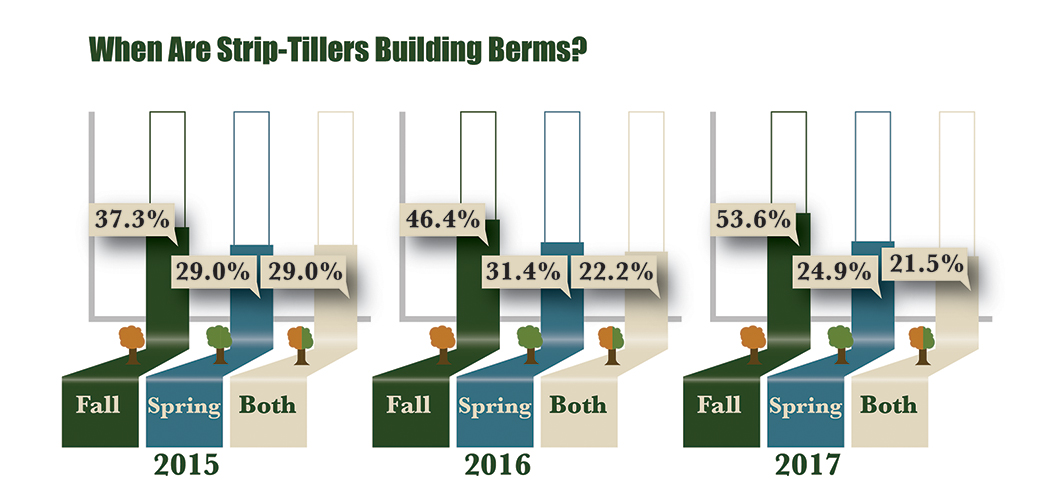 AUTUMN PREP. Trending upward is the percentage of strip-tillers preferring to build berms exclusively in fall, while those strip-tilling in spring and fall remained consistent, year-over-year.
For the third year in a row, the percentage of fall strip-tillers grew. For the first time, more than half of respondents — 53.6% — chose the post-harvest window to build berms. This marks nearly a 7-point increase over 2016 (46.4%) and a 16-point jump over 2015 (37.3%).
While the majority prefer fall strip-till, only 14.3% of respondents said they refresh strips in the spring, although 67.7% said they sometimes will refresh strips. These totals are consistent with the last 3 years, but the percentage of farmers refreshing has nearly doubled since 2014.
Respondents who strip-till in both spring and fall remained largely unchanged at 21.5%, compared to 22.2% in 2016, but well below the 33.4% in 2015.
Shifting Setups
While data revealed a modest shift in strip-till timing, there was also change in the size and setup of strip-till rigs farmers are running. Those preferring a shank-style system increased nearly 7 points over 2016 to a high of 49.8% last year.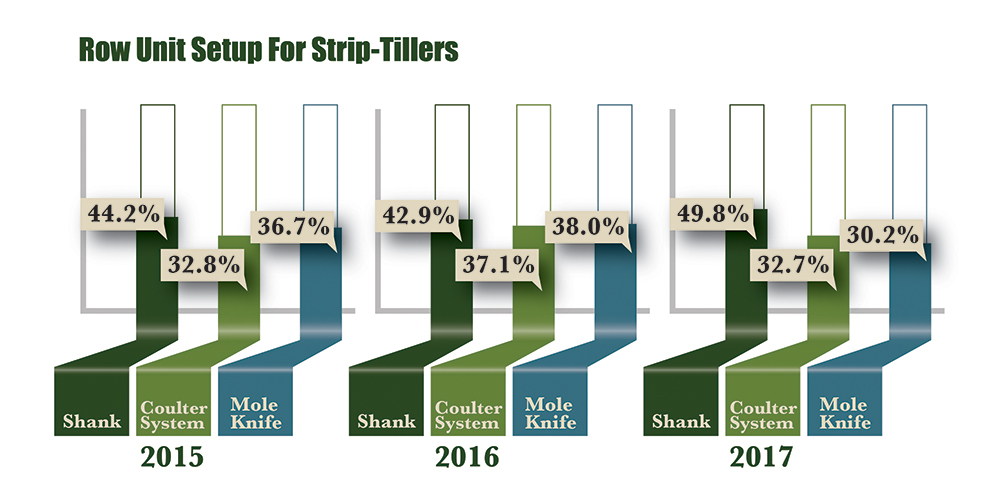 SHANK SWING. For the fifth year in a row, the most popular strip-till setup was shank-style row units, but the percentage increased for the first time in 3 years.
The biggest dip came in strip-tillers running mole knives, from 38% in 2016 to a low of 30.2% in 2017. Also dropping year-over-year, though less significantly, was coulter setups to a low of 32.7%.
The size of the machines farmers pulled through their fields in 2017 remained relatively unchanged compared to the prior year, with some modest changes in smaller-sized unit usage. The percentage of farmers running 6-row strip-till rigs fell to an all-time low of 3.2%
However, those running 8-row rigs increased 8 points to an all-time high of 19% in 2017. Leading the pack for the fifth consecutive year were 12-row rigs at 43.7%, followed by 16-row machines at 29.2%.
Tractor horsepower used to pull strip-till rigs continued to creep up, to an average of 342 hp in 2017, well ahead of 2016 (328 hp). It's worth noting that since the first benchmark study analyzing the 2013 cropping year, strip-tillers have increased tractor horsepower needs by more than 60 in just 5 years.
Row-unit setups can vary depending on soil types and season, but residue management is a staple for strip-tillers. For the second straight year, row cleaners on the planter were the most popular method, with 90.1% of respondents using them in 2017, up almost 4 points over 2016.

Row cleaners on the strip-till record was also highly popular, utilized by 73.6% of strip-tillers. Some 32% sized residue with combine attachments, up almost 5 points over 2016, followed by vertical tillage (15.1%) and a biological application (6.3%).
Brand Building
With Strip-Till Farmer editors having visited with a number of strip-tillers who pride themselves on tweaking, testing and then tinkering with their row-unit setups, many say they are comfortable building off a solid from-the-factory foundation.
2017 again showed significant diversity in brand preferences by respondents, (see chart at right) with nearly 20 different manufacturers represented. For the fourth straight year, Kuhn Krause proved to be the most popular strip-till rig run by respondents at 27.4% — a 10-percentage-point increase over 2016.
Ranking second for the first time was Environmental Tillage Systems (ETS) at 13.5% — a 3.5-point increase over 2016 — followed by Case IH/DMI at 11.4%, 5 points lower than 2016. Rounding out the top 5 were Dawn Equipment at 10.7% and Orthman (10%).
The Top 10%
So how did the timing and equipment setups of the highest-yielding strip-tillers compare to the overall group?
Fall was the most popular window for strip-building in 2017, with 59.4% preferring this time period, outpacing the overall group (53.6%). The same was true for spring strip-till, as 28.1% of the highest yielders chose this window of opportunity in 2017 compared to the broader group (24.9%). Only 16.7% said they refreshed strips in the spring, and another 20% indicated they sometimes do.
While majority of the top-yielding strip-tillers utilized a shank system in 2017, the 46.9% total continued a downward trend from a high of 59.4% in 2015 to 52.5% in 2016. The biggest change came in the number strip-tillers using mole knives (34.4%) — down more than 8 points, year-over-year — but still ahead of the 31.3% in 2015 and 32.3% in 2014. Use of coulter setups saw a modest decline among the top-yielding strip-tillers, from 30% in 2016 to 28.1% last year.
Residue management practices were largely consistent with the overall group, with 90.6% using row cleaners on the planter, followed by 84.4% who used row cleaners on their strip-till rig and 43.8% who sized residue with combine attachments. Some 21.9% used a vertical tillage tool and only 3.1% applied a biological product to manage residue.
Exactly half of the top-yielding strip-tillers ran 12-row rigs in 2017, slightly higher than the overall group (43.7%). One quarter ran 16-row machines, lower than the overall group (29.2%), while only 15.6% ran 8-row machines, also lower than the overall group.
While a continuing trend among strip-tillers is to use more tractor horsepower to pull their strip-till rigs, it's even more pronounced among the top-yielders. This group averaged 393 hp ahead of their strip-till rigs in 2017, a record high for this group.
Brand preference among the top-yielding strip-tillers largely followed the overall trend in 2017, with 32.3% running Kuhn Krause machines, followed by ETS (16.1%), Orthman (16.1%) and Yetter (9.7%). Overall, 11 different manufacturers were represented among the strip-till brands run by the highest yielding strip-tillers.
Read: Experience, Age & Location of Strip-Tillers Evolving
Read: Corn Yields, Average Strip-Tilled Acres Continue to Climb