Results of the 6th Annual Strip-Till Operational Practices Benchmark study, evaluating 2018 cropping practices, underscored strip-tillers' stability in an unstable ag market. Average strip-tilled corn yields topped 200 bushels per acre for the second year, while soybean yields averaged a high of 63 bushels per acre.
More than 200 farmers from 23 states who identified themselves as strip-tillers responded to the 45-question survey from Strip-Till Farmer.
In the following pages — and also within the pages of No-Till Farmer's Summer 2019 issue of Conservation Tillage Guide and online at www.StripTillFarmer.com — we compare and contrast equipment setups, berm-building preferences, nutrient management strategies and more that strip-tillers are putting to work on their operation.
Once again, the core of strip-tillers came from the central U.S., with more than 80% located in either the Eastern Corn Belt (37.2%), Western Corn Belt (18.8%) or Great Lakes (24.6%) region.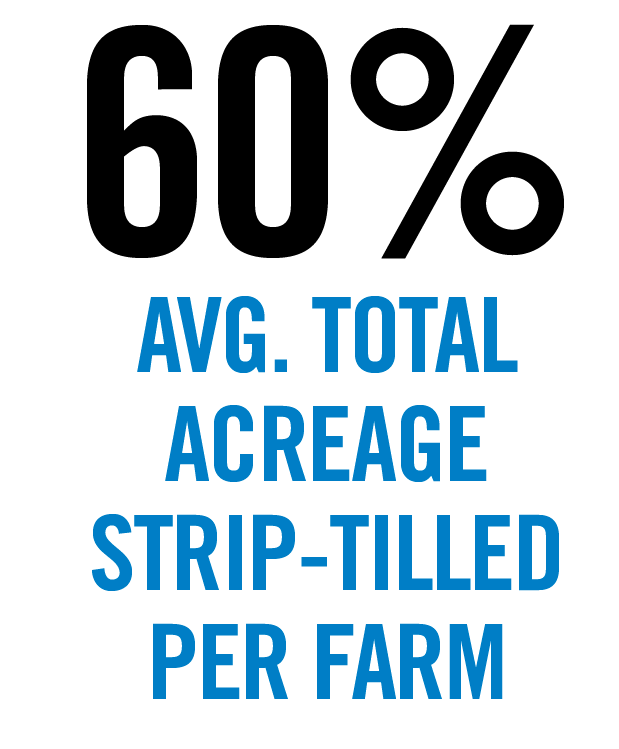 2018 saw a slowdown in the youth movement which had been gaining momentum during the last few years among strip-tillers. Only about one-quarter of strip-tillers were under 45 years old, about 10 points down from 2017. This correlated with more than 57% of respondents being at least 55 years old, including a high of 30.2% that are 65 or older, more than double the 2017 total. 
So how did age translate to experience? Only about 25% of strip-tillers have been in the practice more than 15 years, but that includes a high of 14.5% who have strip-tilled more than 20 years. While 57% have strip-tilled 10 years or less, that included a study low of 25% who have been in the practice for less than 5 years. 
While 2018 saw some shifts in the demographic data among strip-tillers, it will be interesting to see if the trends hold or if there is a return to the youth movement which had been emerging in strip-till.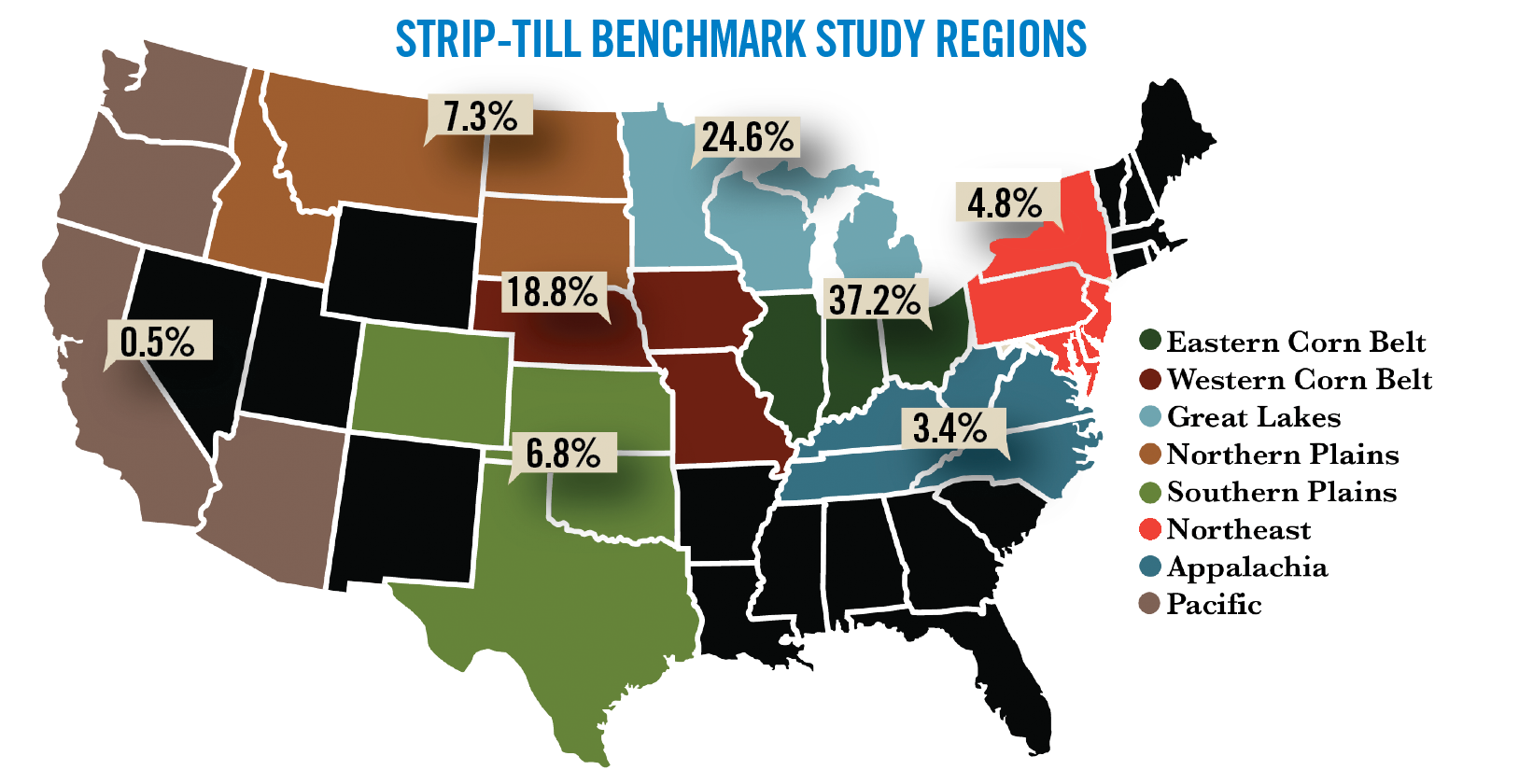 BRANDING OUT. While the Corn Belt maintained its stronghold with 80% of strip-tillers located in the Eastern Western Corn Belt or Great Lakes regions, the Northeast and Appalachia both increased to their highest totals in the history of the benchmark study.
Doing More with Less
Data from the 6th Annual Strip- Till Operational Benchmark Study revealed a decline in the average number of corn acres being striptilled for the first time in 5 years to 780 in 2018, after a high of 921 in 2017. Strip-tilled soybean acres also saw a dip in 2018, to an average of 517 per farm, down from an average high of 517 in 2017.
Despite the modest decrease in average corn and soybean acres being strip-tilled, respondents reported strong yield totals from 2018. Average strip-tilled corn topped 200 bushels per acre for the second year in a row, albeit down slightly from the 2017 average of 209. Average striptilled soybean acres hit a high of 63 bushels per acre, 3 ahead of the 2017 average.