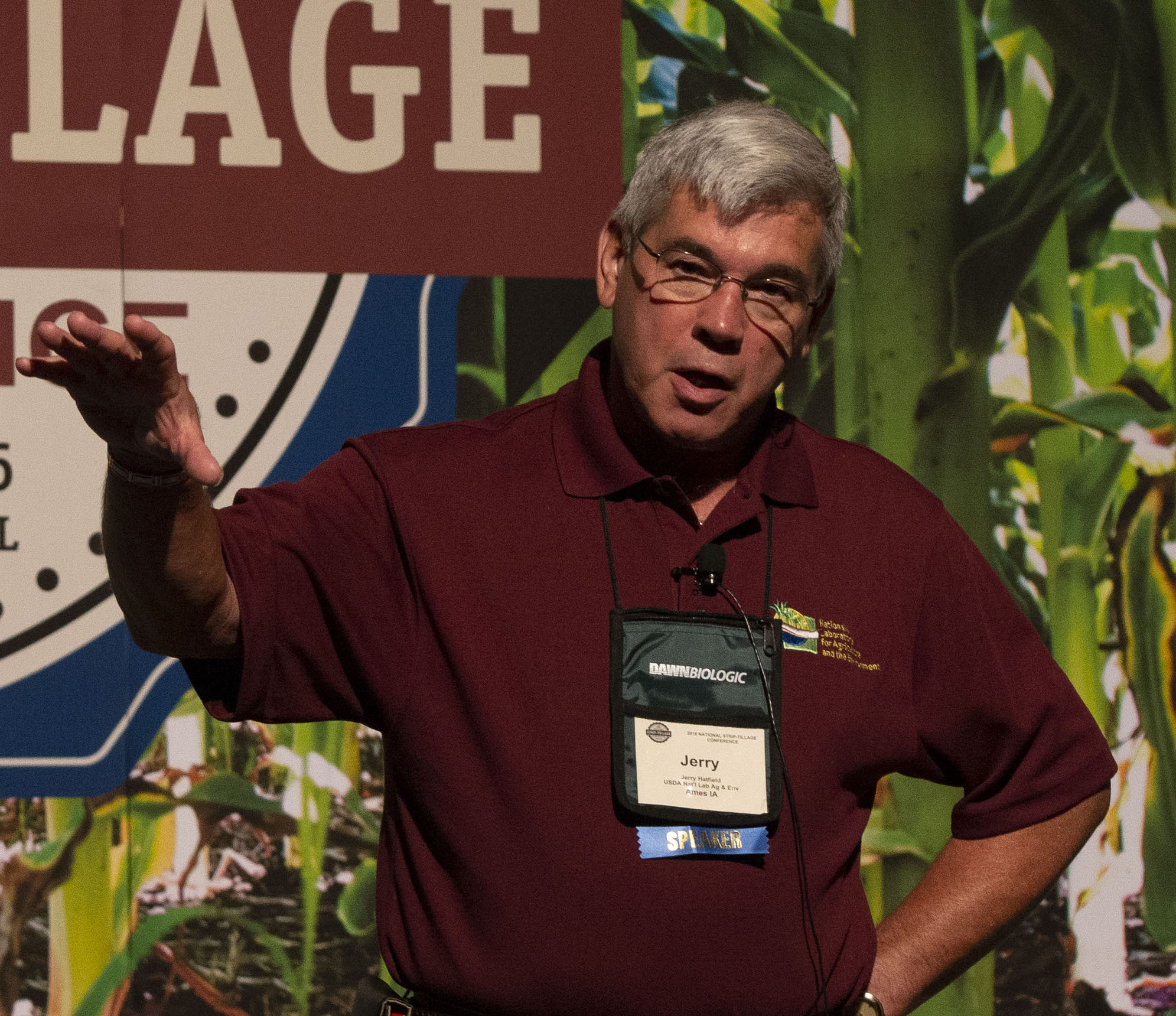 Jerry Hatfield
Farmers collect data and make operational changes throughout the course of their farming career. But how much of a correlation is there between the analysis and actual application of in-field information to improve on-farm decision-making?
Tracking the transitional benefits and challenges of an evolving strip-till system for the last 16 years, Dr. Jerry Hatfield, retired USDA plant physiologist and Osage, Iowa, strip-tiller Wayne Fredericks have collaborated on ongoing research analyzing the impact management changes have on soil health and crop production.
These include a move to strip-tilled corn on Frederick's farm in 2001, incorporation of cover crops in 2012 and detailed analysis of the changes in soil organic matter, crop yield, spatial variation in fields and water and nutrient use efficiency.
During a general session at the 2020 National Strip-Tillage Conference, Aug. 6-7 in Omaha, Neb., Hatfield and Fredericks will highlight how the increase in organic matter levels and improved soil structure have led to reduced yield variability, improved water and nutrient use efficiency and overall positive changes in corn and soybean production.
Wayne Fredericks
The 7th annual National Strip-Tillage Conference will be held at the Embassy Suites by Hilton Omaha LaVista Hotel & Conference Center and feature 2 days of strip-till education through an array of thought-provoking general sessions, strategy-packed strip-till classrooms and highly collaborative strip-till roundtable discussions.
A $35.00 Early Bird Registration discount is available through May 31, and attendees who register their farm and family members receive additional savings. For more information and to register for the conference, visit www.StripTillConference.com.
Title sponsors making the learning and networking opportunities possible for strip-tillers include AgroLiquid, Copperhead Ag, Dawn Equipment Co., Environmental Tillage Systems, Ingersoll, Kuhn Krause, Montag Mfg., Orthman Mfg., Schlagel Mfg., Topcon Agriculture, Vulcan Equipment and Yetter Mfg. Co.  All 12 companies will exhibit during the 2-day educational event.
We'll see you in Omaha!