With about 80% highly erodible land (HEL) on his strip-tilled corn-on-corn fields, Stillman Valley, Ill., farmer Cade Bushnell says residue cover is critical to maintaining soil structure. But with annual corn yields averaging more than 200 bushels per acre, he also needs an effective strategy for breaking down residue on his 1,300-acre operation.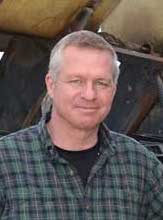 "The big thing for me is I have to have a Plan A and a Plan B, not matter what I'm doing," says Bushnell. "Mother Nature is going to trump everything I really want to do, so I have to let her do her thing and I'll work around it."
A veteran no-tiller, Bushnell moved to strip-tilled continuous corn in 2007, primarily to improve soil health on several fields with low levels of organic matter. Some of his fields had organic matter content as low as 0.7% dating back to 1962, and it's taken nearly 50 years to boost those levels to about 3.5%. 
During a classroom session at the 2020 National Strip-Tillage Conference, Aug. 6-7 in Omaha, Neb., Bushnell will dissect the longstanding stigma of a corn-on-corn system and how his systematic management of residue and nitrogen application, combined with cover crops, have led to sustained success.
The 7th annual National Strip-Tillage Conference will be held at the Embassy Suites by Hilton Omaha LaVista Hotel & Conference Center and feature 2 days of strip-till education through an array of thought-provoking general sessions, strategy-packed strip-till classrooms and highly collaborative strip-till roundtable discussions.
A $35.00 Early Bird Registration discount is available through May 31, and attendees who register their farm and family members receive additional savings. For more information and to register for the conference, visit www.StripTillConference.com.
Title sponsors making the learning and networking opportunities possible for strip-tillers include AgroLiquid, Copperhead Ag, Dawn Equipment Co., Environmental Tillage Systems, Ingersoll, Kuhn Krause, Montag Mfg., Orthman Mfg., Schlagel Mfg., Topcon Agriculture, Vulcan Equipment and Yetter Mfg. Co.  All 12 companies will exhibit during the 2-day educational event.
We'll see you in Omaha!