---
Pictured Above: FALL STRIP-BUILDING. Justin Krell says he and two cooperating farmers use this 16-row-30 Soil Warrior and like the way the machine's coulter system handles corn stubble and cover crop residue. They run the machine at 9-10 mph and have recently added implement guidance to it.
---
Justin Krell says he started strip-tilling in 2017 mainly to make better use of his time and money — both important factors considering he's trying to expand his farm while also working full-time as an agronomist for a seed corn company. 
Krell farms 800 acres, 230 of which are irrigated, producing corn and soybeans in a rotation with peas and sweet corn near Blooming Prairie in southeastern Minnesota. 
"The peas and sweet corn are a good addition to the operation," Krell explains, noting a ready market for them with three nearby canning companies. "My annual calendar includes working peas into my annual corn and soybean rotation on acres where I haven't grown peas for four years — to avoid root rot issues."
On irrigated acres, he can double-crop peas and sweet corn as the peas are harvested in June or early July and the sweet corn comes off in September and early October.
Time Management
While he fully understands the soil health aspects of strip-till, and the agronomic benefits of not turning the entire field every year, Krell says the main reason he adopted it was time. 
"By building strips in the fall, I can get what used to be a fall and spring tillage pass, plus my main fertility application done in one pass before the first of the year. Then, in the spring I can concentrate on planting," he says. 
As a technical agronomist for LG Seeds, Krell is occupied in spring with visiting growers and walking their fields, which makes it difficult at times to get his own planting done in a timely manner.
"With the extra field work conventional farming requires, many times I needed to be in two places at once," he says. "Now I can do most of my fieldwork in the fall and have the flexibility of working with my customers plus get my own planting done on time in the spring." 
Dollars & Cents
The other force which took Krell into strip-till was managing capital investments. "I'm 31, and have been farming at my present scale for 4 years. Obviously, cash flow is tight with the margins in farming and strip-till has helped keep me from having to make big investments to farm conventionally," he says. 
---
"If moisture gets below 30%, we know we're too shallow. If it gets over 50%, we'll take a yield hit…"
---
In addition to strip-till's reduction in field time, the cost savings of making only half the trips across the field per season as his neighbors adds directly to his bottom line. With that efficiency along with far more efficient use of purchased fertilizer, Krell also leverages capital — both financial and human — by cooperating with other growers to share
equipment and labor.
"I can't afford a new strip-till rig and a big tractor," he explains. "Two other farmers and I work together. One owns the tractor, the other owns the strip-till rig. I own the planter and we cooperate to make things work."
Eventually, Krell anticipates all will have enough acres to own their own equipment, but as it is everyone can get their acres done or pitch in to help one another when needed. It just depends on who has what, and they just rent what they need from one another.
The trio figures equipment rent based on actual costs according to field size and tractor hours. "There are so many variables, it's difficult to quote a flat rental rate," he explains. "We work to make it equitable and reflect the true cost of the equipment on each project."
The Equipment
Krell's cooperative strip-till arrangement is based on a 16-row Soil Warrior strip-till machine manufactured locally by Environmental Tillage Systems of Faribault, Minn. Rather than a common shank row-unit design, the rig is factory-equipped with pneumatic-adjust row cleaners followed by a lead coulter which slices through roots and tills the center of the zone, followed by two 20-inch wavy coulters to build a better seedbed for the following season.
"Building fall strips I can pull the strip-till rig 9-10 miles per hour running 5-6 inches deep," Krell says. "The zone it creates is 10 inches wide. I have noticed having this size zone (depth and width) my planter ride has improved, and the soil warms the same if not better to the neighbors' conventionally tilled fields.
"Also, the 10-inch zone seems to give us enough buffer room to plant without seeing yield drag due to differences in trench and planter tracks."
The dual-bin strip-till rig takes cues from Ag Leader's InCommand controller and Krell stocks one bin with potassium and the other with MAP (monoammonium phosphate) and a mixture of elemental sulfur for his fall strip-building variable-rate fertilizer applications. 
With his agronomy degree from South Dakota State University and a soon-to-be completed master's program from Iowa State University, Krell takes an active part in formulating fertilizer prescriptions. He monitors his soil fertility with a 4-year sampling rotation conducted on 2½-acre grids. 
Tech Lessons Learned
Krell says when he first started strip-tilling, the strips were formed behind a John Deere 9510 RT using Deere's RTK StarFire 6000 guidance system. The following springs, those strips didn't exactly match the Ag Leader-based guidance on his 16-row Deere 1770 planter, which caused seed
placement problems.
"We worked with our contacts with both Deere and Ag Leader to resolve those issues, but when we went to a Case IH 500 Quadtrac this year, it featured Ag Leader SteerCommand RTK guidance, which matches the system on the planter."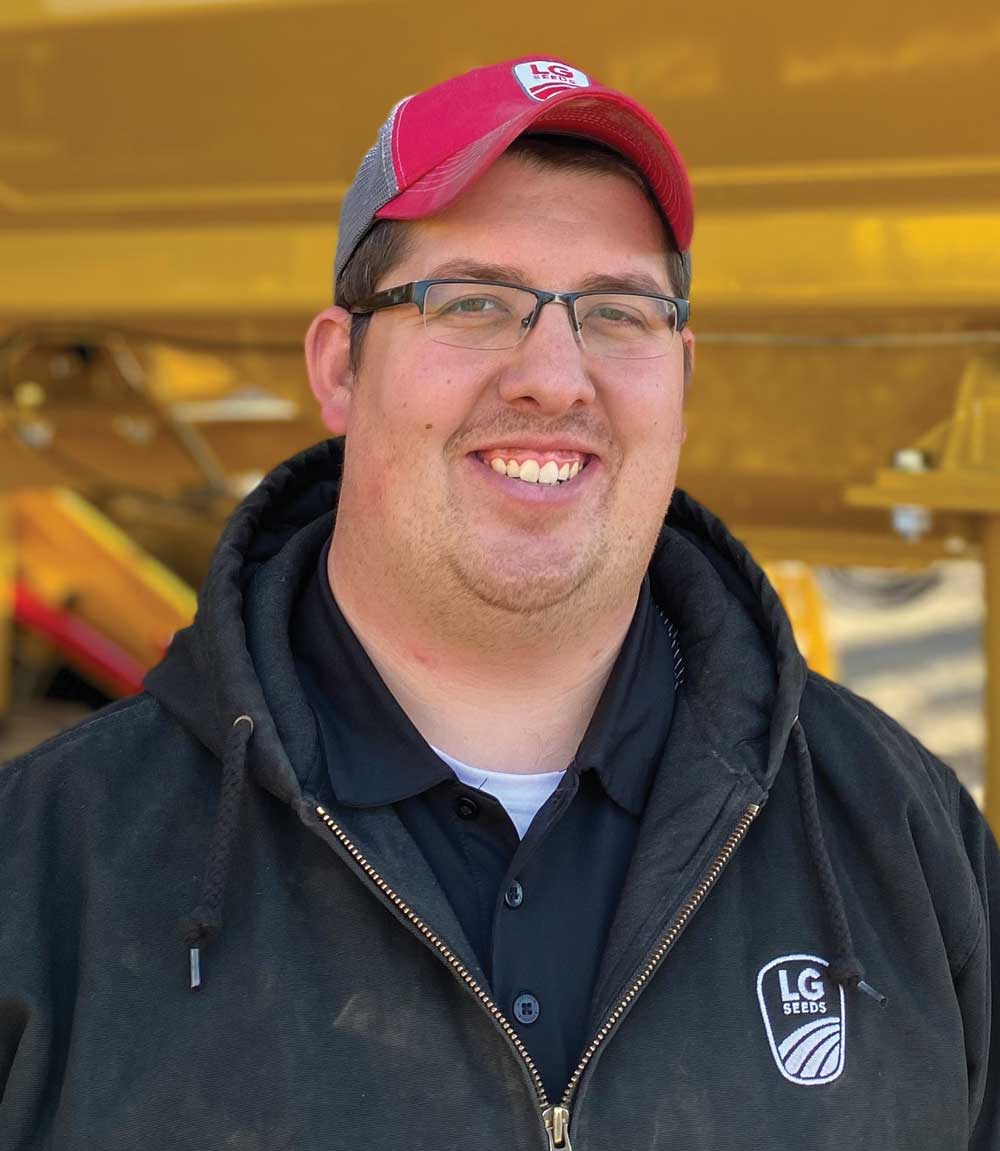 STRIP-TILL PROPONENT. Justin Krell says strip-till has made it possible for him to manage his time in the field to avoid conflicts with his job as a technical agronomist for a seed corn company. After 4 years he also reports improved soil conditions, reduced fertility requirements and improved water infiltration in his fields.
Krell says the differences in the two systems was one of the biggest issues he's experienced with precision technology in his move to strip-till. 
"Getting our lines and making sure the strip-till lines got back to the tractor and planter was a challenge because that alignment is extremely important in strip-till farming," he says. "We fought it for a while, and our support people on both sides were great to help. Our line management is still not perfect, but once we went to compatible systems, it helped tremendously."
The recent addition of a hydraulic "steering" cylinder on the hitch of the strip-till rig now allows the strip-tiller tracking capability of its own to stay in line with the tractor's RTK guidance system. 
"It's amazing how much the machine wants to draft even though the tractor is following its lines perfectly," Krell explains. "I'm excited to plant behind the system this spring."
When he switched to strip-till in 2017, Krell bought his Deere 1770 planter equipped with hydraulic down force and manual-adjust row cleaners. He immediately added Precision Planting's SmartFirmers to every fourth row unit to collect real-time data from his fields.
"Automatic down force adjustments through the controller is extremely valuable for consistent depth control of planting in strips," Krell explains. "It's one of the most beneficial pieces of the planter."
The manual-adjust row cleaners had to go, however, when Krell realized they were costing him time and money. 
"Farming conventionally on my dad's place, the screw-adjust row cleaners worked pretty well because there's little residue to deal with," he says. "But data from the SmartFirmers showed we were losing up to 12 bushels per acre in some strip-till fields due to trash blowing in on the zones over the winter. That meant I was very busy running back and forth to the planter to adjust the row cleaners."
Using Ag Leader's SMS decision-making software, Krell found for every 1% of trash in the row, they'd lose 2 bushels of yield. "It didn't take long to make the case economically for pneumatically-controlled row cleaners to replace the manual system," he says. "In fact, we figured it took only a year and a half to pay for the conversion."
Krell says the combination of the decision-making software plus in-cab control of planting rates and depths allows real-time decision making on the fly.
"With the SmartFirmers I can monitor readings taken multiple times per second on soil organic matter, moisture and temperature levels, trash residue in the trench, etc.," he says. "This allows us to immediately adjust row cleaners and seeding depth to keep our planting in a 40% moisture range."
If moisture gets below 30%, he knows he's too shallow. If it gets over 50%, Krell will take a yield hit. "The in-cab precision systems allow me to make on-the-go planting decisions that directly affect my bottom line," he explains. "I've also learned that with strip-till there is much more consistent temperature and soil levels, without the wide variations seen in conventionally-farmed conditions."
Fertility Savings
With access to a total of 8 years of farming data on his dad's place and 4 years on his own farm, Krell has done annual reviews of each farms' agronomic and economic performance with the SMS software. He uses yield, and various spatial data along with fertility maps in overlays to divide his farm into three categories of soils.
Data from the SmartFirmers have been instrumental in adding precision to the maps, he says.
"I have designated A, B and C soils based on yields and soil conditions," Krell explains. "I fertilize for different yield goals within fields based on those maps, increasing rates where there is more yield potential." 
---
"The first thing we noticed was more earthworms in our fields, and much better water infiltration. That happened after only one year in strip-till…"
---
Fertilizer applications are based on yield goals and ROI calculations on each of the different soil categories.
So far, applying what he's learned from on-farm data and the efficiencies applying nutrients precisely near the planting trench with the Soil Warrior, Krell says he's reduced his total fertilizer use by 30% over a traditional broadcast approach.
"We've done this without a yield penalty because the plants can more efficiently access the fertilizer," he explains. "Also, over the 4 years I've been farming this place, the first year being conventional farming before we switched to strip-till, I've noticed improvements in soil structure, strip building goes more smoothly, and the strip-till rig pulls easier."
He's convinced the improvements come from improved soil health activity working in the background. Coupled with the in-field experience, his on-going soil testing program has shown organic matter rising slowly across all of the farm. 
"The pH is stabilizing and we don't have as many erratic changes from field to field," he says.
Organic matter levels across Krell's operation, which spans about 12 miles and includes about 90% rented land, average about 4%, with poorer soils ranging from 1-2% and better fields testing from 4-6%.
"We know strip-till is helping, because in every point we sample, we see slow increases in organic matter," he explains. "We've done all this and are still producing yields comparable to our conventional farm," he says. 
Changing the Soil
In addition to the financial savings, reduced inputs and improvements in time management, Krell says there's been a noticeable improvement in soil conditions.
"The first thing I've noticed was more earthworms in my fields, and much better water infiltration. That happened after only one year in strip-till," he explains. 
To improve the benefits of strip-till, Krell says he's "dabbled" in cover crops on some of his fields. "So far, my experience with covers has been positive," he explains. "My program generally involves broadcasting a mixture of annual rye or some form of rye with kale and turnips over the top of pre-harvest corn about Labor Day." 
Krell is well aware of the benefits of soil health and the biology behind incorporating cover crops. "As an agronomist I know combining strip-till with the presence of living roots of cover crops over a longer period of time in the season can make a significant difference in weed control," he says. 
"But the economics are still tough because much of my production is on rented ground. It's tough to spend $30 an acre on land you don't own."
In 2021, however, Krell has 100% of his farm enrolled in NRCS's Conservation Stewardship Program which provides a cost-share for implementing cover crops.
"The CSP program will make it easier to implement," he says. "On my own acres I definitely can justify it."