The Farm Progress Show returned to Decatur, Ill., in August of 2021 after a year-long hiatus due to the COVID-19 pandemic. Manufacturers were eager to connect with farmers in-person and showcase their newest innovations at the largest farm equipment show in the U.S. Here are Strip-Till Farmer's top 3 2021 product picks from the show: 
---
AGuru Yield-Till Super Duty Row Unit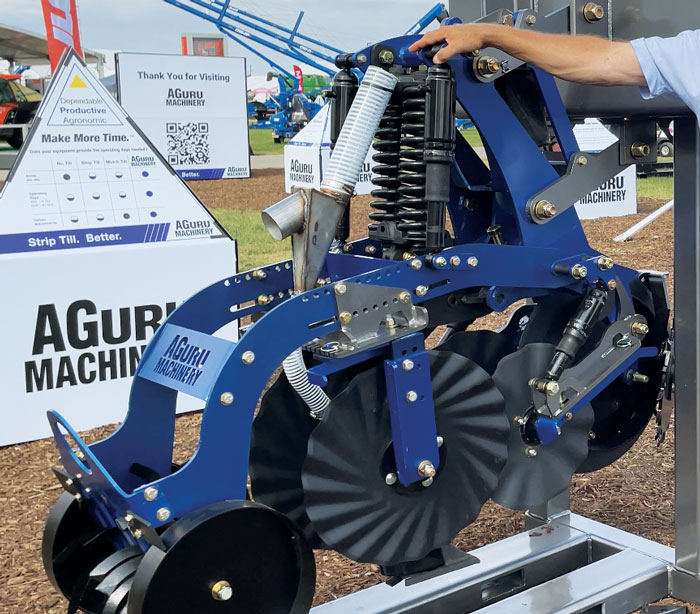 The 900-pound AGuru Yield-Till Super Duty row unit, mounted on a 16-inch toolbar, features coulters and a standard shank that can run together or independently. Each row unit requires 15-45 horsepower. 
A 17-inch spiked wheel front-mounted row cleaner works in conjunction with the center coulter and can handle corn-on-corn residue. The row cleaner doesn't hairpin residue in soft soils because it's positioned in front of the center coulter. 
The side-mounted coulters, available in 15, 18 or 20 inches, can run shallow as "strip-keepers" to score soil when used with the shank, or they can run deeper without the shank. Depth range is 1-6 inches for the coulters and 7-10 inches for the shank. 
Adjustable berm builders, available as 18- or 20-inch coulters, work with both shank and coulter tillage configurations. Width and angle adjustments for berm builders and side coulters can be made without tools. 
Four spider wheels on the spider gang strip conditioner on the back of the unit go through wet soil without plugging and pulverize hard soils. The wheels are arched, so while they take air out of the strip, they also leave a berm. 
A dry fertilizer tube places fertilizer forward between side tillage coulters, just behind the center coulter, or behind the shank, 3 inches above point depth. The liquid tube runs down the back of the shank. The coulter tillage system also has a liquid tube option.
---
CrustBuster Deep Banding High Speed Nutrient Applicator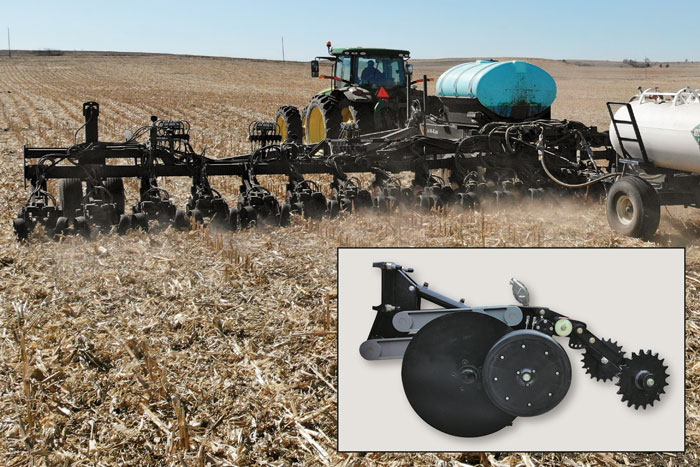 The Deep Banding High Speed Nutrient Applicator by CrustBuster can deep band ammonia, liquid fertilizer and dry nutrients all in one pass at speeds around 10 mph. Available width options are 40 feet, 45 feet, 50 feet and 60 feet on CrustBuster's heavy-duty frames. 
The units are equipped with up to three product capability injection tubes and DMR Technologies' Penetrator fertilizer coulter openers. One unit replaces two typical coulter openers and can run over 40,000 acres with minimum maintenance. 
Individual units are hydraulically raised and lowered, and can apply active down pressure up to 1,000 pounds. Minimal soil movement is achieved by the 24-inch diameter coulter blade, offering 20-inch vertical travel with a 3-degree angle cut that opens the soil to a 3/4-inch width and a 51/2-inch deep banding depth. 
Closing wheel options include spiked, rubber or a 20-point Crumbler, all of which have adjustable angles. Opener bands are available on 15-inch, 20-inch or 30-inch spacings, and are equipped with spring-loaded floating inner scrapers and an outer rolling scraper for blade cleaning. SureFire Ag Torpedo NH3 systems configured for CrustBuster applicators manage application. 
---
Zimmerman Contour King ST Strip-Till Unit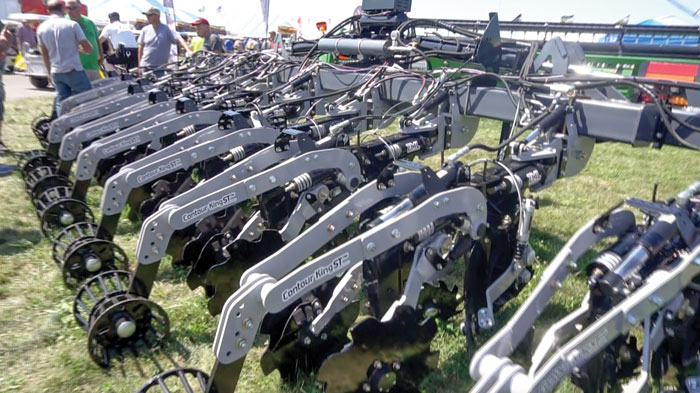 The Zimmerman Contour King ST is a 12-row strip-till unit featuring a high-clearance shank, hydroflex technology and a patented swivel on each unit. The swivel allows for 30-degree side-to-side movement to follow contours without putting stress on the bar. 
The row units are tied together to "walk," meaning if one hits a rise in the field or a waterway, it can go up and down individually, rather than tilting the entire bar. Units have precision air cylinders for up pressure for spring freshening and down pressure that can be adjusted for individual field conditions. 
The Contour King ST has 14-inch row cleaners. The unit cuts the fodder prior to separation. The tension can be adjusted on the closing wheels for different soil conditions. Hydroflex down pressure allows for shank depth adjustments from the cab. The toolbar has a 4, 6 and 8-inch depth setting for the shank. The shank can be removed so a 2-coulter system can be installed for freshening in the spring. Notched closing wheels are set to capture only fractured soil. 
A spring set controls and adjusts the tension on the rolling basket. The basket molds the berm and breaks up clods without plugging.       
To see more products from the 2021 Farm Progress Show, visit www.striptillfarmer.com and click on the "Products & Suppliers" tab.