Change can be scary. Making adjustments to your farm operation can take months of careful consideration and research. After all, the average farmer only plants and harvests a crop about 50 times during their lifetime. One wrong decision could impact an operation for years to come.
Switching to strip-tillage can be one of those mindful changes. Many farmers view it as a lifestyle change that could involve investing in a new guidance system, managing equipment differently, understanding a new way to apply fertilizer and learning how to run a different type of equipment.
With that kind of commitment, you want to be sure you've got the right tools and support on your side. At Environmental Tillage Systems (ETS), we believe a hands-on experience is key to making the transition. Our rental program allows you to experience the benefits of the SoilWarrior® before committing to purchase.
"The ETS rental program* provides a grower a true 'try it before you buy it' experience with very low financial risk. It also allows the grower to see how the machine and its functions work as part of their operation and on their ground," remarks Tanner Schuldt, ETS regional sales manager.
That's exactly how SoilWarrior owners Andrew Johnstad and Mike Pribyl dipped their toes into strip-till. Though their businesses and goals are different, both agree it was a great opportunity to explore something new without incurring much risk.
Johnstad farms with his dad David and brother James near Beltrami, Minn. After examining profit losses due to running equipment multiple times across the field, rising fertilizer costs and decreased yields due to extreme wind erosion, the Johnstads decided it was time to do something different.
Strip-till seemed to offer what they were looking for and one machine stood out.
"It seems like ETS is ahead of the curve on strip-till. With a SoilWarrior you get an American-made machine with service, parts support and good resale value," said Johnstad.
They rented an 18-row, 22-inch SoilWarrior during the summer of 2020 and seeded cover crops between the strips. It was a big shift to go from full width tillage to strip-till and cover crops, but aside from learning how to deal with the trash in the fields, Johnstad thought the system performed well.
After the rental period, Johnstad purchased a 24-row 30-inch machine that they eventually transformed into a 22-inch system and fully transitioned to strip-till by fall 2021. Now they make just one pass across the field and are happy with the ability to increase their fertilizer efficiency through banding. Johnstad is looking forward to seeing how it will help improve soil structure to better withstand the impact of sugar beet equipment at harvest.
"The rental program gave us the opportunity to put credit toward our purchase. No other company was willing to step up and let us use their equipment for a year," said Johnstad. "Plus, we received great service, even though the SoilWarrior is built to withstand the acres and is a solid machine."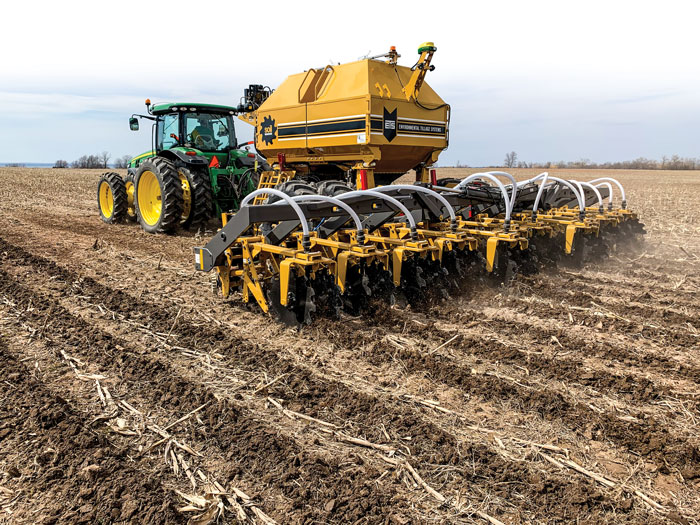 FIELD WORK. Mike Pribyl uses an ETS Soil Warrior for custom strip-till in northeast Wisconsin. He started with this 12-row unit in spring of 2020 and added on 4 rows in August 2020 to make it a 16-row unit.
Mike Pribyl of Green Bay, Wis., started strip-tilling with a 16-row rental machine in the spring of 2020. Reducing labor was his main draw because, in addition to farming his own acres, he runs a custom application business that specializes in planting, fertilizer, side dressing and cover crops.
"We were looking at ways to be effective with every man hour we had. We started out doing custom no-till planting but that wasn't working for everyone," said Pribyl. "Customers have found that paying me to do one pass with strip-till is cheaper than them doing their own tillage. I've even picked up new customers who are strictly strip-till on all acres."
Aside from making sure he owned a tractor with enough horsepower to pull it, the transition to operating the SoilWarrior was painless. Mostly thanks to great support from his sales manager, Dave Sender.
"We were well-equipped to handle everything because of our communication with Dave," said Pribyl. "The sales team really goes above and beyond to help you feel comfortable with keeping the equipment."
Now, with a few seasons under his belt, Pribyl's business virtually sells itself.
"I show my own yield maps to customers to prove the ROI. Last year, we put down 100-450 lbs. of fertility in the strip, and it was a positive return on investment. We also use about a third of the fuel by doing one pass in the spring," said Pribyl, who recommends anyone who is thinking about renting a SoilWarrior to go ahead and give it a try. "It's a great program, because you get a fair assessment of what it can do and gives both parties skin in the game."
Here's how it works. You can try a SoilWarrior® for one season. If you choose to purchase a new machine at the end of the contract, you can apply a portion of your rental payment towards the final purchase. If it's not right for your farm, you can return it. It's that simple.
Reach out to a sales manager to get started.
*The ETS rental program is limited to a select geography and may not be available in all areas. The program is a single-season, factory-direct offering and is not available through authorized SoilWarrior dealers. Acreage minimums may apply. Cost per acre depends on SoilWarrior equipment options selected and geography. Not all SoilWarrior configurations available for rent. Additional terms and conditions apply.

Strip-Till Farmer's Building Healthier Soil and Profits with Strip-Till series is brought to you by Environmental Tillage Systems.
At Environmental Tillage Systems, we believe farmers shouldn't have to choose between doing what's right for your soil and what's right for your business. The SoilWarrior is a complete precision zone tillage system custom built for your farm and delivered to you ready to get in the field. Backed by 24-hour service and support, The SoilWarrior takes the guess work out of strip-till so you can concentrate on defending the land and leading the charge. See soilwarrior.com for more information.