With so many uncontrollable factors contributing to the success of a strip-tiller's crops, maximizing the controllables can boost yields, especially for corn.
"Corn yield is a product function of how many plants per acre, how many seeds on each plant and the weight of each individual kernel," says Fred Below, researcher and crop physiologist at the University of Illinois. "You have to increase at least one of those to increase yield. Which one does the grower have the most control over? Plant population."
Corn Populations
The 2022 Strip-Till Farmer Operational Practices Survey indicates the most common planting populations for strip-tilled corn ranged from 33,001 to more than 35,000 in 2021. Iowa State's Guide to Iowa Corn Planting determined the maximum corn plant population tends to be near 35,000 plants per acre for any tillage type.
But Below says strip-tillers can likely use a population higher than that. Putting nutrients in a strip directly below the seed allows strip-tillers to manage more plants, plus strip-till conserves more water because of the residue next to the strip.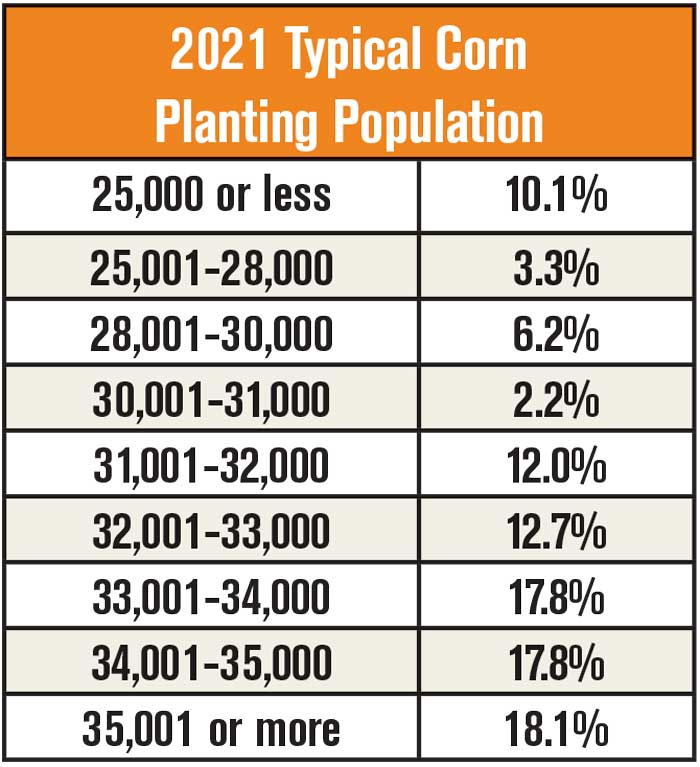 CORN POPULATIONS. About 54% of strip-tillers use corn planting populations between 33,001 and more than 35,000, according to results from the 2022 Strip-Till Operational Practices Survey.
"I'm going to guess that most strip-tillers are using 30-inch rows, and a top-end population for 30-inch rows is 38,000 plants per acre," Below says. "The population depends on rainfall, geography and water-holding ability, but I think strip-tillers are able to push the top-end population for a 30-inch row more than conventional tillage farmers are."
Better nutrient placement and water-holding capacity also means strip-tillers will likely have better success with variable-rate seeding than conventional tillage farmers, according to Below. Slightly more than half of the strip-tillers who responded to the 2022 survey did not use variable rate seeding for corn in 2021, but the remaining 47.8% either were using variable rate or planned to in 2022. 
Below recommends strip-tillers vary their rates based on water availability primarily, followed by nutrient supplying power. 
"The main detriment of running up the population is you are worried about not having enough water and the plant lodging," Below says. "Strip-tillers can put the phosphorus (P) and potassium (K) right in the strip. Both of those are huge advantages, especially the K, for standability and a little bit for water because K moves water to the strip zone."
The 2022 survey found about 44% of strip-tillers apply nitrogen (N) at plant, the second most common application time. Nearly 61% of respondents sidedress, the most popular answer to N application timing. While more than half of strip-tillers apply phosphorus (P) and potassium (K) in fall with their strips, about a quarter put down P and K at plant. 
"That's how they might be able to get out a little extra yield — because they're placing the nutrients in the strip," Below says. "My view is the advantages of strip-till give growers the option to manage the higher population of plants, and plant population drives yield."
Soybean Populations
While corn populations have gone up, soybean populations have dropped. Farmers are planting premium, treated seed, and the soybean plants can branch. 
"It's slowly edging down," Below says. "We're seeing soybeans planted earlier and earlier because the uniformity of emergence isn't as important as it is with corn. When you plant early and you have too many seeds, then the soybeans get too tall."
About 41% of strip-tillers surveyed in 2022 seed soybeans at 120,000 or less. Another 25% plant in the 130,001-140,000 range. Below says conventional tillers are likely planting 140,000 where they're looking for 120,000 plants, but strip-tillers can get by with a lower population. He says the sweet spot for strip-tillers is likely 110,000-120,000. 
SOYBEAN POPULATIONS. Results from the 2022 Strip-Till Operational Practices Survey show about 41% of strip-tillers seed soybeans at a population of 120,000 or less. Another 25% plant in the 130,001-140,000 range.
"If you get itchy to plant, plant soybeans first," Below says. "More corn, less soybean. That's the message."
Most of the strip-tillers who responded to the 2022 survey farm in the U.S. About 63% farm in the Corn Belt, followed by about 21% in the Plains/West. About 44% are farming 1,000 acres or less. Another 28% farm 1,001-2,000 acres. Visit striptillfarmer.com/2022benchmark to see more data from Strip-Till Farmer's most recent operational benchmark study.