---
PRIME PLANTING CONDITIONS. Ashland, Neb., farmer Jim Kucera says that because his strips were dried out enough this spring, he was able to get a very important jump on planting.
In spring 2015, Jim Kucera's Ashland, Neb., farm had been deluged with heavy rains. The same was true for many Nebraska farmers faced with delayed planting, severe ponding and in some cases, replanting. Kucera certainly felt the pinch, but he says it's not nearly as bad as it would have been if he didn't switch to strip-till on his 700 acres of corn and 600 acres of soybeans about 5 years ago.
"We actually just finished planting the rest of our beans on June 17," he says. "The rains kept us out of the field. But we've done some scouting, and other than where water was still standing, our berms were still really nice. We have a real even stand and populations were still right where we wanted them to be."
Planting Sooner, Smarter
Under similar conditions back when he used conventional tillage practices, Kucera remembers seeing downed corn and weak emergence. Largely, he credits this year's resilience to what he considers the biggest benefit of the strip-tilling: expedited planting. 
Despite having to build the majority of his strips in the spring, Kucera feels that warming up and drying out the seedbed puts him at a tremendous advantage in wet conditions. 
"We farm a lot of bottom ground, so it's likely to be wet and mucky to begin with," he says. "Strip-till has been great for stirring it up and drying it out. I was able to start planting about a week before most guys in this area and that paid a huge benefit this year. When the rain started pushing everyone out of the fields they were only half done while I was just about finished."
Kucera has built his strip-till program specifically to capitalize on this benefit. Still, Kucera hedges against putting himself in a planting crunch, by running his Twin Diamond 12-row Strip-Cat over the ground he intends to plant soybeans into in the fall at 6-7 inches deep without fertilizer. This way, when he comes back in the spring to build and fertilize the strips for corn, he'll have enough time to get across those acres, and plant shortly thereafter.
"I start making my spring strips in late March usually," says Kucera. "Then I start planting corn around the third week of April. For soybeans, a lot of guys don't usually plant till the middle of May, but I push the envelope and plant around the last week of April or first week of May." 
Kucera says that by strip-tilling soybeans, he enjoys many of the same benefits as he does with strip-tilling corn — namely, getting them planted sooner. Previously no-tilling soybeans, he's noticed that his strip-tilled soybeans emerge faster, stronger and maintain a more even stand.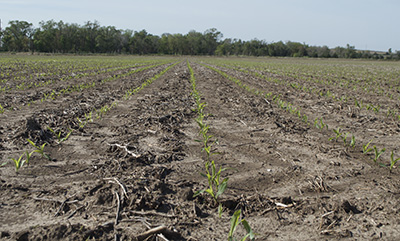 STRIP-TILL SILVER LINING. Planting conditions were hard for most farmers in Nebraska this year. Many faced replanting, erosion and decreased stand. But on Kucera's farm he said that he didn't face nearly as much crop loss or ponding than he may have if he was still conventionally tilling. 
Avoiding Burn
Kucera doesn't apply fertilizer in the fall because he feels that it leaches from the soil too easily over the winter and early spring. During his spring strip-till pass he pulls the rig with his John Deere 8300 tractor with Snyder saddle tanks and bands a liquid fertilizer blend of one-quarter liquid ammonium phosphate (10-34-0) and three-quarters 32% nitrogen (N) 4-5 inches deep. 
He also applies a flat rate of 100-125 pounds of actual N. During planting, he puts on another 4 gallons per acre of Nachurs pop-up fertilizer with his 12-row Deere 1720 planter. 
On his irrigated land, Kucera fertigates the remainder of his fertilizer through center pivots, and on his dryland he finishes with a sidedress application. In total, he applies 200-210 pounds of N on his irrigated land and 160-170 pounds of N on his dryland acres. 
By taking this approach, Kucera is able to adjust his fertilizer program to avoid seed burn and boost rates later in the season to accommodate rain related loss.
"I like to leave myself open and flexible for years like this where I have a lot of rain. Sometimes, I can lose a lot of fertilizer because of it and I'll probably be a bit more generous with my application this year to fill that gap," says Kucera. "I prefer liquid fertilizer too over anhydrous because I'm less likely to get seed burn, which is something I need to think about when I follow the strip-till bar with the planter closely."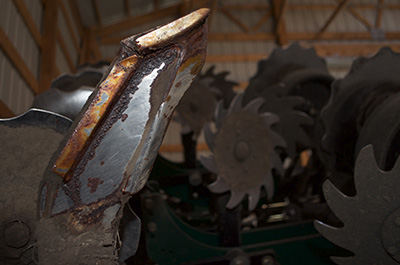 NOT FEELING THE BURN. In the spring, Kucera bands a liquid fertilizer blend of 10-34-0 and 32% nitrogen 4-5 inches deep. He prefers liquid fertilizer to anhydrous because it significantly lowers the incidence of seed burn.
Return on Investment
Strip-tilling worked its way onto the Kucera farm serendipitously. 
"We actually traded for a tractor that happened to have the steering motor on it," says Kucera. "So we figured, why not get GreenStar guidance system and get into it a bit deeper? That sort of laid the groundwork, because once we realized we could get the repeatability we wanted, we just dove into strip-tilling."
Of course, 'diving in' required a substantial investment. But it ended up being one that was well worth it in a variety of ways. 
Before adopting strip-till, Kucera used a grab bag of tillage methods. With acreage that he conventionally tilled, he encountered weed pressure and erosion, especially on his hilly ground. With no-till he experienced frustration not being able to plant as soon as he'd like in the spring.  
"I sit there with no-till waiting and waiting for that soil to be fit to plant, and sometimes it just doesn't want to dry," says Kucera. "If I get in the field and work it all up, I'm exposed to weed pressure. With strip-till, you just have to worry about the weeds in the strips, rather than across the whole field" 
Kucera says that the early planting has had a positive effect on yield, but it is difficult to quantify because the advantage is more akin to seizing yield potential rather than adding yield. But other savings have added up. 
"Since I'm making less trips across the field, and the strip-till bar doesn't drag that hard, we saw probably a 10% reduction in fuel consumption right away," says Kucera. "With less weed pressure to contend with, we can actually use less herbicide now too, which equates to savings of about $5 an acre." 
Another return, albeit an intangible one, is the simplification of his operation. Kucera used to have to carefully monitor conditions and respond with a potpourri of equipment and methods, but now, he has a single answer to all seasonal pressures: strip-till. 
"I'm on 30 inch rows for both corn and soybeans and the only adjustment I make to the strip-till bar between fall and spring is the depth," says Kucera. "To me, it simplified our operation. Every year it's the same now. What are we going to do? We're going to strip-till, and then we're going to plant. It gives us the best conditions possible to face whatever Mother Nature is going to throw at us."