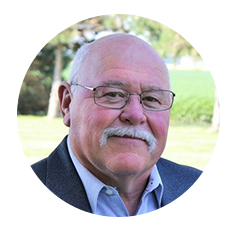 Brad Forkner
Seeing a green and growing corn plant is often perceived as a visual validation of a healthy strip-till system. But sub-surface investigation is wise to truly understand the biological stability of your soils for long-term success.
Agronomist Brad Forker has worked in diverse cropping systems, advising farmers on nutrient management selection, placement and analysis for over 30 years. He has experience evaluating the nutritional needs of 25 different crops in 18 states. 
One of Forkner's goals is to take growers from the status quo to understanding how to adapt strip-till from start to finish, identifying the most fertile acres to experiment on and evolving tougher soils to be consistently productive based on soil analysis and technology.
During the Premier Lecture Series general session at the 2018 National Strip-Tillage Conference, July 26-27 in Iowa City, Iowa, Forkner will detail his experience integrating strip-till systems, looking at how biology effects specific crops, in certain soil conditions and defined weather patterns.
The 5th annual National Strip-Tillage Conference will be held at the Marriott Coralville Hotel & Conference Center and feature 2 days of strip-till education through an array of thought-provoking general sessions, strategy-packed strip-till classrooms and highly collaborative strip-till roundtable discussions.
Registration is available for just $269, and attendees who register their farm and family members receive additional savings. For more information and to register for the conference, visit striptillconference.com.
Title sponsors making the learning and networking opportunities possible for strip-tillers include AgroLiquid, Copperhead Ag, Dawn Equipment Co., Environmental Tillage Systems, Ingersoll Tillage Group, Kuhn Krause, Montag Mfg., Schlagel Manufacturing, Thurston Mfg. (Blu-Jet), Topcon Agriculture, Vulcan Equipment and Yetter Mfg.