"For a perennial living mulch system to work, you're going to need strip-till. I do not see how you can do it without because you're going to need to put that plant exactly where the fertilizer is, and you're going to want to have a nice effective row that's been covered with heavy biomass to keep the weeds out."

— Andrew Bowman, Strip-Tiller, Oneida, Ill.
Using a Sustainable Agriculture Research and Education (SARE) grant, Oneida, Ill., neighbors Andrew Bowman and Charles Martin partnered on a research trial to strip-till sweet corn into a perennial living mulch of Kura clover.
After a very wet spring, weed pressure and an unexpected impact on corn development, the two deemed the experiment a failure, but they have a bounty of ideas to make it work for cash crops in the future.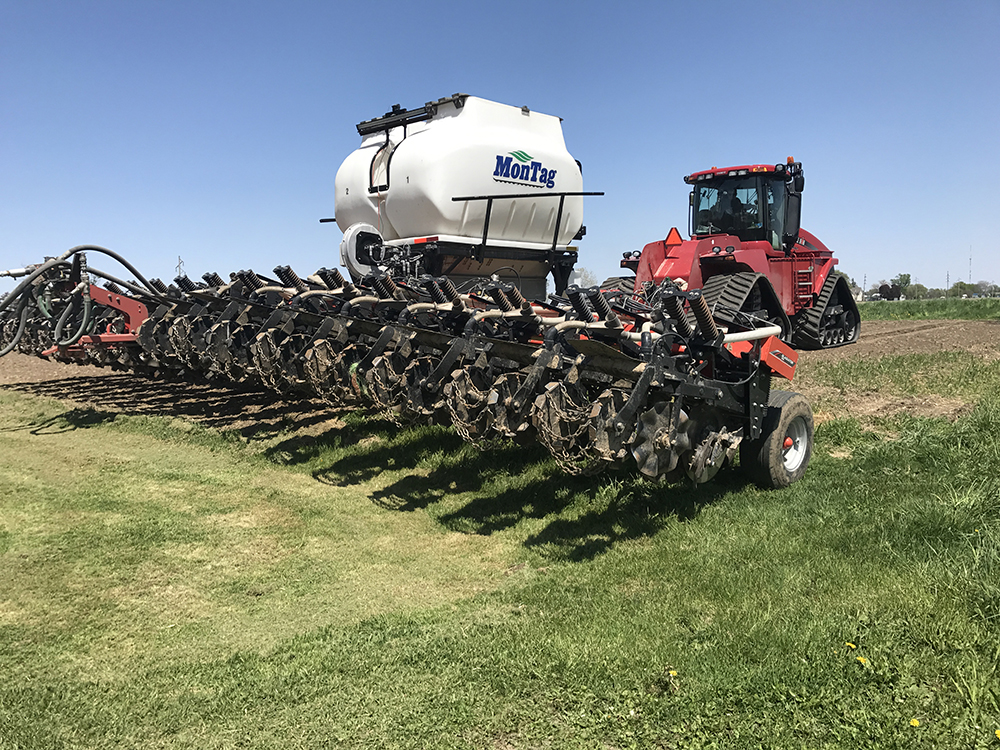 In today's episode of the Strip-Till Farmer podcast, brought to you by the Pluribus Lite from Dawn Equipment, Bowman and Martin explain the experiment, the benefits of strip-tilling into a living mulch, how to make a clover polyculture work for cash crops and much more.  
If you'd like to learn more about their trials and ask them questions about strip-tilling into a living mulch on your operation, they're speaking at the National Strip-Tillage Conference July 29 in Iowa.
Related Content: https://www.striptillfarmer.com/articles/4355-seeking-success-in-failure-with-strip-tilled-living-mulch-trials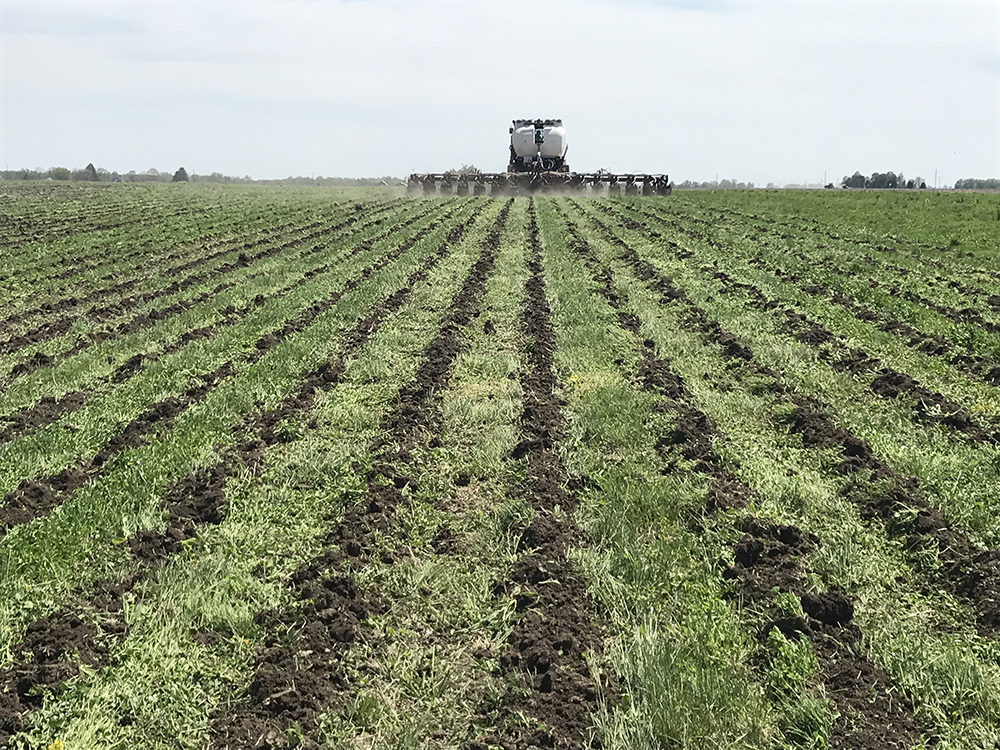 ---
Full Transcript
Michaela Paukner:
Welcome to this episode of the Strip-Till Farmer series. I'm Michaela Paukner, Strip-Till Farmer's technology editor. Today's episode of the Strip-Till Farmer series is brought to you by the Pluribus Lite from Dawn Equipment. Dawn is bringing today's innovative farmers a new strip-till product from the regenerative egg-focused Underground Agriculture brand. The Pluribus Lite is priced like a strip freshener, but it offers the features and performance to be used in the fall or spring as a primary strip-tiller or strip freshener. It's the perfect complement to a cover crop system that just needs a little blacker strip. Check out the Pluribus Lite at dawnequipment.com.

Michaela Paukner:
Using a sustainable agriculture research and education grant, Oneida, Illinois neighbors Andrew Bowman and Charles Martin partnered on a research trial to strip till sweet corn into a perennial living mulch of kura clover. After a very wet spring, weed pressure, and an unexpected impact on corn development, the two deemed the experiment of failure, but they have a bounty of ideas to make it work for cash crops in the future. In today's episode of the Strip-Till Farmer Podcast, Andrew and Charles explain the experiment, the benefits of strip-tilling into a living mulch, how to make a clover polyculture work for cash crops, and much more.

Charles Martin:
My name is Charles Martin. I live in west central Illinois. I was raised on a diversified crop and livestock operation with my family, and I went on to get a biology degree and then a master's degree in international agricultural development. And I was working for New Mexico State University for almost 20 years in sustainable agriculture, doing assisting in research, such as interseeded crops, cover crop research suitable for the Southwest, both dry land and irrigated crop production, and then later on, I specialized in alternative crops. One of the crops that we looked at was kura clover, and after I retired from New Mexico State University in 2011, I continued my interest in research on kura clover.

Charles Martin:
I was going on the internet and I happened to run across research coming from the University of Wisconsin by Dr. Ken Albrecht, who has since retired, but he had a very interesting project that included interseeding corn into an established stand of kura clover for both weed control and for multi-species complement, and it fascinated me. The beauty of his focusing on kura clover was twofold. First of all, it was perennial, and so it could last 8 to 10 years or even longer. And the second part about it was naturally resistant to glyphosate, so if you plant a glyphosate-resistant corn into the kura clover and then spray the kura clover, you could set back the kura clover.

Charles Martin:
You wouldn't kill it, but it would stunt it enough so that the corn could get established, and then it would grow back later on in the summer. And so I applied for a grant using kura clover as a perennial living mulch, but instead of spraying it, I wanted to see if it was applicable for organic systems, because that seems to be the trend towards integrated cropping systems like this. I received a grant in 2019 to look at perennial living mulch system for sweet corn. This is also the same year that I partnered up with Andrew Bowman, who is a neighbor of mine who had very similar interests. He's not an organic farmer, but he was interested in growing food, corn organically. So he had a partner who had a strip-tiller, and so we all worked together to make this project a reality.

Andrew Bowman:
To give a 30,000-foot overview from my perspective, which is unique from Charles, although quite a bit of overlap as a friend and fellow experimenter, I'm a lot younger than Charles. Charles actually went to high school with my dad, so that's a really neat connection. Our farms aren't that far apart. I farm, I also sell crop insurance, and I have a popcorn business. And I bring that up because our popcorn is a way for us to diversify the family farm and the earnings potential. And then the crop insurance, obviously, my family started selling insurance in the 1960s, and I continue that to this day as the third generation to do that.

Andrew Bowman:
I bring that up because part of the benefits of this, that from my perspective are important, are the risk management. You add resiliency to your soils, that's the crop insurance, and then the popcorn side of things, that's diversifying my revenue streams. I like to use the phrase agronomic hedging. You add some diversification to your biology and the soil, and that's going to be win-win over time, but you have to marry up those ideals with something that is scalable, something that is feasible.

Andrew Bowman:
The fun and the frustration of farming is that there's no cookie cutter way to do it, so how do we reconcile all of that? So that's really where I arrived at it. Now, on our farm, which is conventional, we tried organic for a few years and that just didn't pan out, and some of that was I didn't have enough time, but I think I learned a lot of interesting ideas. That was one thing that drew me to what Charles was trying to do here, because this can be really exciting, where maybe we could eliminate some of our use of pesticides by having a perennial living mulch, and add some biology at the same time.

Michaela Paukner:
And talking about the kura clover specifically as a cover crop, what makes it unique?

Charles Martin:
There are several advantages to kura clover, several positive points to kura clover. It is a legume. It's rhizomatous, so in highly erodible soils, which is what most of my land is, it can help sow it, hold down the soil, because it will spread and it will fill in, and over time, you can get a solid stand. It's very hardy, it's drought-tolerant because it is rhizomatous. It can die back, and then when the rains come back or when moisture returns, you can get the regrowth of it. It's very long-lived. It can last under normal production anywhere from eight to 10 years, and in research, it has lasted 14 or 15 years. Another benefit to kura clover is it can be grazed either before or after.

Charles Martin:
It is bloating, so that is one of the disadvantages, but if you plant the kura clover in conjunction with say a grass, you can reduce the bloating effect of it, so that was another particular interest of mine, of integrating it in with livestock systems. The downfall, there are several disadvantages to it. First of all, because it's not well-known, there's not a whole lot known about establishment. It is slow to establish. The seed is expensive. Seed is probably about twice as expensive as other clovers, and that's probably because if it's not a popular crop, then you're not going to get many seed breeders interested in growing it for commercial sale, so that's one of the drawbacks to it. And so the combination of the bloating and of the expensive seed I think are probably going to be some of the biggest considerations about farmers wanting to adopt this.

Michaela Paukner:
How do you decide what you're going to research, and then where you're planting it and how much you're planting, and the logistics of your experiment?

Charles Martin:
The financial constraints is a big factor there. The SARE Grant that I applied for as a farmer researcher grant, based out of the north central SARE office in Minnesota, and it was a $9,000 grant, so I basically had to shoehorn this all into a one-year project. It would've been really, really beneficial to have at least a two-year program, so that I could get the kura clover established and then plant into it. As it turned out, the first year was 2019, and that, as you recall, was a very wet year for the Midwest, with the late spring rains and delayed planting, and so the kura clover never got really a good stand establishment. Like most legumes, it doesn't like to have its feet wet.

Charles Martin:
And so the second year, I had to alter the parameters so that I planted a mixture of white clover, kura clover, and simultaneous planting with the corn. And as it turned out that, came out much, much better, and then, because the corn was strip-tilled, it got an earlier start with simultaneous planting. So I chose sweet corn as my corn because my neighbor has sweet corn, and he agreed to plant it for me using his equipment if I would strip-till it. So fortunately, Andrew had a working arrangement with the Youngquist Ag, who provided the strip-tiller. It worked out really well because it created a really nice seed bed with just the right crumb for planting into.

Michaela Paukner:
What was the size of the plot that you first tried the perennial living mulch on?

Charles Martin:
The grant called for one acre. In Andrew's case, it ended up being a 10-acre field that I had set aside, because the size of the equipment really was not suitable for a one acre situation.

Andrew Bowman:
Yeah. It's tough to get a 12 row or a 16 row Gladiator down a one acre and do headlands and all that goody. But that was the size of the plot, and actually, what we're doing now with the Land Institute, it's only one acre. The difference is it's right next to our shop, so it's close to the equipment, so if I have to finagle it a little bit, I've got a little bit more leeway and margin in my time to do it. Charles is a good guy, but his farm was a little bit up the road to do that on the bigger equipment.

Michaela Paukner:
Gotcha. That was another question I wanted to ask. What type of strip-till bar were you using, and how was it set up?

Andrew Bowman:
Sure. We have a Gladiator that we had borrowed from a local retailer, because my bar, I didn't think was heavy enough at the time. I've since upgraded, but at the time, it was a Gladiator 16 row. It had knife shanks on it with the chain rolling baskets on the back, leading coulter on the front.

Michaela Paukner:
Wondering what the seeding rate was for the clover.

Charles Martin:
The kura clover was at 10 pounds to the acre, and the same for the white clover. I would like to have seeded the white clover a little bit heavier, but it turned out okay.

Michaela Paukner:
So you were doing the two at the same time, at those rates?

Charles Martin:
In the second year, yes.

Michaela Paukner:
The second year. Okay.

Andrew Bowman:
First year, second year. Yep.

Charles Martin:
The first year it was just the kura clover.

Michaela Paukner:
Sure. Was it a 50/50 mix of the kura clover and the white clover in the second year?

Charles Martin:
Yes, it was. The total was about 20 pounds to the acre, 10 of each. It was probably a little bit heavy, but not being that familiar with how the kura and white clover would respond, I thought it would be better to just plant them both at the recommended rate. The results were mixed, because not being able to use herbicides as one of the parameters, we tried some other methods. We tried mowing both before and during the corn production, and we tried using a roller crimper in between the rows to control the kura clover. One of the factors that we had not looked at or were unaware of was the fact that a green cover will reflect light up into the corn canopy, and early on, that change in the infrared can alter the development of the corn.

Charles Martin:
So even though it looks good and is healthy, the early competition through the light interception at the ground level can set back the corn, and that was one of the drawbacks that we encountered on that. Another one was controlling the weeds in the row because the strip-tiller, even though it tills a narrow strip, it opens up the soil to allow for small seeded weeds like water hemp, or in our case, we had a flush of mare's tail, which has tiny seeds and can spread really quickly. And so all in all, it was a learning experience, but the strip-tilling was a very important part of it.

Michaela Paukner:
After year two, when your mixture of clovers was able to get established better, what did you see happen throughout the season, and how did it impact the corn yield at the end of the year?

Charles Martin:
We got good emergence. There was a little bit of difficulty in keeping the planter centered in the strip. I don't know if other farmers have run into that problem, but because his GPS and RTK was not aligned with the strip-tiller, it planted a little bit off center, and so that was a factor. The other factor is, as I said, the weeds still come up in the row. The solid cover of the kura clover and white clover did an excellent job of controlling weeds between the rows, but because we didn't use any herbicides, the weeds would come up in the row. And consequently, the combination of the kura clover light interception interference and the weeds really suppressed both the sweet corn and the white corn that he had chosen for his simultaneous seeding. So the bottom line is we didn't get the results that we were looking for, but we learned an awful lot.

Michaela Paukner:
What are the learnings that you discovered that you think could apply to other strip systems?

Charles Martin:
Well, first of all, I tried an organic system, and I think we could have been much more successful if we had sprayed the strips, if we had been able to spray the strips after planting or just over the entire area. And because it was white clover, we were not able to suppress the legume like if it had been kura clover, so we wouldn't have been able to use herbicides anyway. But the RTK guidance is another critical factor that you really need to consider.

Andrew Bowman:
I think that for this type of a system to work for a perennial living mulch, you're going to need strip-till I do not see how else you can do it without the RTK, that real-time kinematics, where you have sub-inch accuracy, because you're going to need to put that plant exactly where the fertilizer is. And you're going to want to have a nice, effective, thick berm, or not even a berm so much as a nice effective row that's been covered with heavy biomass to keep the weeds out, and that's really what we were striving to go for.

Andrew Bowman:
From a technical standpoint, the experiment would've worked very differently, and there's hope for us to try something like this in the future, and I'll step into that with something we're doing with the Land Institute. But what I learned was you need to let that biomass get tall, you need to chop it down. We used a flail chopper, which did a great job, but we did it too early, we didn't let it get tall enough, and then use your strip-till bar to create the strips to plant into.

Andrew Bowman:
I'm confident that had we done that with very tall biomass above my waist, and then if I would've stripped-tilled, or strip-tilled before and after, that way the berms were really nice and defined, I'm confident we would've had a very successful crop. So in terms of a technical study, what excites me about this is this is not reinventing the wheel, so much as reinventing the process. We have perennials. We don't have perennials that have been bred for intercropping necessarily, but we do have perennials that are decumbent, like Charles talked about the kura clover that's rhizomatous, that forms a thick mat. We have some of these.

Andrew Bowman:
Now, how do we integrate that into a system that can pay for itself? Well, the system starts paying for itself pretty well if you take out the cost herbicides, and if you add organic matter, which improves water infiltration and water holding capacity. You start doing these things now, the resiliency that you add to the soil pays for itself, and that gets farmers on board doing the right thing, so to speak, rather than just saying, "Well, that's interesting, but it's not something I'm ever going to do." We don't want this just to be a university idea that doesn't translate onto a wider following, and certainly, I want this to work on my farm and work for others.

Charles Martin:
Water infiltrated anywhere from eight seconds up to two minutes, and so what that means is that if you get a heavy rain, an intense rain, the infiltration will be much perennial ground cover system. The other benefit is the microbial benefit from the soil. Also, we measured the temperature at the ground level in our neighbor's field and in mine, and the temperature was dramatic. In mine, the soil temperature was about 76 degrees, and in the neighbor's field at the surface, it was 93 degrees. And anything over 90 degrees, the plant will start to shut down, so that was another indirect benefit of the perennial ground cover.

Michaela Paukner:
Before we continue this conversation, I'd like to take a moment to thank our sponsor, the Pluribus Lite from Dawn Equipment. Dawn is bringing today's innovative farmers a new strip-till product from the regenerative egg-focused underground agriculture brand. The Pluribus Lite is priced like a strip freshener, but it offers the features and performance to be used in the fall or spring as a primary strip-tiller or strip freshener. It's the perfect compliment to a cover crop system that just needs a little blacker strip. Check out the Pluribus Lite at dawnquipment.com. Now let's get back to the conversation. It's pretty incredible that you're getting down from as much as 20 minutes to infiltrate the water down into the soil to eight seconds infiltrating. It's such a huge difference, and one that really could save a lot of water from running off.

Charles Martin:
That is what really fascinated me about working with cover crops, is not so much the benefit to the crop itself, although there are some long-term research results that show the continued use of cover crops with or without strip-tilling has benefits to the corn production and to any kind of crop production, because you're getting a buildup. You're getting a regenerative effect there from the conservation of the resources, the increase in organic matter, the water infiltration rate, which nowadays, given the changes to our climate, are becoming increasingly important because if we're getting a sudden downpour, we want that to go into the ground instead of running off. I can tell you from experience that I drive past fields just a mile or so from me and I can see the runoff, the sheet erosion coming off of their slopes, where I know for sure that mine doesn't have any erosion anymore, after having used cover crops in conjunction with this strip-till method for the last two years.

Michaela Paukner:
Can you walk me through the timeline of when you were making strips, when you were planting, when you cut the clover and all of those kinds of things?

Charles Martin:
From my standpoint, the whole process started two years before, when I started conditioning the soil with the cover crops. I had two years where I did nothing but plant cover crops. The first year, I had winter killed annuals, and then I planted summer annuals, and then I planted the kura clover. And this was because not only to suppress the weeds, but because my soil was so depleted nutritionally and organically that I felt that in order for this to work properly, I needed to build up the organic matter. And so I think other farmers who want to try this will have to also take that into consideration, and you'd have much better results if you do give the land rest. We have gone so much to continuous row cropping that we've really lost some of the benefits of a more diversified rotational cropping system.

Andrew Bowman:
Yeah. So Charles was laying the foundation through a fall, if you will. That's a lot easier for folks to stomach if they are livestock folks, because a rest would include, in my opinion, grazing, and that adds some biological diversity and activity that I personally can't do because the livestock left our farm in the 1970s, due to health problems from my dad and grandfather. So I don't have four-legged workers on my farm to help out, but I think to Charles' point, it would start by preparing the system. So for me, that would mean if I know what I'm going to do a year or two in advance, if I have a row cropping system, do I throw a different crop?

Andrew Bowman:
Here it's tough because our markets are corn and beans, for the most part. Wheat is much less of a player here in western Illinois, but that would be ideal, switch to wheat, which would be very different. And then you harvest in the summer, and now it's not a full follow, but you can get a really good establishment when you get started. Other places where your listeners might be, add a different crop that allows you to get in early, incorporate livestock, that's a way to do it. Now, in terms of the actual steps we took, we did everything in the spring, and I think that could work.

Andrew Bowman:
There wasn't a lot of aggressive growth in what Charles had. It looked really nice and it did well, but I thought it was going to get away from me. And again, this is one of the lessons I was still learning when I was attempting to do organic on my own farm, I wasn't patient. You're too used to the conventional agriculture where you're like, "Well, there's five or six different options," so if it doesn't work, you can try something else. Well, that doesn't necessarily work in a system like this. You've got to be patient.

Andrew Bowman:
And so we took the flail chopper and we went out thinking okay, I'm going to plant April 20th, I better be flail shopping now. Well, that was foolish. I should have waited to flail chop it until the end of April, probably the middle of May, when it would've been a lot taller, would've given me a lot more biomass. What I will say is then we strip-tilled, and then we came back a few weeks later I believe, or 10 days, something like that, and that's when we actually planted. If I were to do it again, the ideal circumstance, I think once it's fully established, you're two or three years in, I would suggest you do your strip-till in the fall, because then you've laid out where you're going to go, and then you come back in with either a freshener or even the same strip-till bar in the spring, after you flail chop.

Andrew Bowman:
That way, you've just cleaned it, made it perfect, and then you go and then I would suggest you plant directly into it. As long as you're not using anhydrous in the spring, where you would have root burning, that would be the gold standard. So I would start with building the burns in the fall and then come back once you get your growth, flail chop it, and then come back with a heavy duty freshener or even just strip-till again if you wanted to split the load on dry and anhydrous and the like. But I'm very confident that this can be a successful program, it's just a matter of fine tuning and getting the perennials established, like Charles worked towards, and then finally, integrating the right labor. You've got to flail chop, then you've got to go make the strips, and then you've got to plant.

Michaela Paukner:
Sounds like even though you guys didn't get the exact results that you hoped for, you learned how to hopefully get them the next time.

Andrew Bowman:
Yeah, I think so. I think the proof of concept is there. Then the next step would be okay, how do we fine tune it so the yields work, the species mix? How do we get this fine tuned? Now we're working with the Land Institute, they're based out of Kansas. They gave us seed mix that us and a couple other growers around Illinois, it's a native mix, and what did it have, bundleflower, gamagrass, something like that. I don't even have it all committed to memory, but they were native perennials to Illinois. We seeded about one acre, I did that this spring.

Andrew Bowman:
The grant allowed us to just say, "Okay, let's just seed it and do nothing for a year," and now this fall, we'll try strip-tilling into it. Then I'll come back this spring, I'll mow it and strip and then plant and see. So I'm basically repeating the exact same process we did, the only thing that's different and what we haven't really talked a lot about is the simultaneous seeding aspect. So this grant, the idea was Charles had something going, I had a separate plot.

Andrew Bowman:
We took a Valmar seeding unit, Valmar 6056, mounted it ahead of a plot planner, and the idea was that we're going to broadcast cover crops in front of the planner as it goes into those strips. And that worked okay, the problem was we found out that the small John Deere 7R Series didn't have enough hydraulic cojones to withstand all of the excess hydraulics that were required, because this plot planter had hydraulic down force, it had starter fertilizer.

Andrew Bowman:
It had every single thing and the kit and caboodle, and then the Valmar seeder needed its own hydraulic supply as well. A bigger tractor would've solved that. We were in the moment, so what we ended up doing is we did two passes. It was simultaneous in that it was the same day, but we had to drive over it twice, which isn't ideal, but it didn't affect the results of the study in any way. But that simultaneous thing becomes important because Charles established something. I think in conventional systems, a lot of guys aren't going to be able to justify taking a strict fallow period.

Andrew Bowman:
And even if they do, there's something to be said on let's just do a little maintenance seeding. The kura clover's a little thin, let's put a couple pounds out, and we can mix that in with an organic fertilizer or even a conventional like urea at the same time. So that simultaneous seeding was an interesting thought, and I think has some merit. I also wonder, though, if just timing your planting, like if you add wheat into the rotation, you can get things established in summer, if that might be effective too. We tested the simultaneous nature of that. The jury's out on that, but I think it's worthy of additional research from someone.

Charles Martin:
What's really interesting to me was after the SARE final report was published, it went online, and I got contacted by a researcher from the Land Institute, who is partnering with other researchers in the Midwest, Wisconsin, Minnesota, Iowa, Missouri, and Illinois, on perennial ground cover systems. And as Andrew mentioned, as a result of that communication, we have been able to latch onto the next step in perennial ground cover research. And they got sizable grants, much larger than my small grant, in order to be able to do this at farm scale on all the Midwestern states who are participating. And that's really exciting because when you can take some dedicated professional researchers working together to solve some of these problems using strip-tilling in combination with different perennial ground covers, we think we can advance this system much more quickly.

Andrew Bowman:
Yeah. But I would emphasize strip-till really is the key, because if you're going to have a perennial system, you need to have the technology to put that seed exactly where you don't want the perennials to be, and vice versa. You need to have that precision, and I would argue that might be a hold up for certain folks. Typically, your organic folks that might be more interested in some of these systems typically are smaller acreage and may not necessarily have RTK, so that's a little bit of a negative side. The plus side is that also means that now you're talking the language of some of these mid-sized operations that are going to be more interested that will widely adopt it, and can do, frankly, quite a bit of good. I, for one, on our farm, I mentioned the phrase earlier, Michaela, about agronomic hedging.

Andrew Bowman:
I don't think that this would be a fit on we've got some fields that are 30 miles away. I don't think that's a fit there because I want it to be close so I can spend my time focusing and managing, and giving that acre the tender, loving care, the TLC that it deserves to do this right. It's taken my family five generations, but we have 900 acres that touches in two sections, or three sections. That's where I would do this, because I could be out in it every day. I can be watching, I can micromanage it. But then, that's not to say that the principles won't transfer, if not the whole system. So last year was the first year we did cover crops on a wide scale, about a third of our acreage, because the Valmar seeder that I used for part of my SARE grant, I repurposed it.

Andrew Bowman:
My brother-in-law is an amazing welder, and we were able to weld certain brackets, and we put it atop a vertical tillage tool. Well, we put down cereal rye and some radishes, and I'll be danged if my beans don't look phenomenal. So we're figuring out how to take... Now, that's not a perennial mulch, but the principle is the same. We're adding diversity, and I'm trying to figure out a way that if I can make this work on these annuals, now some of these principles are going to start translating back and forth. I'm not so naive to assume that an annual is the same as a perennial. I know that's very different, but I'm moving in the right direction, and I'm excited about that.

Andrew Bowman:
And the other big thing I point out for your listeners is how do you do some of this stuff? Because you need to be profitable today, but you need to have an eye towards the future, so do you balance that? Because I tried doing organic, and that was kind of a flop. It was just very frustrating, as I alluded to, and I finally said, "We don't have the time or the manpower to do that the right way yet," so we let it go. For me, looking at this perennial system, simultaneous seeding and the like, my goal from the practicality, how do we scale this into an actual system, how do we make it almost revenue neutral? You're going to have some added costs.

Andrew Bowman:
Charles talked about how the kura clover is expensive seed. That's a fixed cost, but if you do this right, you can cut back almost entirely on your herbicide program, or use half as much, where you're just stunting that perennial for a short time and then it grows back, so there's a cost savings there. Obviously, long-term you build that organic matter, and now you're somewhat drought resilient as a result. So how do you make that somewhat revenue neutral? What we're doing on the annual cover crop side, for instance, we have experiments this year where we pulled the residual herbicide out of our program at the beginning.

Andrew Bowman:
We're not going to take it out completely, but we basically said, "The money we're spending on cover crop seed is about the same cost as Zidua PRO. Let's pull the Zidua PRO out and just kill the cover crop that's out there, and let's see if this works. So we're running some tests on that this summer, and I'm excited about it because at worst, it's revenue neutral. At best, I've added biodiversity, I have added, new life to my soils, erosion control, and that's the type of attitude I'm trying to take. And that's the other perspective I want to bring to the table on this, how do we make it practical for guys to try it and move forward?

Michaela Paukner:
I think you have two interesting perspectives, Andrew, where you're talking about this system where everything needs to be micromanaged, but at the same time, you're thinking so big picture about what this is going to do for your whole system in years to come and beyond.

Andrew Bowman:
It's a weird dichotomy, isn't it? You need to micromanage a little bit, but you also need to be thinking big picture. And I like the word resiliency a lot better than sustainability. It's sort of like everybody in agriculture knows what pH stands for, that's the acidity or the basicity of your soil. Right? Well, it's a buffered system, and that's what we are really trying to create, so that's where you need to micromanage it. So in our example, we should have waited until that cover crop got X amount of inches tall, probably about waist high, before we flail chopped. Now, where the micromanaging comes in as well, it's a little taller than that or it's a little shorter, that's fine, versus me going out there when it's only 10 inches and it's not near nearly close.

Andrew Bowman:
So there's some micromanaging, but you get to a point where the resiliency of the system allows you to make decisions around it. And putting those two perspectives in place, to me the big picture is how are we going to get another guy and another tractor to do this job? Because really, the way I would envision it would be you've got a guy running the flail chopper, and then you've got a guy running the strip-till bar, and then immediately, somebody else jumps into a planter. For some farms that's doable, because you might have somebody running a sprayer, and then a guy running a planter and a guy running a seed tender, so some farmers might be able to adopt that change really quickly.

Andrew Bowman:
Us, my brother-in-law and I, we're both in our mid thirties, we don't have any hired help, and we run 1,800 acres, so that's not feasible for us. So for us, it is truly micromanaging because there's not enough human capital or human labor to go around, but that's the fun and frustration of farming. There's no cookie cutter way to do it. Right? And I'm going to say this, and I think it's a testament to what Charles did letting it fallow, but also that bar, certainly the time of year, it was some of the most beautiful soil that I've ever seen that I tilled into, that that strip-till bar was bringing up when I went through that. And that's another reason, and that's probably what I should have led with when I sat down to talk to you guys, that's one thing that gives me hope for a system like this.

Andrew Bowman:
If I'm honest, we farm in one of the easiest places in the world. We've got really nice soils. Our definition of a bad soil, Charles said his is highly eroded and it lost organic matter, the worst on his farm is still better than a lot of folks on the fringe areas of the Midwest. We farm in a very good spot, so I'll get that off the table. We're the bad guys, we know it, we've got easy soils. But all that said, I've grown up around these soils, and obviously, Charles has too, those were still the best soils I had ever seen. Just the blocky, crumbly, beautiful, just like black cottage cheese. It just was so beautiful. It felt good, it smelled good. It was everything you wanted when I strip-tilled into that after we flail chopped. So I think that, anecdotally, gives me a lot of hope and a lot of optimism to continue trying this, and that Gladiator did a great job.

Charles Martin:
I'm not familiar enough with strip-tilling to be able to say to other farmers if their strips will turn out with as nice a crumb and with as nice a structure as ours did, but I feel confident that it was so nice that you could have planted immediately into that and have gotten a good emergence within a few days.

Andrew Bowman:
Yeah. I agree. I've done research, and I used to have an Ag Systems bar. That was my first strip-ill bar, bought it from someone who was upgrading to a Gladiator. And the Gladiator that we borrowed, it was excellent, but since that time I have upgraded. Found one at auction, and I now have a Land Lover type bar, which is basically, in my opinion, and maybe I'm rationalizing because I'm biased cause it's mine, but I think it's a heavier version of a Gladiator. The front leading row cleaners are larger, it's just heavier frame, but it looks very similar in nature. And I've got a coulter in front and I've got a big knife going down.

Andrew Bowman:
One thing that's interesting among strip-tillers is how they are set up. If you've got a knife shank or a coulter shank, are you doing strip freshening, are you not? We do not strip freshen. I kind of think it's a waste of time for us and our soils. I think for other folks, if they were genuinely worried about things turning into a crust, or if they wanted to make another pass to put a different fertilizer or micronutrient on, it might make sense. In this system, I think it would, so if I had the labor and the equipment, it might make sense for me to strip-till in the fall into that perennial mulch, and then come back with a freshener after I flail chop it down.

Andrew Bowman:
That's a little bit about the system that we used. The Gladiator did well. I've done research on Soil Warrior. I think they've got a fascinating design, where my understanding is they have an increased pressure on their blower, so they are basically forcing all of the fertilizer into the whole soil profile because it's such high pressure. I think that's an interesting design. Orthman makes a really heavy bar. Ultimately, I think all of them can do the job, it's just a matter of how easy one is to set up, and how heavily built they are. But the proof was in the results and we've got the pictures, those were amazing berms that we were building that spring, going through Charles' field.

Michaela Paukner:
We covered a lot. Is there anything else that either of you wanted to add that I haven't asked you?

Charles Martin:
I would like to tell the farmer listeners, if they want to find out a real success story, to go to the Land Institute and look at their pictures, because they have some beautiful results of their perennial ground cover systems with strip-tilling. Even in spite of some of our drawbacks and inconsistencies, they have been doing it much longer and they know what they're doing, so I would recommend them.

Michaela Paukner:
That's good advice. And Andrew, any last thoughts from you?

Andrew Bowman:
There's a lot of potential here, where you can find quite a bit of common ground. There is a lot of opportunity where an organic mindset can marry up with a conventional mindset, can marry up with a regenerative, and I think a perennial living mulch really can be a valuable tool in any one of those tool boxes. And I think strip-tillage is going to be an important thing going forward. It's important on our farm, reducing costs, improving agronomy and biodiversity. I would challenge any farmer to just keep an open mind for ideas like this.

Michaela Paukner:
Thanks to Andrew Bowman and Charles Martin for joining me for today's conversation. If you'd like to learn more about their trials and ask them questions for yourself, they're speaking at the 2022 National Strip-Tillage Conference in Iowa City, Iowa, July 28th through 29. Head to striptillconference.com to register for two days of learning from cutting edge strip-tillers and researchers like Andrew and Charles. If you're looking for more podcasts about strip-till, visit striptillfarmer.com/podcasts, or check out our episode library wherever you get your podcasts. Finally, many thanks to the Pluribus Lite from Dawn Equipment for helping to make this strip-till podcast series possible. From all of us here at Strip-Till Farmer, I'm Michaela Paukner. Thanks for listening.