Strip-Till Farmer editors encounter a variety of articles, social media posts, podcasts and videos that offer a unique look at the grower's world from the lofty digital realm. Here is our favorite content from the past week from across the web:
---
Best of the Web This Week is brought to you by Copperhead Ag Products.
Made by farmers, for farmers.
---
Best Looking Strip-Till Berms of the Year?
Check out this photo from Jonathan Dansel on Twitter as he builds strips in late March. This looks like an early contender for "the title for prettiest strip-till berms."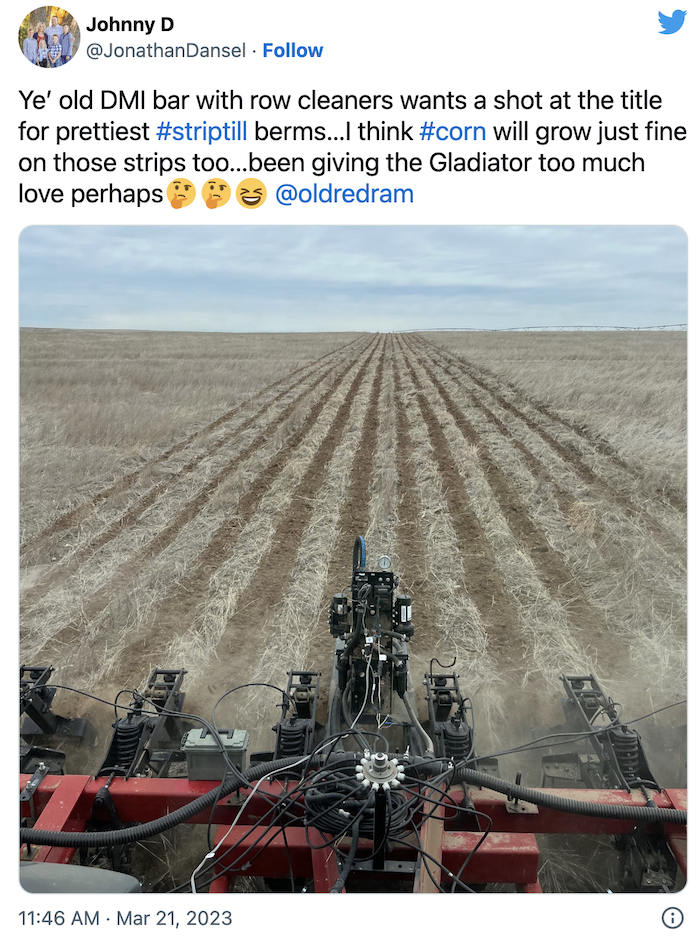 ---
What Song Best Describes Your Attitude to the 2023 Planting Season?
Agweb polled farmers for the best song that describes their attitude to the 2023 planting season. My vote's for Whitesnake: Here I go again on my own, strip-tilling the only rows I've ever knowwwwwwnnnn.
---
Strip-Tilling Cotton Ground in Texas Panhandle
Here's another awesome video from High Plains Flatland Farmer on YouTube — cameras follow him across the field as he strip-tills cotton ground with his Schlagel Rapid Till system.
---
Benefits, Challenges of Strip-Till Discussed at Alberta Pulse Growers Seminar
John Kolk, managing partner of Kolk Farm Conrich, spoke about his switch to strip-till during a soil health panel discussion hosted by Alberta Pulse Growers. "Other than one quarter where it was too hard to cut the beans in, we are pretty happy overall with strip-tilling beans," Kolk said. "I'd love to be able to do it in the fall but we don't always have the time to do that, and until you know where your seed canola goes, you don't know where the rest of your crops go." Kolk also talks about the potential downside to strip-tillage in this recap article from Grainews.
---
Unverferth Discusses Acquisition of Orthman
Hear from Andy Unverferth for the first time since the company announced its purchase of Orthman Manufacturing, creator of the popular 1tRIPr strip-till unit. Farms.com catches up with the Unverferth marketing manager, who talks about what the move means for the future of Orthman products.
---
Is there something you want to share in "This Week"? Send us an email.
---
Best of the Web This Week is brought to you by Copperhead Ag Products.
Made by farmers, for farmers.