A Strip-Till Farmer Staff Report
The last year saw strip-tillers looking to improve efficiency in several areas, from intense nitrogen management practices to exploring alternative and experimental planting or fertilizing options.  
To determine which online and print content attracted the most attention during the last year, the Digital Media team at Lessiter Media crunched the numbers on views, downloads, watches, clicks and comments.
What follows are summaries of some of the most talked about content published or presented in 2018, both online and in print. The Strip-Till Farmer staff tracks these analytics to keep a pulse on readers' concerns, feedback and interests to provide informative and actionable content.
To see the original piece (and ensuing industry commentary), you can type the article headline into the Search position at the upper right hand of the home page at www.StripTillFarmer.com.
Most Viewed Feature Article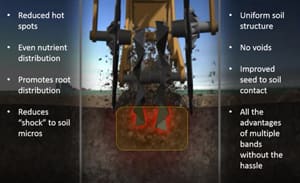 Strip-tillers have long compared and contrasted the benefits and drawbacks of banding vs. broadcast application of fertilizer. This article authored by Eric Moore, agronomist with Environmental Tillage Systems, breaks down the differences between the two fertilizing strategies in a strip-till system, including plant accessibility and tie-up potential.
"Is how we apply nutrients as important as what we apply? I would say yes," writes Moore. "Surface broadcast, deep injection, in-furrow, 2-by-2-inch banding, foliar feeding, fertigation, sidedress and zone all have their own particular benefits as well as limitations."
Most Viewed Video
The idea of 60-inch corn may sound far-fetched to some, but consultant Bob Recker put the concept to the test, working with farmers to plant plots of 60-inch corn in 2018. Editors caught up with Recker, who owns Cedar Valley Innovation in Waterloo, Iowa, at Wisconsin strip-tiller Charlie Hammer's field day to get a firsthand look at the benefits and drawbacks of 60-inch corn. Recker works with two dozen growers located from Maryland to Colorado who have tried the 60-inch row system. These no-tillers and strip-tillers simply turn off every other row on a 30-inch row planter and double the per-row population in the wider rows.
Most Downloaded E-Guide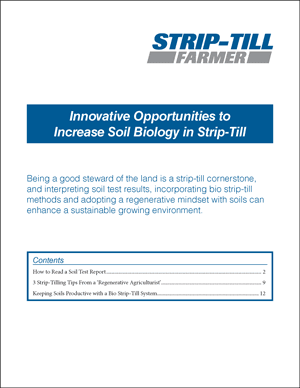 Being a good steward of the land is a strip-till cornerstone, and interpreting soil test results, incorporating bio strip-till methods and adopting a regenerative mindset with soils can enhance a sustainable growing environment.
This compilation of tips offers strip-tillers a mix of practical and progressive options to strengthen soil health from industry experts including Dr. Ray Ward with advice on how to best interpret soil test results along with Woodville, Ont., strip-tiller Dustin Mulock and Mazeppa, Minn., strip-tiller Rod Sommerfield.
Most Viewed Online News Item
The litigious environment in the ag industry continued into 2018, with John Deere filing suit in late May, claiming AGCO and Precision Planting infringed on existing patents, specific to planting equipment, that Deere held. "The Deere patents relate to several of the unique and inventive aspects of John Deere planting equipment, many of which are embodied in the state-of-the-art technology Deere has named ExactEmerge," Deere spokesman Ken Golden said in a news release.
Most Read Staff Written Blog/Column
Inspired by a visit editors made to Billing Farm in Enderlin, N.D., the concept of a 2-by-2-by-2-inch method for nitrogen application was being incorporated by strip-tiller Paul Billing. The setup for 2-by-2-by-2 involves a fertilizer disc or coulter attached to the planting unit so that the more powerful form of N can be applied at a safe, yet accessible, distance from the seed. "We have a large amount of our 28% N alongside the row. In the strip underneath, we have our P, K and some ammonium sulfate applied back in the fall," Billing says. "It's the full gamut of fertilizer encompassing the corn seed, placing it wherever it needs to go."
Most Listened to Podcast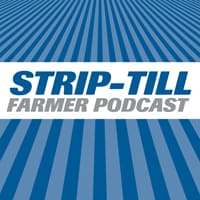 In this episode from early in the year, Lowpoint, Ill., strip-tiller Todd Mooberry offers tips and equipment strategies to help minimize erosion concerns on rolling ground, better time fertilizer application and utilize cover crops in strip-till. He began strip-tilling corn in 2001 on his 1,800-acre operation, seeking ways to better adapt the practice to the variable soil types and slopes on his farm.
Mooberry designed several products to improve strip-till efficiency, including a strip-freshener attachment in 2011 to run through soybean stubble in spring as an alternative to no-till. After seeing interest in his creation from other strip-tillers who endured planting struggles due to damp springs, he improved the design, built and patented a new individual strip-refresher row unit, now produced by Yetter Mfg. Co.
Most Viewed Webinar
Proper planter setup in strip-till is critical and this webinar presented on the cusp of spring 2018 offered a detailed to-do checklist before, during and after planting. West Brooklyn, Ill., strip-tiller Dave Delhotal shared some of his practical and progressive preparations prior to getting into the field. This included experience-based examples and lessons learned with equipment setups, technology fine-tuning and creating an annual checklist of strip-till musts.
Most Viewed Facebook Post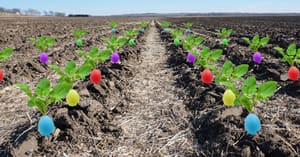 A revolutionary combination of the poultry and row-crop industries was only comic relief as editors took advantage of April Fool's Day to have some fun on social media. This Facebook post did elicit some smiley face emojis and as well as a practical comment which noted, "Once the chicken hatched, its waste provides fertilizer for the next crop. Efficient."
Top 10 Strip-Till Farmer Digital Stories in 2018
Here is a list of the top 10 most viewed pieces of content shared by Strip-Till Farmer from the last year. Berm-building tips, ways to trim fertilizer application costs and improving soil health were among the topics that garnered the most interest.